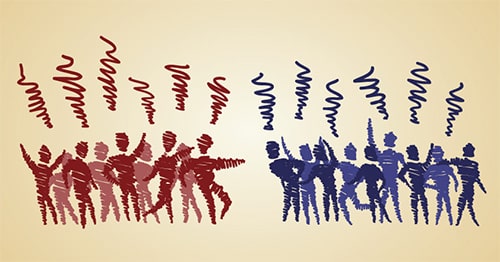 By Doug Pinkham
Public Affairs Council President
October 15, 2013
We've all heard that it's better to give than to receive. But in a competitive world, is being generous a strategy for success?
It turns out the answer is "yes." Two University of Pennsylvania biologists have published a study showing why cooperation, generosity and forgiveness have evolved in nature. Using game theory, Alexander J. Stewart and Joshua B. Plotkin determined that the only effective, long-term strategies for large populations are generous ones.
The game played out in their mathematical model is called The Prisoner's Dilemma, in which players must choose to cooperate with opponents or defect. While earlier research demonstrated that unscrupulous players could gain a major advantage over unwitting opponents in head-to-head matchups, the new study proves these Machiavellians wouldn't prosper in a larger, evolving population. That's because an "extortion strategy" doesn't succeed if played against itself.
Are you listening, Washington politicians?
Further support for this view is plentiful in a recent, bestselling book called Give and Take: A Revolutionary Approach to Success, by Wharton professor Adam Grant. According to Grant, there are three types of people in the world: takers, givers and matchers.
Takers like to get more than they give and believe that being successful requires them to be better than everyone else. When they help someone, they do it for personal gain.
In contrast, givers are focused more on other people. But this doesn't mean they need to be totally selfless. "It just involves a focus on acting in the interests of others, such as by giving help, providing mentoring, sharing credit or making connections for others," Grant writes.
In the workplace, people often take on a third style of interaction. They become matchers, who offer to scratch your back only if you scratch theirs. "Matchers operate on the principle of fairness," notes Grant. "When they help others, they protect themselves by seeking reciprocity."
Grant emphasizes that these styles are not fixed; people often shift from one style to another as they take on different roles or deal with different situations. Nevertheless, most people inevitably reveal their preferred approach when at the office. And this primary style can have as big an impact on success as hard work, talent and luck.
So which style works best? In the short term, it turns out that selfless givers achieve the worst results. Multiple studies have shown that givers go out of their way to help others, but often at their own expense. "Across occupations," Grant writes, "it appears that givers are just too caring, too trusting and too willing to sacrifice their own interests for the benefit of others." Compared with takers, givers often earn less money and are judged to be less powerful and dominant.
Does that make takers the most effective group? Nope. At the top of the success ladder are also the givers, while takers and matchers are in the middle. How is this possible?
One of Grant's academic citations explains it well. Referencing an analysis of 28 different studies on negotiation strategies, Grant observes that the best negotiators are neither takers nor selfless givers. They are "otherish" givers.
The takers focused on claiming value: They saw negotiations as zero-sum, win-lose contests and didn't trust their opponents, so they bargained aggressively, overlooking opportunities to create value through developing an understanding of their counterparts' interests. The selfless givers made too many concessions, benefiting their counterparts at a personal cost. The most effective negotiators were otherish: They reported high concern for their own interests and high concern for their counterparts' interests. By looking for opportunities to benefit others and themselves, otherish givers are able to think in more complex ways and identify win-win solutions that both takers and selfless givers miss. Instead of giving away value like selfless givers, otherish givers create value first. By the time they give slices of pie away, the entire pie is big enough that there's plenty left to claim for themselves: They can give more and take more.
In our professional and personal lives, we've all admired people who instinctively adopt a win-win approach. They're the ones who listen carefully to other points of view, build strong relationships and forge compromises. Because they are naturally "otherish" givers, they have earned a reputation for being unselfish problem-solvers. And while their generosity of spirit is not intended to gain favor, many people they've encountered feel indebted to them. That means they have an easier time achieving consensus.
In politics, Grant admits the costs of giving would seem to outweigh the benefits. "Takers should have an edge in lobbying and outmaneuvering their opponents in competitive elections, and matchers may be well suited to the constant trading of favors that politics demands." And yet, as he illustrates in a story about Abraham Lincoln's presidency, being a taker or a matcher may not be the best long-term strategy. In fact, he claims politics can be "fertile ground" for givers.
It goes without saying that we need more political leaders who employ Lincoln's management style. But we also need to cultivate that behavior in the public affairs business.
Over the years, public affairs has shifted from a profession focused on persuasion to one requiring a talent for collaboration. Like the smart negotiators in Grant's book, successful advocates spend much of their time listening, being a source of sound information, building trust and finding common ground.
This trend is not unique to public affairs. As Grant said in an interview in Forbes, "The world of work has become much more interdependent, making relationships and reputations increasingly important in shaping the innovative ideas, business opportunities, client referrals and promotions that come our way."
But the concept of "otherish giving" is especially relevant to anyone involved in crafting public policy, chiefly because the stakes are high and other approaches have clearly failed.
In any society, there's inherent value in thinking about the good of the whole. And there's an evolutionary advantage as well.
Comments? Email me.