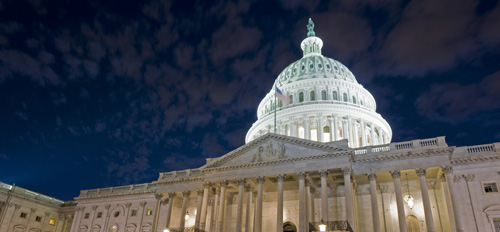 By Doug Pinkham
Public Affairs Council President
January 27, 2011
Average citizens can have more influence on congressional policy than they think, says a new study from the Congressional Management Foundation (CMF). In fact, in many cases they have more influence than lobbyists or editorial page editors.
The report, Communicating with Congress: Perceptions of Citizen Advocacy on Capitol Hill, was released this week at the Public Affairs Council's National Grassroots Conference. It is based on a survey conducted late last year of 260 Senate and House staffers.
"The most influential advocacy strategies for swaying an undecided Member of Congress depend on personal communications from constituents," says the study. "Whether individuals make contact face-to-face, by phone, or through personalized email or postal mail, Senators and Representatives are influenced by their constituents' own views about the public policy issues before them."
The key word here is "personal." In an age when technology allows an issue group to shut down Capitol Hill servers with thousands of identical emails, it's refreshing to hear that taking the time to visit a congressional office in person is worth the effort.
When asked how influential various strategies are in persuading an undecided member of Congress, staffers give the highest scores to Washington office visits, district office visits and contacts from a constituent representing other constituents. Forty-six percent say in-person visits from voters have "a lot of positive influence." Other influential strategies are individualized postal letters and emails, phone calls and comments made during a telephone town hall meeting.
Only 8% say visits from lobbyists have a lot of positive influence, though 74% say these visits have some influence.  At the bottom of the list are form letters, identical emails and faxes; postcards; and comments on social media sites.
The big losers in this study are grassroots campaigns that spew out thousands of indistinguishable messages in hopes of swaying a vote. Not only are such communications largely ignored, they arouse suspicion. More than half of the congressional staffers conclude that "most advocacy campaigns of identical form messages are sent without constituents' knowledge or approval." In other words, if grassroots supporters don't customize their messages, their campaigns are often written off as "Astroturf."
The Internet has allowed more citizens to participate in the public policy process and has made lawmakers more accountable, says CMF. Yet electronic communication has reduced the quality of constituents' messages. Only 41% of Hill staffers think that email and the Internet have increased public understanding of what goes on in Washington.
A House legislative director, talking about the challenges of keeping up with email, sums up this lack of public understanding:
The ease with which constituents can communicate with their Member has really diluted the quality of communications overall. We get way too many email inputs that forward the Congressman some email or YouTube link with "is this true" as the only message.
But YouTube – and other social media – have a constructive role to play as well. More than 60% of staffers think Facebook is an important medium for understanding constituent views and nearly three-quarters consider it important for communicating their members' views. Facebook beats identical form messages as a way to get voter input and it out-polls printed congressional newsletters as a way to reach constituents.
YouTube is valued almost as much for congressional communication, but not as highly for understanding constituent views. Even Twitter, which limits messages to a mere 140 characters, is quickly gaining acceptance as a communications tool.
What do these new data mean for political advocates? Here are a few takeaways:
Generating "noise" through a grassroots campaign is not the same thing as generating influence.
Showing up in person still counts.
Meeting members and their staffs in their district offices is just as effective – and probably easier to schedule – than conducting a legislative "fly in" to Washington, D.C.
Personal stories about how an issue affects an individual voter resonate with congressional staff.
Telephone town hall meetings may provide new opportunities for grassroots supporters to get their message across. Participants in these gatherings have roughly the same influence as those who make phone calls or send personalized letters and emails.
Citizens and members of Congress who ignore social media do so at their own peril. A conversation about your issue, your employer, your district and your elected representatives is taking place right now on the Internet – whether you're there or not.
Comments? Email me at http://pac.org/contact/blog.