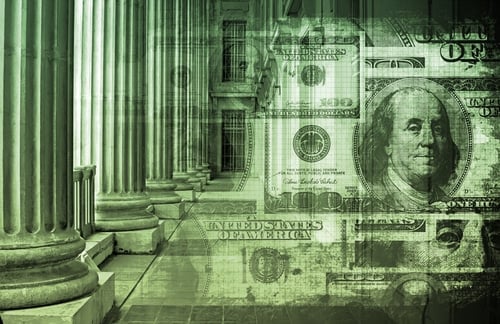 By Doug Pinkham
Public Affairs Council President
December 22, 2015
In case you missed it, Harvard Law Professor Lawrence Lessig ended his quest to become president of the United States in early November. Vowing to reform campaign finance and election laws, he also had promised he would resign from office as soon as his goal was met. Unfortunately, the professor couldn't convince even one percent of Democrats that they should vote for him.
When Lessig announced his run in September, the event was covered widely by the news media — including ABC's "This Week with George Stephanopoulos." When Lessig dropped out two months later, he still got ample coverage, including the second of two flattering profiles on NPR.
Why did his candidacy make news? And why do the media always pay so much attention to campaign finance stories?
As Lessig would be the first to point out, Washington is extremely unpopular right now and many assume the American political system favors the rich and powerful. Plus, stories of corruption or alleged corruption always attract the public's attention.
But lots of journalists draw a straight line from the nation's method of financing political campaigns to ethical breeches and the unpopularity of government. This narrative does not hold up to scrutiny.
It's true that many Americans are uneasy about the role of money in politics. Yet they aren't terribly concerned about campaign finance regulation and don't much like the alternatives to the current system.
Here's new evidence: A study conducted by the Associated Press-NORC Center for Public Affairs Research finds that most people believe presidential candidates should be able to finance campaigns with the candidate's own money (87%), individual contributions (82%) and people who collect contributions on the candidate's behalf (63%). In addition, 44 percent find PACs to be an acceptable funding option, and only 39 percent find them unacceptable.
The big loser when it comes to alternatives for funding elections is public financing — in other words, using tax dollars to pay for campaigns. Only 27 percent of Americans find this to be an acceptable strategy; yet public financing is the preferred approach for Lessig, Common Cause, Democracy 21 and just about every other activist opposed to the current system.
The poll did show strong public support (76%) for disclosure of contributions from groups that can raise and spend unlimited money to support or oppose candidates. The major vessel for such contributions is so-called super PACs, for which disclosure is already required.
These data buttress the findings of a 2014 survey by the Public Affairs Council, in which strong majorities said it was acceptable for candidates to spend their own money on campaigns, raise funds from individuals and use PAC dollars. In that poll, more than half of the respondents said contributions from super PACs were okay as well. But public financing schemes were unpopular.
Current events have weakened a second media truism about campaigns — that the Supreme Court's rulings in the Citizens United and Speechnow.org cases enabled corporations and billionaires to band together to buy presidential elections. The fact is that the vast majority of corporations have chosen not to take advantage of the Court's decisions by contributing to super PACs. A recent benchmarking study from the Public Affairs Council, for example, says 95 percent of firms have taken a pass, with a growing number establishing policies forbidding such expenditures.
While it's true that wealthy individuals have made hefty contributions to super PACs or, in some cases, to social welfare organizations that engage in politics, what have their contributions achieved?
By mid-December, the super PAC supporting Jeb Bush had spent close to $50 million, but Bush's polls numbers were going down, not up. Scott Walker's super PAC was on track to raise $40 million by the end of the year, but Walker had to quit the race in September because his campaign committee was running out of cash. The New York Times summed up the key takeaways for Walker:
Super PACs, Mr. Walker learned, cannot pay rent, phone bills, salaries, airfares or ballot access fees. They are not entitled to the preferential rates on advertising that federal law grants candidates, forcing them to pay far more money than candidates must for the same television and radio time.
Super PACs may be able to prop up candidates to keep them in the race a few months longer, but so far they haven't enabled anyone to buy a presidential election.
That leads us to the third media truism that isn't so true anymore — that winning elections is all about raising and spending the most money. Donald Trump's self-funded campaign, which has relied primarily on earned media, has attracted more attention than all of the other campaigns combined. He knows how to generate publicity — good and bad — and how to dominate the news cycle.
"Paid ads can't overwhelm earned media. [They] never could," said one Republican super PAC official in an interview with Bloomberg. The growth of social media has given candidates like Trump a potent way to attract attention and cultivate followers. As TV viewership declines, more people will soon be watching news clips of candidates on Facebook than watching campaign ads on TV at home.
Trump has more than enough personal money to outspend the competition, yet he has chosen not to use much of it. If money is the mother's milk of politics and victory goes to the biggest spender, don't you think he would be selling off investments to raise cash right about now?
Perhaps times have changed. Yahoo Finance did a comprehensive analysis of presidential and congressional campaigns in 2012 and 2014 and concluded that big donors on both sides tend to cancel each other out, political advertising is often a waste of money and external factors like the economy are more decisive in federal elections than are campaign contributions.
To be sure, money still matters in campaigns and the current system for funding U.S. elections could be improved. But legal political spending is not scandalous, nor does it prevent average people from exercising their free speech and voting rights.
And that's why it shouldn't be breaking news when a one-issue candidate drops out of the race because not enough people care about campaign finance reform.
Comments? Email me.