FOR IMMEDIATE RELEASE
October 28, 2021
Contact: Alaina Monismith
Senior Manager of Communications and
Media Relations
Public Affairs Council
202.787.5955
Public Affairs Council Elects Karen Himle as 2021-2022 Chair 
Washington – The Public Affairs Council elected Karen Himle, senior vice president of corporate and government affairs for Thrivent Financial, as its 2021-2022 chair during its fall board meeting.
At Thrivent Financial, Himle is responsible for leading the enterprise corporate communications, reputation and public policy, federal and state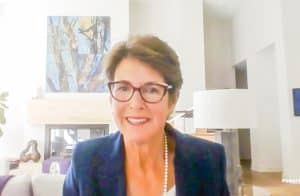 government affairs and community affairs functions of the organization. Prior to joining Thrivent in 2014, Himle served as executive vice president in the Minneapolis office for the executive search firm DHR International. She has volunteered for numerous nonprofit organizations throughout her career and has been a dedicated mentor.
As chair of the Council, Himle will prioritize providing strategic guidance and training for Council members as they manage environmental, social and governance reporting; strengthening the Council's role as a voice of experience and reason in business and policy issues; and establishing a committee for the future that will identify the unique challenges facing the public affairs profession.
"As we continue our work defining and addressing social impact, Karen is the right leader to guide us in a long-term and thoughtful approach," said Public Affairs Council President Doug Pinkham.  "Her experience and exceptional leadership skills will help us tackle the many challenges and opportunities the profession is facing. We look forward to working with Karen to advance the priorities she's set for the year ahead."
The Council also announced new members to its Executive Committee and Board of Directors. New Executive Committee members include:
Greg Crist, chief advocacy officer and head of external affairs, Advanced Medical Technology Association
John Galligan, general manager of global public affairs, Microsoft Corp.
Molly Njeru Ryan, vice president of government affairs and policy, Global Blood Therapeutics
Scott Orr, vice president of government relations and public affairs, Fidelity Investments
Erin Streeter, senior vice president of communications and brand strategy, National Association of Manufacturers
View the Council's Executive Committee.
View the Council's Board of Directors.
About the Public Affairs Council
Both nonpartisan and nonpolitical, the Public Affairs Council is the leading association for public affairs professionals worldwide. The Council's mission is to advance the field of public affairs and to provide its 700 member companies, associations and other nonprofits with the executive education and expertise they need to succeed while maintaining the highest ethical standards.