Certificate in Government Relations and Lobbying Requirements
The Certificate in Government Relations and Lobbying program can easily be completed in two years, but participants should expect to complete all requirements within three years.
Certificate completion requires 25 credits. The number of credits per program will be awarded as follows: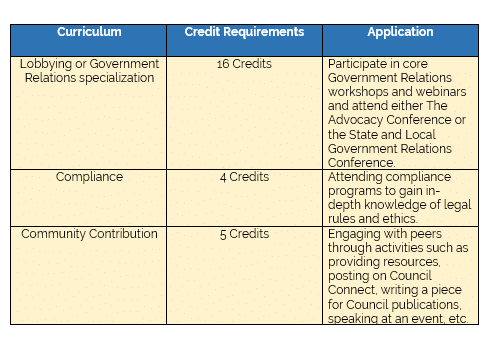 ---
Click here for a list of all eligible programs.
Terms of Enrollment:
Candidates are expected to complete the program requirements within three years of application.
You must apply within 30 days of the first program that will count toward your certificate. Programs more than 30 days prior to the date of the application will not count toward certificate completion.
You must attend either the Advocacy Conference or State and Local Government Relations Conference at least once to receive this certificate.
You must earn a minimum of 25 credits to receive your certificate, including at least 4 compliance credits and 5 community credits.
Additional credit information:
Only participation in live webinars is eligible for certificate credit. Purchase of webinar recordings is not applicable. Additionally, only those individuals actually registered for the webinar are eligible to receive credit.
Credits earned through participation in webinars are capped at a maximum of 5 credits. Participating virtually in events offered in-person at our Washington offices do not count toward this maximum. However, to earn credit as a virtual participant, we require that you engage on the virtual platform and be logged in and active for the duration of the event, ask questions and provide feedback and commentary during discussion periods.
Attendance and participation throughout an entire event are required to receive credit in any program; registration without attendance or early departure from an event will not count towards certificate completion.
Community credits may be earned for the following activities (achievement of these credits are subject to the discretion of Council staff):
Serving as a mentor for one year (mentee must confirm participation) — 1 credit
Serving as an active member of an Advisory Committee for one of our signature Conferences, at the discretion of Council staff (active members participate in advisory committee meetings and calls, or connect with staff when not available to participate in meetings; submit speaker and program suggestions; actively promote the conference to colleagues and peers; and support conference success through participation, attendance, submission of relevant resources and active involvement in conference activities). Credit for this will be awarded after the relevant conference occurs — 1 credit
Submitting Government Relations or Lobbying-related resources to be shared in the Council's resource library — 1 credit per five resources submitted, up to a maximum of 2 credits
Serving as a speaker at a related Council program (at the discretion of Council staff) — 2 credits
Writing an article or tip sheet for use on the Council's website or in one of the Council's quarterly network newsletters (in conjunction with Council staff) — 1 credit
Posting on Council Connect – 1 Credit for each 5 posts of substance

Posts must be tagged with @John Kasander so that they can be tracked
ex: starting a thread, commenting on an existing thread in a way that forwards the conversation or shares insight, or sharing professional expertise that assists your colleagues.
NOTE: Since the Public Affairs Council has no input on the agenda or content of programs held by other organizations, credit will not be given for attendance at non-Council training programs.
To download the application, click here.
To download the self-tracking form, click here.