---
Successful completion of the Certificate in PAC & Grassroots Management program requires earning 25 credits, which are accrued by attending select Council programs and by earning various community credits, as described on the requirements page.
Participants must choose to specialize in either PAC or grassroots management, but there is also the option to add a second specialization upon completion of their certificate. All enrollees are encouraged to attend at least one program in the other specialty so as to gain a more robust and cross-functional understanding of the political involvement process.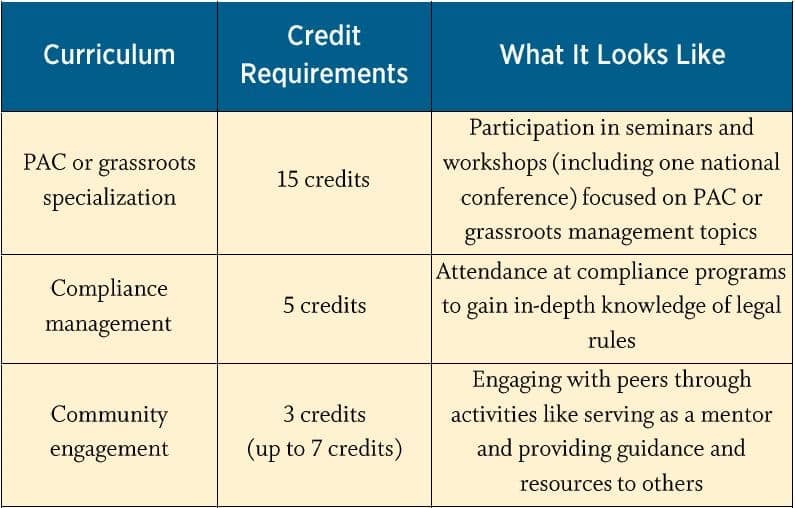 For a more detailed explanation of these requirements, click here.
To download the application, click here.
To download the self-tracking form, click here.
In order to confirm participation in webinars, only those actually registered for the webinar are eligible to receive credit. Participation in live webinars will be given certificate credit. Purchase of webinar recordings are not eligible for credit. 
Credits earned through participation in webinars are capped at a maximum of 5 credits. Participating virtually in events offered in-person at our Washington offices do not count toward this maximum. However, to earn credit as a virtual participant, we require that you engage on the virtual platform and be logged in and active for the duration of the event, ask questions and provide feedback and commentary during discussion periods.
NOTE: Attendance and participation throughout an entire event is required to receive credit in any program; registration without attendance or early departure from an event will not count towards certificate completion.
---
Upcoming programs eligible for credit include:
>>Click here to download a list of past programs eligible for credit.