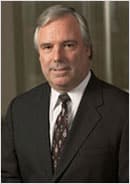 Robert J. Morris
Robert J. Morris is an international corporate and public affairs executive with a 25-year track record. A former member of the Council's Executive Committee, he advises the Council on major research and benchmarking projects.
In 2011, he founded Foresight Strategy, a consultancy focused on corporate social responsibility.
Previously, Bob served for 14 years as vice president of public affairs for InterGen, a global electric power company. There, he established the company's external brand and was the senior officer responsible for government, media and community affairs. He also established the company's approach to sustainable development and community outreach for international power projects in over a dozen countries.
Bob's diverse background includes public affairs experience in environmental services, global PR and NGO advocacy, as well as service as a U.S. Peace Corps volunteer in Latin America.
For the past five years, Bob has served as an adjunct professor in the MBA program at the Boston College Carroll School of Management. He also serves as a senior fellow in social innovation at Babson College's Lewis Institute.
Bob holds a bachelor's degree in management from Boston College, a master's degree in international affairs from Ohio University and a master's degree in public administration from Harvard University.