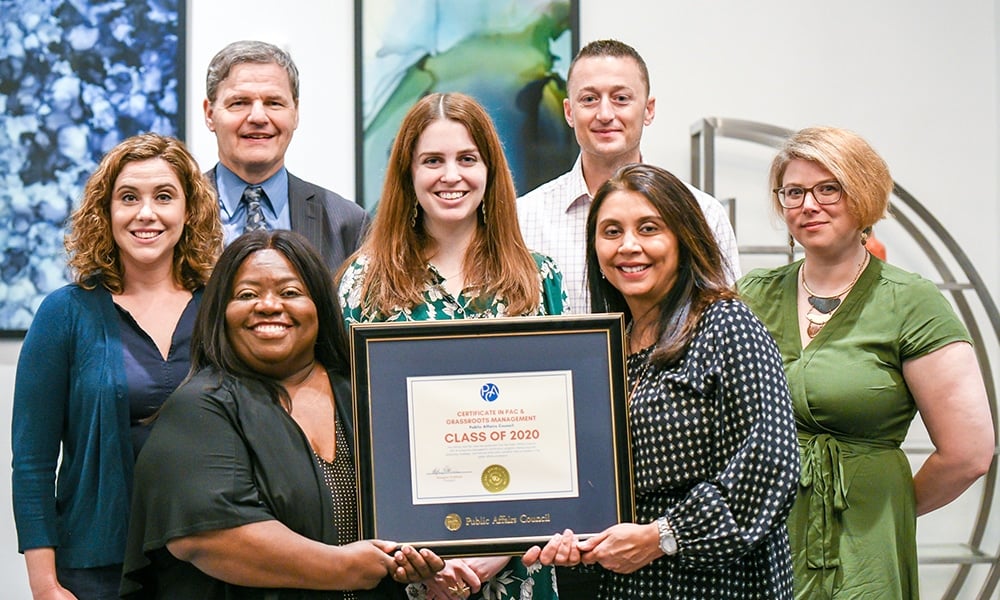 FOR IMMEDIATE RELEASE
March 17, 2020
Council Honors New Class of Certificate Program Graduates
Washington, D.C. (March 17, 2020) – The Public Affairs Council congratulates the latest class of certificate program graduates! Eighteen public affairs professionals have completed the Certificate in PAC and Grassroots Management. The new graduates are part of a growing program that offers recipients the education, expertise and community involvement to excel in their careers and help their companies succeed.
"We're pleased to recognize this latest class of public affairs certificate recipients," said Council President Doug Pinkham. "We've designed the program to challenge each enrollee while encouraging new ideas in the profession — and we're thrilled to see it grow. These leaders have demonstrated commitment to the field of public affairs, to their own development and to others working in this business."
Certificate candidates have to go through a rigorous course of study focused on building core knowledge, developing strategic skills and engaging with the community. Graduates have successfully completed credits via workshops, webinars and conferences that strengthen their understanding and expertise in the field.
Certificates in PAC and Grassroots Management were awarded to:
Pilar Carpenter, TD Bank
Bobbie Clinton, Jacobs
Bethany Nadeau Dame, American Property Casualty Insurance Association
Laura Davis, AmerisourceBergen
Sarah Duwe, Filament
Regina Heffernan, Independence Blue Cross
Ellen Locke, Nationwide Insurance
Paula Martino, Strategic Public Affairs
Jason McGonigle, Public Affairs Support Services
Juli Meyer, National Association of Home Builders
Carolyn Morrison, Dominion Energy
Mina Patel, Capital One
Cynthia Redmond, Samsung Electronics America
Jonathan Spontarelli, State and Federal Communications
Megan Vijiarungam, Targeted Victory
Laura Vogel, National Rural Electric Cooperative Association
Heather Whitpan, Solar Energy Industries Association
Sarah Yi, CTIA – The Wireless Association
Learn more about earning a certificate.
About the Public Affairs Council
The Council's mission is to advance the field of public affairs and to provide its 700 member companies and associations with the executive education and expertise they need to succeed while maintaining the highest ethical standards. Learn more about the Council at pac.org.