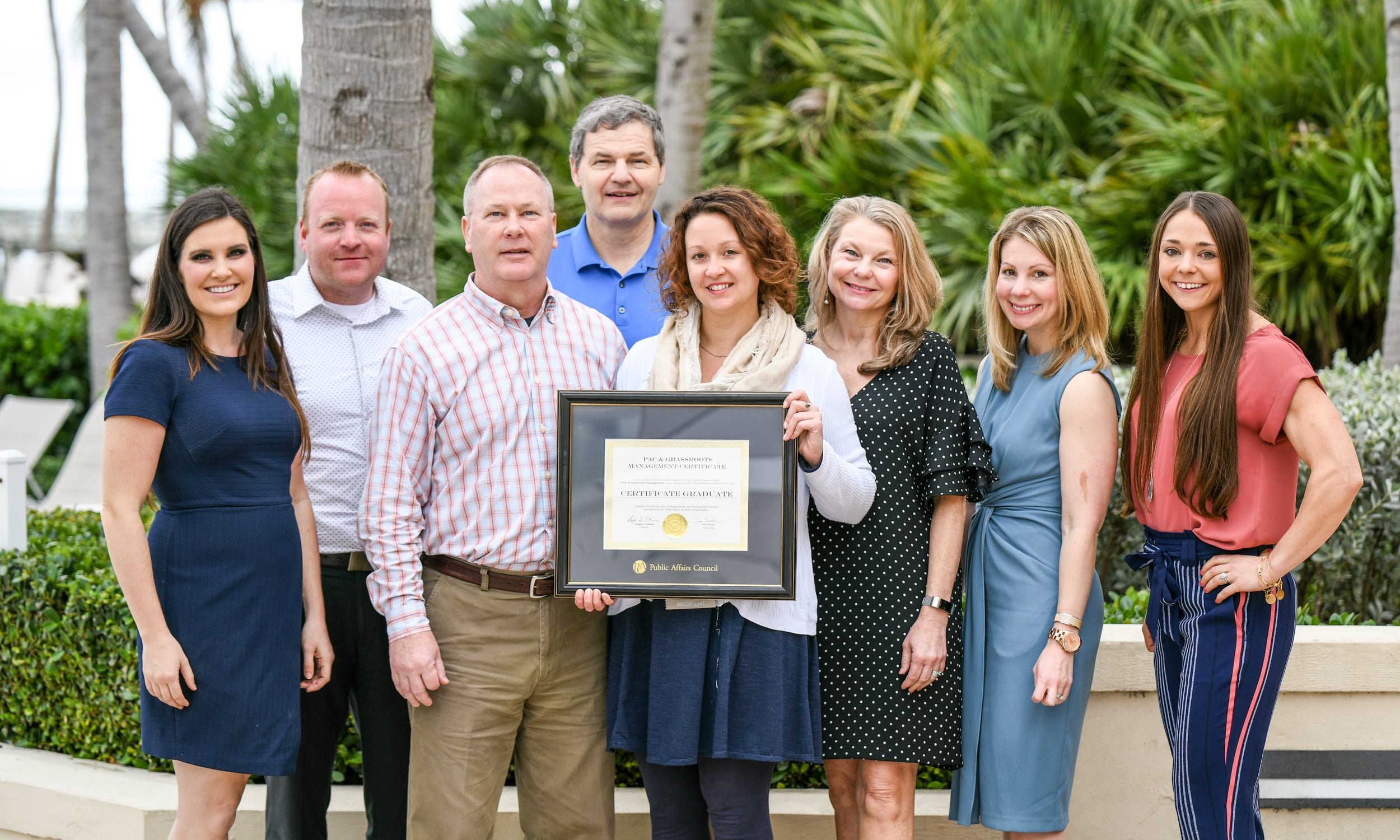 FOR IMMEDIATE RELEASE
January 30, 2019
Washington, D.C. (January 30, 2019) – Nine public affairs professionals received the Certificate in PAC and Grassroots Management from the Public Affairs Council today during The Advocacy Conference in Key West, Florida. This is the largest certificate recipient class to date.
"The growth of the program speaks to the value the curriculum provides for professionals working in the competitive and dynamic fields of PAC and grassroots management," says Council President Doug Pinkham. "Continuing education is crucial for any leader to boost the productivity and influence of their organization, and our certificate recipients are well-prepared to advance the goals of their companies and their careers."
The Council's certificate program is marked by a rigorous course of study focused on building core knowledge, developing strategic skills and engaging with the community. Over several years, graduates complete credits via workshops, webinars and conferences that strengthen their understanding and expertise in the field.
Certificates in PAC and Grassroots Management with a dual specialization in both PAC and Grassroots Management were given to:
Angela Chiappetta, Associate Vice President of Business Development, DDC Public Affairs
Certificates in PAC and Grassroots Management with a specialization in Grassroots Management were given to:
Alicia Meads, Legislative Affairs Manager, CF Industries, Inc.
Amie Adams, Senior Vice President, Dunn Associates
Bill Otto, Government Relations Associate, Sourcewell
Elizabeth Shaw, Manager, Federal Grassroots Development, American College of Cardiology
Helen Taylor, Digital Marketing Associate, Public Affairs Council
Lauren Drew, Senior Manager, Advocacy and State Relations, National Hospice and Palliative Care Organization
Randy Dwyer, Executive Director, American Farm Bureau Federation
Sherry Whitworth, Executive Vice President, VoterVoice, a FiscalNote company
To learn more about earning a certificate, visit https://pac.org/certificate.
About the Public Affairs Council
The Council's mission is to advance the field of public affairs and to provide its 700 member companies and associations with the executive education and expertise they need to succeed while maintaining the highest ethical standards. Learn more about the Council at pac.org.