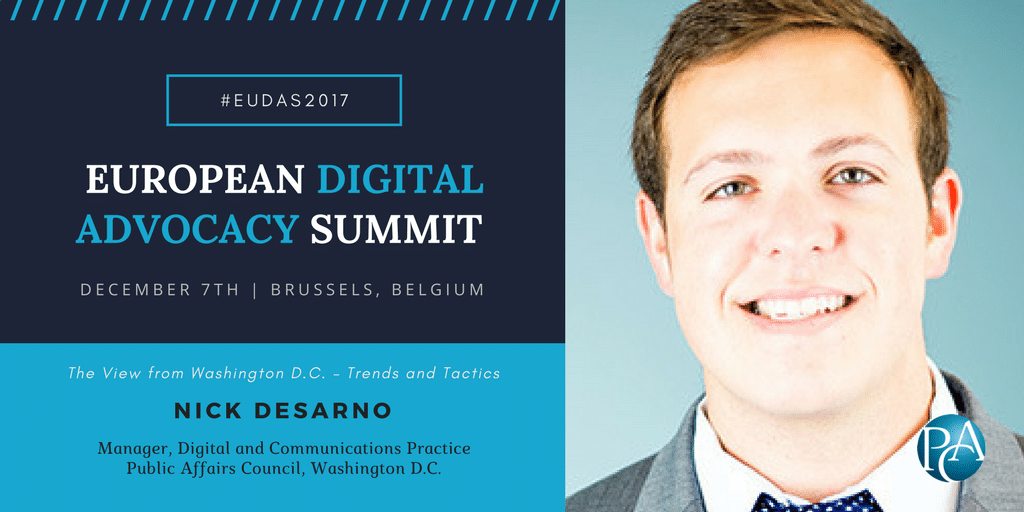 Nick DeSarno is the manager, digital and communications practice for the Public Affairs Council. In this capacity, he is the Council's lead expert on digital advocacy topics, advises members on the fast growing area of digital public affairs, and convenes the industry's leading executive education programs on public affairs communications strategies.
Prior to joining the Council, Nick was the manager of grassroots advocacy at the American Dental Association, where he managed numerous digital advocacy campaigns on the federal and state level. In addition, he built out their political education programing and increased political engagement among the association's 158,000 dentist members. While at the ADA, Nick launched new technology projects which included mobile PAC giving and their first direct candidate giving program.
Previously, Nick served as deputy communications director for a member of Congress from Illinois. In that capacity, he improved online and social media communications and successfully launched targeted online advertisements.
A New Jersey native, Nick previously served as a legislative aide and deputy campaign manager to his home-town state senator and assemblyman. He earned a Bachelor of Arts in political science from the University of Mary Washington and currently is pursuing a graduate degree from George Mason University. In addition, Nick was recently selected as a 2016-2017 Bryce Harlow Fellow. Nick lives in Arlington, Va., and is an avid tennis player.