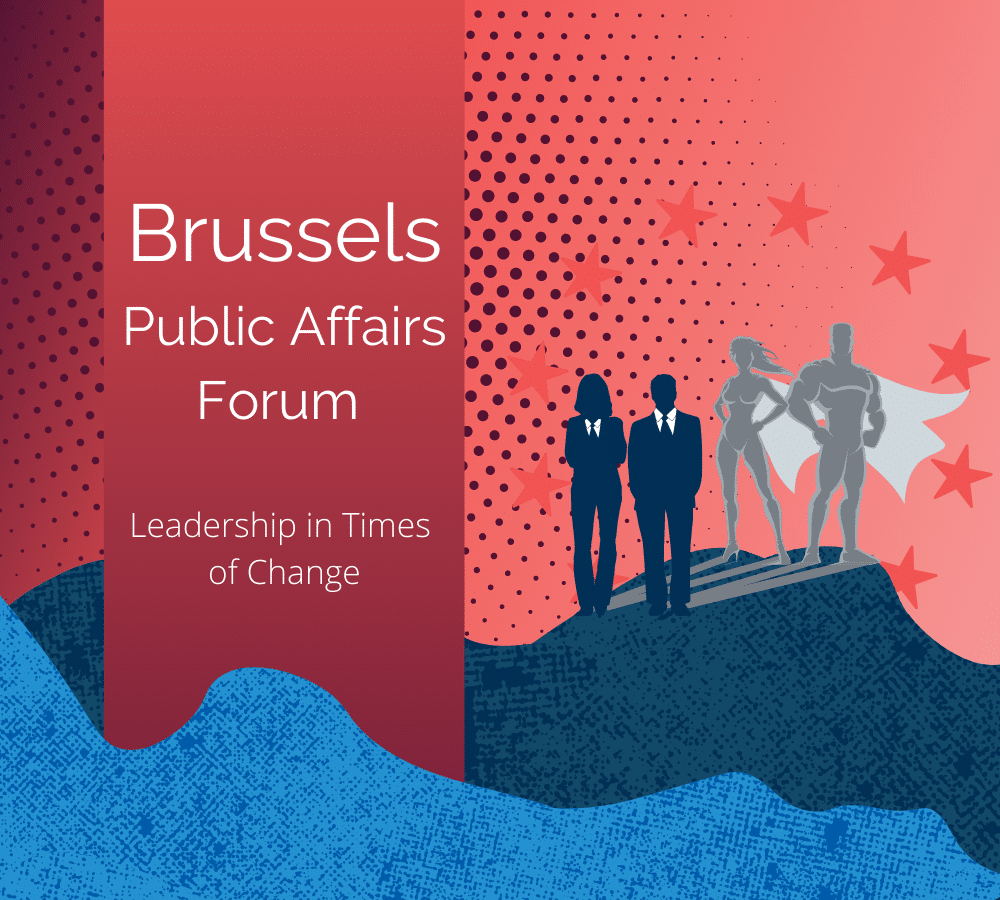 Businesses and governments operate in an uncertain and rapidly changing landscape. Faced with increasingly complex and multifaceted issues, from a global pandemic to international conflicts, climate-related risks and global economic crises, public affairs leaders need to work harder to manage their public affairs function, protect their company's reputation and deliver on public and government expectations.
Join your peers in this year's in-person Brussels Forum to participate in panel discussions, networking and workshops on some of the key issues that are defining the Public Affairs landscape today.
The past few years have been witness to events that have fundamentally impacted the way governments and companies engage with their societies – from the COVID-19 pandemic to climate-related uncertainty, threats to globalisation and economic growth, and military conflict.
How can public affairs leaders help their organisations navigate this uncertain landscape, manage reputational risks and lead their teams to successful outcomes?
Building on the success of previous summits, the Public Affairs Council will bring together 100+ corporate leaders, senior-level government officials, public affairs executives and engaging speakers to discuss management approaches and strategies to discuss topics such as:
Leadership in uncertain times – How business and governments can work together
Aligning purpose, goals and priorities in business and in public affairs
Managing global risk – Strategies, tactics and tips for public affairs leaders
Leadership in public affairs – Transatlantic perspectives
Communicating with stakeholders in uncertain times
The conference will take place in-person in Brussels and will feature strategic discussions, networking and tactical workshops that will provide participants with unique insights, tips and practical examples of how good ideas have been translating into successful public affairs campaigns.
With special thanks to our premium sponsor:
Quorum is public affairs software that helps you work smarter and move faster by providing one place to map, track, change, and report on your organisation's policy landscape. Quorum is a one-stop-shop for stakeholder engagement, issues management, monitoring, and reporting in the EU and globally. Thousands of public affairs professionals use Quorum for their work in the European Union, Congress, all 50 state legislatures, and major global markets. Learn why Quorum is best in class at www.quorumeu.com.
Speakers from previous editions include

Pia Ahrenkilde Hansen
Director-General of the Directorate-General for Communication
European Commission

Andrea Chiarello
Director, Head of EU Government Affairs
Pfizer

Fleming Voetmann
Vice President, Group Communications, Marketing & Sustainability
FLSmidth

Peter Boris Schmitt
Corporate Director and Head of EU Office Public Affairs & Governmental Relations
Henkel AG & Co. KGaA

Julian Ha
Partner
Heidrick & Struggles international, inc.

Stéphanie Finck
VP Government Affairs EMEA
Salesforce

Dan Gardner
Award-winning journalist
and bestselling author of
Risk: The Science and Politics of Fear

Marjory van den Broeke
Head of the Spokesperson's Unit
European Parliament

Alice Stollmeyer
Executive Director
Defending Democracy

Troy Scully
Vice President, Communications & Public Affairs, EMEA
The Goodyear Tire and Rubber Company

Jenny Kim
VP of Operations & General Counsel
Philanthropy Roundtable

Howard Chase
Chairman, European Risk Forum
Director of Government Affairs,
Dow Europe

Alex Wirth
CEO & Cofounder
Quorum

James Ramsay
Head of Unit for Communication
European Food Safety Authority (EFSA)

Lisbeth Kirk
Founder, EUobserver.com,
CBS Executive, ECAS board member
Event Location
+ Click to expand
Venue:
Renaissance Brussels Hotel
Rue du Parnasse 19
1050
Brussels
Interested in Attending?
Please let us know if you are interested in attending and we will let you know as soon as registrations open.
Would you like to register more than one member of your team?
Would you like to register for more than one PAC training seminar this year?
Let us know at europe@pac.org or +32 476 639 503 and learn more about the discounts available.
Not sure if your organization is a member of the Public Affairs Council? Check here.
Learn how we collect, use and protect your information by reading our privacy notice at https://pac.org/privacy-notice.
Sponsorship Opportunities
Sponsoring the Public Affairs Council's Brussels Forum is an excellent way to connect with public affairs and industry experts, as well as EU officials. More than 100 EU advocacy and regulatory affairs professionals will be in attendance to share their insights and hear from industry thought leaders about the issues facing the profession today.
Is your organization interested in partnering with the Public Affairs Council as an event sponsor?
Contact us at jsousa@pac.org