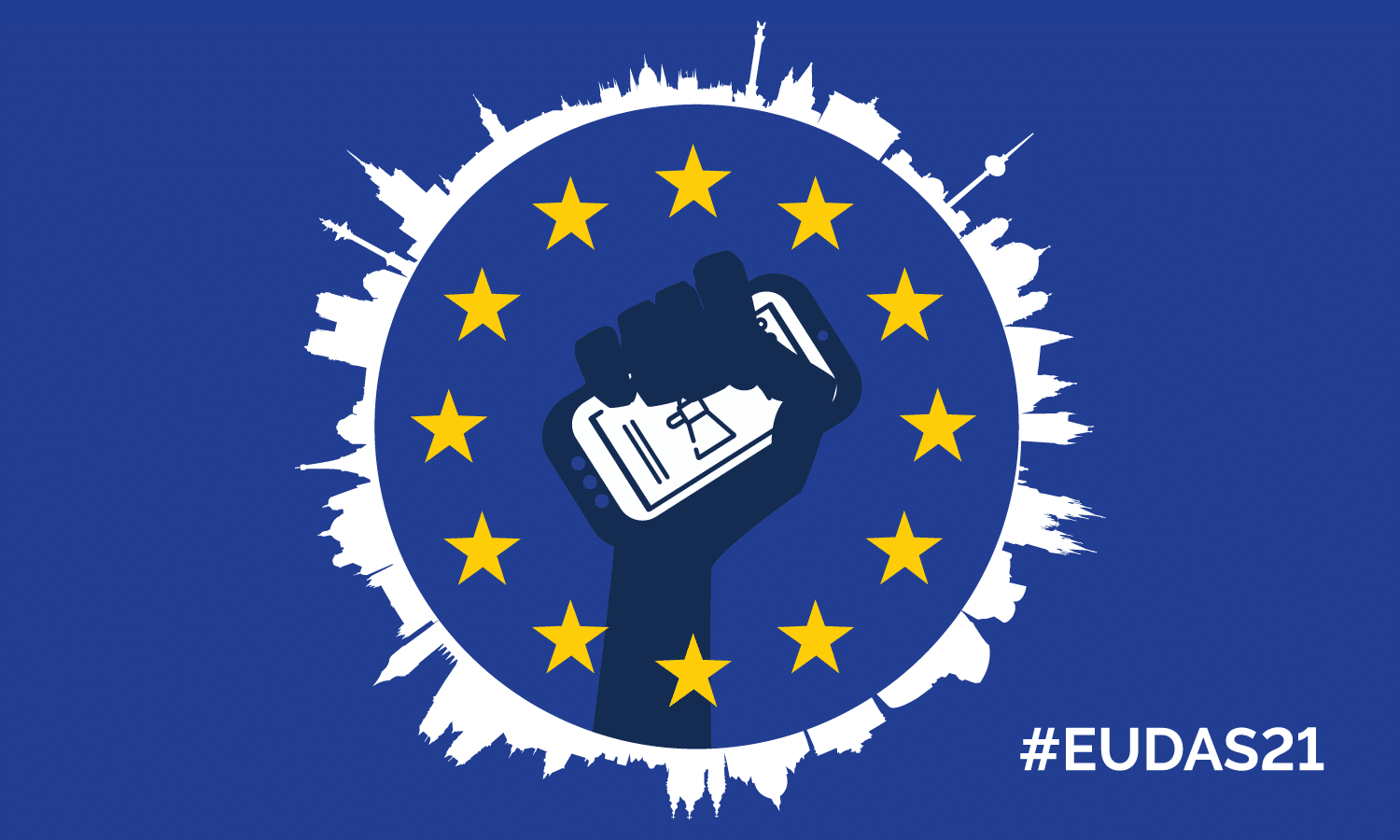 Digital advocacy and virtual engagement are critical components of the public affairs toolkit and offer organizations a growing range of options to engage with policymakers, potential partners or critics, and the public. Join our flagship digital conference #EUDAS21 to learn about the latest trends and brightest ideas on digital advocacy and communication.
Building on the success of previous years, the 2021 European Digital Advocacy Summit will take place on 1-3 December in Brussels in a hybrid format — two days of virtual panel discussions followed by a third day of skill-building training sessions (face-to-face in our Brussels office—COVID19 restrictions permitting—as well as live streamed).
This hybrid summit will give public affairs and communication professionals the opportunity to exchange cutting-edge approaches in digital advocacy, discuss tools and tactics that can work best for your team, and learn from peers and experts through successful case studies — from Europe, the US and beyond. You will also be able to network with your peers attending the event — online through our interactive platform, as well as face-to-face on the third day of the event, taking place in our Brussels office (COVID19 restrictions permitting).
Join us on December 1-3 to gain new insights into topics and questions such as:
What have we learned about digital engagement after two years of COVID19 restrictions
Winning digital campaigns and best practices from the European capitals and the United States
Digital storytelling and how to use data in an engaging and persuasive way
How to organize and run successful hybrid and virtual events
Best tools and tactics to engage with EU policymakers
Listening, and understanding your advocacy environment — how can digital tools help?
Speakers include:

Tom Moylan
Corporate Communication Adviser
European Commission

Dominique Roch
Freelance in Digital Communications

Alessandro Da Rold
Managing Director
EU40

Dan Sobovitz
Founder, spreadable.io • CCO,
European Startup Prize for Mobility •
Senior Adviser, BCW

Jo Sullivan
Professor Climate Diplomacy • Author • Speaker • Founder & CEO Conscience Consulting

Philip Trippenbach
Client Strategy Lead EMEA
Edelman DXI team

Nuno Bacharel
Head of Communications
BSEF

Daniel Ureña
Founding & Managing Partner
MAS Consulting

Jo Simmons
Account Director – Government
LinkedIn

Brett Kobie
Strategy & Creative Director
BUMP

Elke Grooten
Head EU Relations
Novartis

Mike Panetta
Partner
Beekeeper Group

Mike Ball
Video Producer
BUMP

Greta Hofmann
Team Lead Digital Public Affairs
Cosmonauts & Kings

Sofia Kuhn
Head of Public Engagement
EIT Food

Leyla Sertel
Director, EU Business Development
FiscalNote

Richard Medic
Creative Director, cofounder
The Right Street

Nick DeSarno
Director of Digital and Policy Communications
Public Affairs Council
With special thanks to our event partners:
FiscalNote is a global technology and media company focused on delivering timely and relevant policy information in a complex and evolving world. More than 4,000 clients worldwide rely on FiscalNote for policy news & analysis, tracking, stakeholder management, collaboration and advocacy tools.
Our EU legislative and regulatory intelligence solution combines cutting-edge technology with human analysis from our team on-the-ground in Brussels to help our customers not only respond to, but anticipate changes in EU policy.
For more information on our EU solutions, visit FiscalNote.eu.
Quorum is a public affairs software company that helps teams work smarter and move faster by providing one place to map, track, change, and report on your organisation's policy landscape.
Thousands of public affairs professionals use Quorum for their work in the European Union, Congress, all 50 state legislatures, and major global markets. Founded in 2014, Quorum is headquartered in Washington, D.C. with an international office in Brussels. Learn why Quorum is best in class at quorumeu.com.
Agenda
Please note that recordings of most discussions will be available to registrants after the event for a period of 7 days. Sessions will take place in the afternoons for European audiences and in the mornings for U.S. participants.
All stated times are CET (Brussels).
DAY 1 - Click to expand
13:30   Arrival, orientation and networking
14:00   Fireside chat — Trends in digital communication in the EU
14:45   Virtual networking break
15:00   Panel discussion — Using digital to tell stories and communicate with purpose
16:00   Virtual networking break
16:10   Tactical session — Organizing hybrid events
16:40   Short break
16:45   Panel discussion — Using digital to understand your landscape
17:30   Virtual networking
18:00   End of day 1
DAY 2 - Click to expand
13:30   Arrival, orientation and networking
14:00   Panel discussion — Using digital to engage with EU decision-makers
15:00   Virtual networking break
15:15   Panel discussion — Best digital practices and campaigns from EU capitals
16:00   Virtual networking break
16:10   Tactical session — Using social media for thought-leadership
16:40   Short break
16:45   Panel discussion — Digital advocacy in the United States: best practice, ideas and case studies
17:30   Virtual networking
18:00   End of day 2
DAY 3 - Click to expand
09:00   Arrival, welcome and coffee
09:30   Session 1 — Setting Up a digital advocacy strategy From scratch
10:30   Networking break
10:45   Session 2 — Developing narratives for digital platforms
11:45   Networking break
12:00   Session 3 — Maximizing your advocacy impact through social media
13:00   Networking lunch
13:30   End of conference
For in-person participants, COVID-19 measures as per regulations in Belgium will apply.
Testimonials
"Great talks about digital advocacy trends this morning at #EUDAS19"
– Camille Brébois, Communication Consultant, LOGOS Public Affairs
"#EUDAS2017 was an incredibly insightful event today. Kudos to the organizer, @andrasbaneth @PACouncil and all the speakers and participants. Thank you. Exciting times for #eucomms indeed!"
– Harold Tor, Head Of Communications, Centre for European Policy Studies
"Thanks to @andrasbaneth and the #EUDAS2016 crowd for a great day of digital debate! Happy to join & learn."
– Chris Heron, Communications and Public Affairs Manager, Eurometaux
"Loved #EUDAS2015 sharpness & interactions. A very productive day for @UnileverEU thx @andrasbaneth @PACouncil"
– Unilever EU Affairs team
Event Location
+ Click to expand
Ambiorix Center
Square Ambiorix 7,
B-1000, Brussels,
Belgium
COVID-19 information and safety measures
The safety of our event attendees, partners and team are of paramount importance to the Public Affairs Council.
To ensure in-person events take place with lower risk to participants, as per applicable regulations in Belgium, event participants will be asked to provide: a certificate of complete vaccination with a recognized vaccine over 13 days old, or a certificate of a negative PCR test in the last 48 hours or an antigen test (rapid test) in the last 24 hours, or a recovery certificate of up to 180 days old.
Personal Responsibility
Despite everyone's best efforts before and during our events, it is impossible to reduce the risk of virus/illness transmission to zero. As an attendee registering for a Public Affairs Council European office event, you:
Acknowledge these and other risks and agree to take full, personal responsibility for them. You will not hold anyone else accountable, including the Public Affairs Council, its staff or partners, should you contract an illness or should anything else happen to you during your participation in this meeting.
Pledge not to attend the meeting or any Public Affairs Council event if you feel ill or are COVID-19 positive.
Will take necessary precautions while at the event.
Register
If you wish to register to view the recordings of this event, please contact us at europe@pac.org.

Dušan Chrenek
Principal Adviser in Directorate General for Climate Action of the European Commission (DG CLIMA)

Joanna Carson
Global Operating Director
Women in Tech

Dan Horowitz
Director, Online Sales Organization, Government & Services
LinkedIn

Karmen Špiljak
Senior Web and Social Media Officer
WWF European Policy Office

Tina Zournatzi
Head of Unit for
Strategic Communication
European Commission's Directorate General for Communication

Julie Kjestrup
Head of EU Affairs & Interim Head of Group Public Affairs and Sustainability
Danfoss

Marie-Helene De Coster
Partner
Heidrick & Struggles

Shweta Kulkarni Van Biesen
Director of Communications
Interactive Software Federation of Europe (ISFE)

Maggy Peeters
Communications and Outreach Director
AmCham EU
Sponsorship Opportunities
Sponsoring the Public Affairs Council's European Digital Advocacy Summit is an excellent way to connect with public affairs and industry experts, as well as EU officials. More than 120 EU advocacy, communications and regulatory affairs professionals will be in attendance to share their insights and hear from industry thought leaders about today's best digital advocacy strategies.
Download our sponsorship flyer for more information about sponsorship of #EUDAS21.
If you have any questions or wish to discuss sponsorship further, please contact the Public Affairs Council's European office.