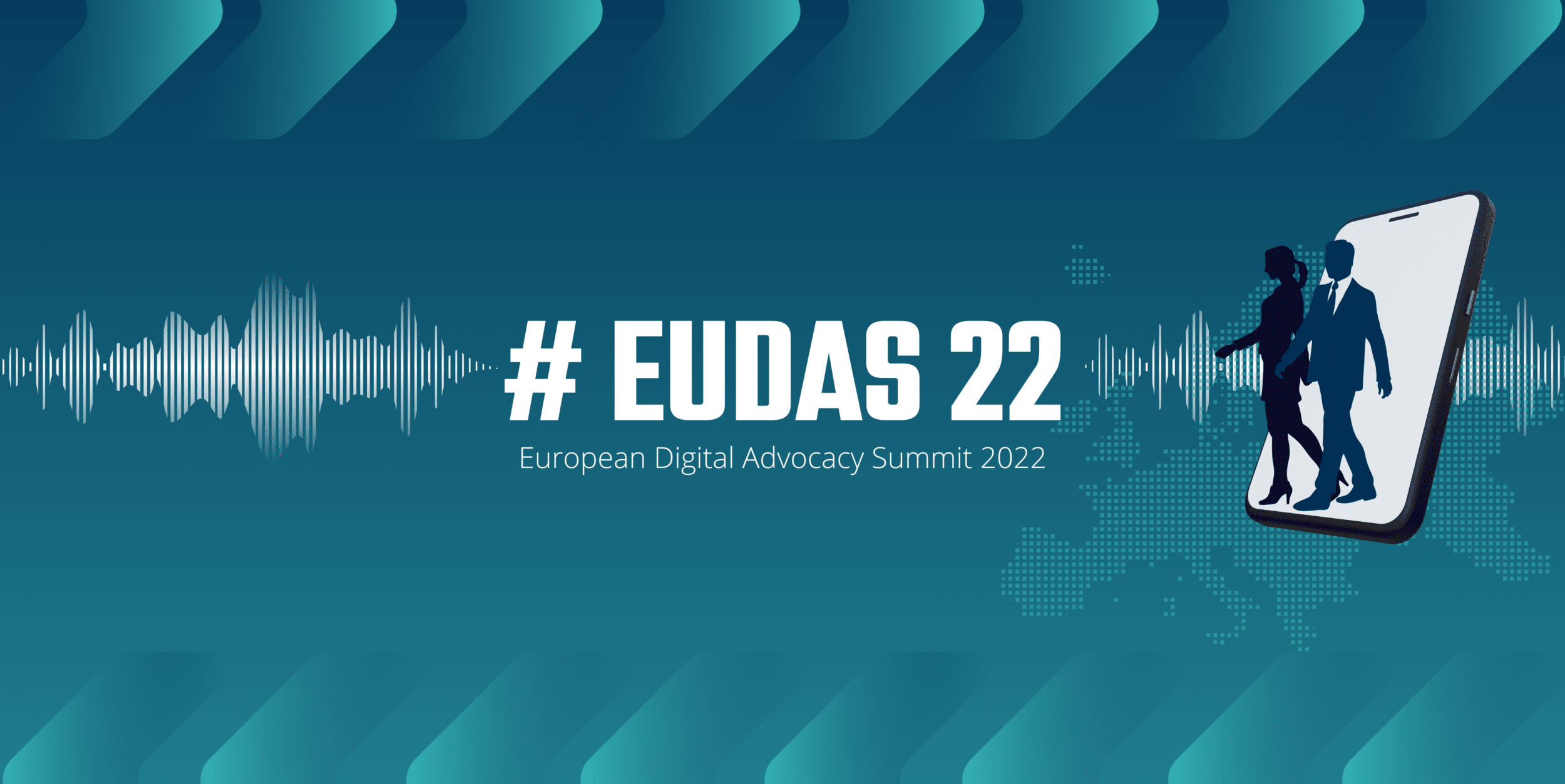 European Digital Advocacy Summit 2022
#EUDAS22
7- 8 December 2022
Hybrid Conference
Digital advocacy is a key component of the modern public affairs toolkit. As digital and virtual engagement tools become ubiquitous, organizations need to be able to differentiate themselves in order to be effective and thrive in an increasingly crowded landscape. Join our flagship digital conference #EUDAS22 to learn about latest trends, creative campaigns and brightest ideas on digital advocacy and communication, in Europe and beyond.
Building on the success of previous years, the 2022 European Digital Advocacy Summit will take place on 7 & 8 December in Brussels in a hybrid format — one day of virtual panel discussions followed by one day of skill-building training sessions (face-to-face in our Brussels office, as well as live streamed).
This hybrid summit will give public affairs and communication professionals the opportunity to exchange cutting-edge approaches in digital advocacy, discuss tools and tactics that can work best for your team, and learn from peers and experts through successful case studies. You will also be able to network with your peers attending the event — online through our interactive platform, as well as face-to-face during the second day of in-person workshops.
Join us on December 7 & 8 to gain new insights into topics and questions such as:
What role for Europe in the global communication arena?
Latest trends and best practice in digital advocacy in the EU
Harnessing data and numbers for intelligence and engagement
Case studies of digital campaigns in the EU and the US
Deep dive: building a digital campaign from scratch, issues & stakeholder mapping, measuring your impact, and more
Testimonials
"'Twitter runs on outrage, LinkedIn runs on inspiration.' Really interesting final day of #EUDAS21 listening to @andrasbaneth @RichardMedic on using digital comms for effective advocacy"
– Cass Hebron, Editor @TheGreenFix
"Great talks about digital advocacy trends this morning at #EUDAS19"
– Camille Brébois, Communication Consultant, LOGOS Public Affairs
"#EUDAS2017 was an incredibly insightful event today. Kudos to the organizer, @andrasbaneth @PACouncil and all the speakers and participants. Thank you. Exciting times for #eucomms indeed!"
– Harold Tor, Head Of Communications, Centre for European Policy Studies
"Thanks to @andrasbaneth and the #EUDAS2016 crowd for a great day of digital debate! Happy to join & learn."
– Chris Heron, Communications and Public Affairs Manager, Eurometaux
"Loved #EUDAS2015 sharpness & interactions. A very productive day for @UnileverEU thx @andrasbaneth @PACouncil"
– Unilever EU Affairs team