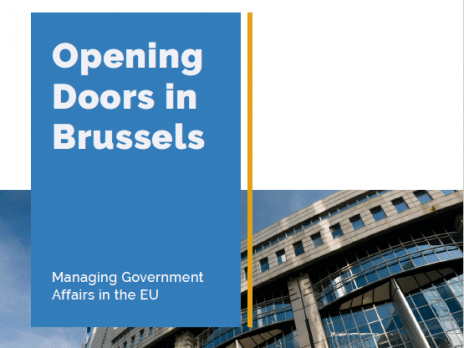 This webinar will provide an overview of the newly issued Opening Doors in Brussels report. Our experts will then analyze and discuss some of the most pressing issues facing public affairs professionals working in the EU.
Featured Topic & Speakers
Understanding the complexities of European Union policy and decision-making can be as challenging as it is critical for companies wishing to operate successfully in the European market.
To complement the release of our new report "Opening Doors in Brussels: Managing Government Affairs in the EU", this webinar will bring together experts and executives with on-the-ground experience to analyze the most pressing issues facing public affairs professionals.
You'll gain insight into:
Planning your public affairs strategy for 2019, including Brexit and EU institutional changes
Tactics and tips that have proven successful in the European context — and the mistakes to avoid
Pressing issues facing government relations teams in the EU, such as GDPR, transparency and digital advocacy
Choosing the best approach: Should you lobby Brussels-based institutions, national governments, or both?

András Baneth
Managing Director, European Office
Public Affairs Council

Dasha Iventicheva
Manager, Global Public Affairs Practice
Public Affairs Council

Dr. Alan Hardacre
Head of Group Corporate Affairs
Imperial Brands

Mark Dober
Managing Director, Brussels
Ellwood Atfield
Register
CLICK HERE FOR INSTRUCTIONS FOR ATTENDING WEBINAR
Can't make the live webinar? Register anyway and we'll send you a link to the recording.
Webinar is free to members of the Public Affairs Council
Non-members: $125 + VAT
Not sure if you're a member? Check here.
All registrants will be given access to the live event and will also be sent a link to the recording of the webinar.