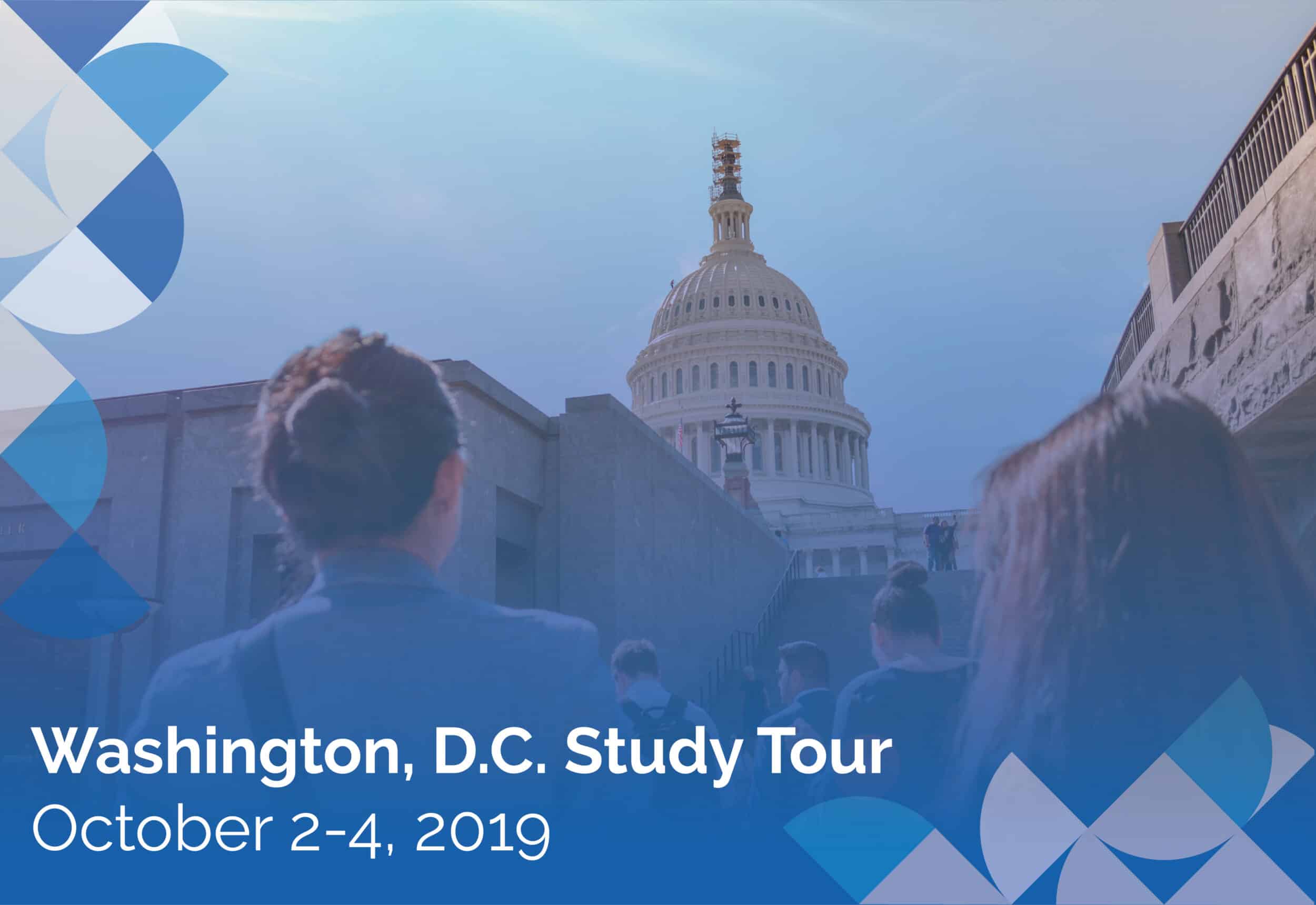 Enhance your understanding of public affairs from the Washington perspective. Understand how policymaking works, who influences trends, and how to apply best practices to make your public affairs strategy successful inside the beltway.
Featured Topic & Speakers
Through both interactive discussions and site visits with working professionals, you'll learn:
Washington's key stakeholders: Who they are, how they define public affairs and how to effectively engage them in your external affairs strategy
The relationship between government and business from representatives of government agencies, embassies, think tanks, media outlets, multilateral organizations, associations and more
Best practices on issues management, stakeholder engagement, digital communications, strategic advocacy and more
This three-day program will feature meetings and visits with:
Policy and decision-makers from federal agencies and Capitol Hill
"Best-in-class" Council members, including in-house practitioners, consultants and trade associations
D.C. insiders with backgrounds in academia, journalism, foreign diplomacy and non-profits
Council staff experts who help define best practices for the industry
The Study Tour is SOLD OUT. If you would like to be added to the wait list, please email Carolyn Darville at cdarville@pac.org. 
Wednesday, October 2
9:00a.m.     Introductory Session
We will begin the first morning of the study tour with an overview of the daily agenda, participant introductions, and time for logistical questions.


Dasha Iventicheva
Manager, Global Public Affairs Practice
Public Affairs Council
9:30a.m.     Why Public Affairs Matters
The Council's President will discuss the latest data and trends in the profession, the biggest challenges facing those working in public affairs, and how to manage them successfully.

Doug Pinkham
President
Public Affairs Council
10:30a.m.    DC at the Center of Global Public Affairs
Why is Washington key to global public affairs? International Paper, a Council member will share their insights on understanding and leveraging your company's presence in Washington D.C. Our speaker will discuss successful strategies for engaging various stakeholders, what type of resources are available to make your work more effective, and best practices for running your global public affairs operations out of Washington.

Meaghan Joyce
Political Affairs Manager
International Paper
12:00p.m.     Lunch Session: A Visit with U.S.-China Business Council
How can association and business council membership be leveraged in your public affairs work? Join our presenter to hear more about the U.S. – China Business Council's operations, public affairs trends from a regional perspective, and how USCBC staff advises member companies in politically uncertain times.

Anna Tucker Ashton
Director, Business Advocacy Services and Government Affairs, U.S.
China Business Council
2:00p.m.    A Visit with a DC Think Tank: Center for Strategic and International Studies
Think tanks are an essential resource in Washington. CSIS's development staff will discuss the role of think tanks in a fast-changing political and economic environment, as well as the Center's engagement with various global organizations and companies.

Kevin Sturtevant
Deputy Chief Development Officer
CSIS
3:30p.m.    Working with Embassies: Insights from the Embassy of Denmark
Embassies are not just for getting visas. As key Washington stakeholders, they are important to engage with for furthering organizational and public affairs initiatives. During a presentation with the Danish Embassy, another Council member, staff will provide an overview of their day-to-day public affairs work and how they engage with both U.S. and foreign companies. Novo Nordisk and LEGO, both Council members and Danish companies operating in D.C., will provide their insights and tips on leveraging embassy relationships in Washington.

Elizabeth Becker
Counselor & Senior Commercial Advisor, Health and Life Sciences
Embassy of Denmark

Lauren Semeniuk
Director, Federal Government Affairs
Novo Nordisk Inc.

Karen Hughes
Senior Manager, Government and Public Affairs
The LEGO Group
5:30p.m.    Networking Happy Hour with Council Members
Please join other Council members for a rooftop networking happy hour at the Council's office.
Thursday, October 3
9:00a.m.     Communications and Advocacy
The Council's lead expert on digital advocacy topics will discuss the growing area of digital public affairs, as well as social media best practices and successful examples of digital communication strategies.

John Brandt
Manager of Policy Communications and Corporate Responsibility Practice
Public Affairs Council
10:30a.m.     Visit with the World Bank
This session will include presentations by World Bank staff, which will cover the Bank's history, its key initiatives, and how the institution is working to foster engagement with the private sector. A representative from the private sector will offer their counter perspective on successful engagement with multilateral institutions, and how they leverage these stakeholder relationships in their public affairs strategy.

Andreja Marusic
Global Lead, Business Environment
World Bank
12:00p.m.    Lunch Session: A Visit with PhRMA
Industry-specific trade associations are a key part of the public affairs landscape in Washington. A session with the PhRMA, a Council member, will explore the benefits of belonging to a trade association, and how membership can be leveraged to match your public affairs agenda goals. A communications expert with PhRMA will also discuss the planning and execution successful advocacy campaigns.

Hannah Beth Mooney
Director, Public Affairs
PhRMA

Katie Koziara
Senior Manager, Public Affairs
PhRMA
1:45p.m.    The Digitization of Public Affairs
As global companies and organizations focus more on their digital engagement strategies, it's important to examine how this trend is affecting public affairs. Blue State, a Council member, will discuss the most recent digital trends in public affairs, as well as share case studies of how global companies have been effectively using social media and digital engagement to further their public affairs agendas in the United States and abroad.

Sarah Carpenter
Vice President
Blue State
3:30p.m.    Visit with the Washington Post
What is traditional media's role in the face of fake news and a generally noise-filled media environment? A visit to one of Washington's key media outlets will answer these questions, as well as how news communication is changing, and which trends are worth paying attention to.

Jacquelyn Cameron
Vice President, Client Solutions
The Washington Post
Friday, October 4
9:00a.m.    Government Relations Best Practices
How do government relations in the U.S. work? What are best practices to keep in mind as you develop your organization's advocacy and stakeholder engagement strategy? The Council's lead expert on Government Relations and Stakeholder Engagement will provide her insights on effective tactics for engaging D.C.'s toughest stakeholders, as well as provide an overview of emerging trends within the advocacy area.

Kelly Memphis
Manager of Government Relations and Stakeholder Engagement Practice
Public Affairs Council
10:30a.m.    Working with Federal Agencies
Engagement at the federal level is a must for a successful and policy-driven public affairs function. But at what point in the policy-making process can the companies and associations engage in order to have the most impact? Federal agency staff will discuss policy-making from an internal perspective, including insights on which other D.C. stakeholders are included in the process. Our speakers will also provide a general overview of which global trends are most likely to affect your public affairs work.


Shane Warren
Manager, International Government Affairs
DuPont

Melike Yetken
Senior Advisor for Corporate Responsibility
U.S. Department of State
12:00p.m.    Lunch Session: International Law and Public Affairs
International public affairs professionals must navigate a complex framework of risk management and compliance obligations. However, laws, regulations and ethical standards are not always written clearly, implemented fully or enforced uniformly — especially in developing and transitioning economies. This lunch session will feature an overview of global anti-corruption laws and regulations, including the Foreign Corrupt Practices Act and the U.K. Bribery Act, among other key compliance updates. Participants will have plenty of time to pose their questions to Holland & Knight's experts.

Charles Borden
Partner
Holland & Knight

Samuel Brown
Senior Counsel
Holland & Knight
1:45p.m.     How Congress Works: A Visit to Capitol Hill
Knowing how Capitol Hill works is key to understanding Washington. An experienced Hill staffer will provide the group with an overview of the Hill's various actors, the legislative process, and which policy-making trends you should be paying attention to. A senior committee staffer will also provide participants with an understanding of committee structure and processes, as well as what Capitol Hill engagement with other D.C. stakeholders looks like.


Nasim Fussell
Chief International Trade Counsel
U.S. Senate Committee on Finance
3:20p.m.    Optional Group Tour of the Capitol
A guided tour of the Capitol will include a brief orientation film, as well as a walk through the Crypt, the Rotunda, and the National Statuary Hall. The tour will begin and end at the Capitol Visitor Center, and will be led by a Capitol Hill tour guide.
Reviews from Past Attendees
Click to expand

"This was an incredibly valuable program. I was so impressed with the quality of meetings with the external organizations. We met with very influential people who could have a real and immediate impact on our public affairs efforts. Whether you're new to this arena or, like me, have been managing a public affairs program for years, you will benefit from participating."
Jody Donohue, Ceva
---

"The study tour provides an invaluable learning opportunity to foreign-based government affairs practitioners. It is an excellent program to become acquainted with the Washington, D.C. ecosystem and the key players and influencers. From a pedagogical perspective, it is extremely well balanced. A perfect mix of in-class seminars, on-site visits and networking opportunities. Highly recommended!"
Marcelo Garcia Rosales, Qatar Airways
Event Location
+ Click to expand
Public Affairs Council
2121 K Street, NW
Suite 900
Washington, DC 20037
Phone: 202.787.5950
Register
+ Click to expand
This event is

SOLD OUT!

If you'd like to be added to the wait list, please email Carolyn Darville at cdarville@pac.org
Regular Registration (After August 21)

Members: $1499
Non-Members: $1999
Please contact diventicheva@pac.org for more information on potential discounts for multiple or group registrations.
---
Additional discounts may apply to this meeting. These discounts may include:
For multiple registrants: A discount will apply to the standard member/non-member rate for organizations that register two or more participants for the same meeting. The first registrant will pay full price, the second participant will receive a 10% discount and each additional registrant will receive a 15% discount. To register multiple participants, you may either register online or download the print and fax registration form.
Member discounts: Discounts for members are applied to all Public Affairs Council meetings.
Non-members: Join the Council today, and save by registering at the member rate and using the $200 new-member coupon you will receive. Contact our membership team for information about joining the Council.
Questions? Contact us at 202.787.5950.