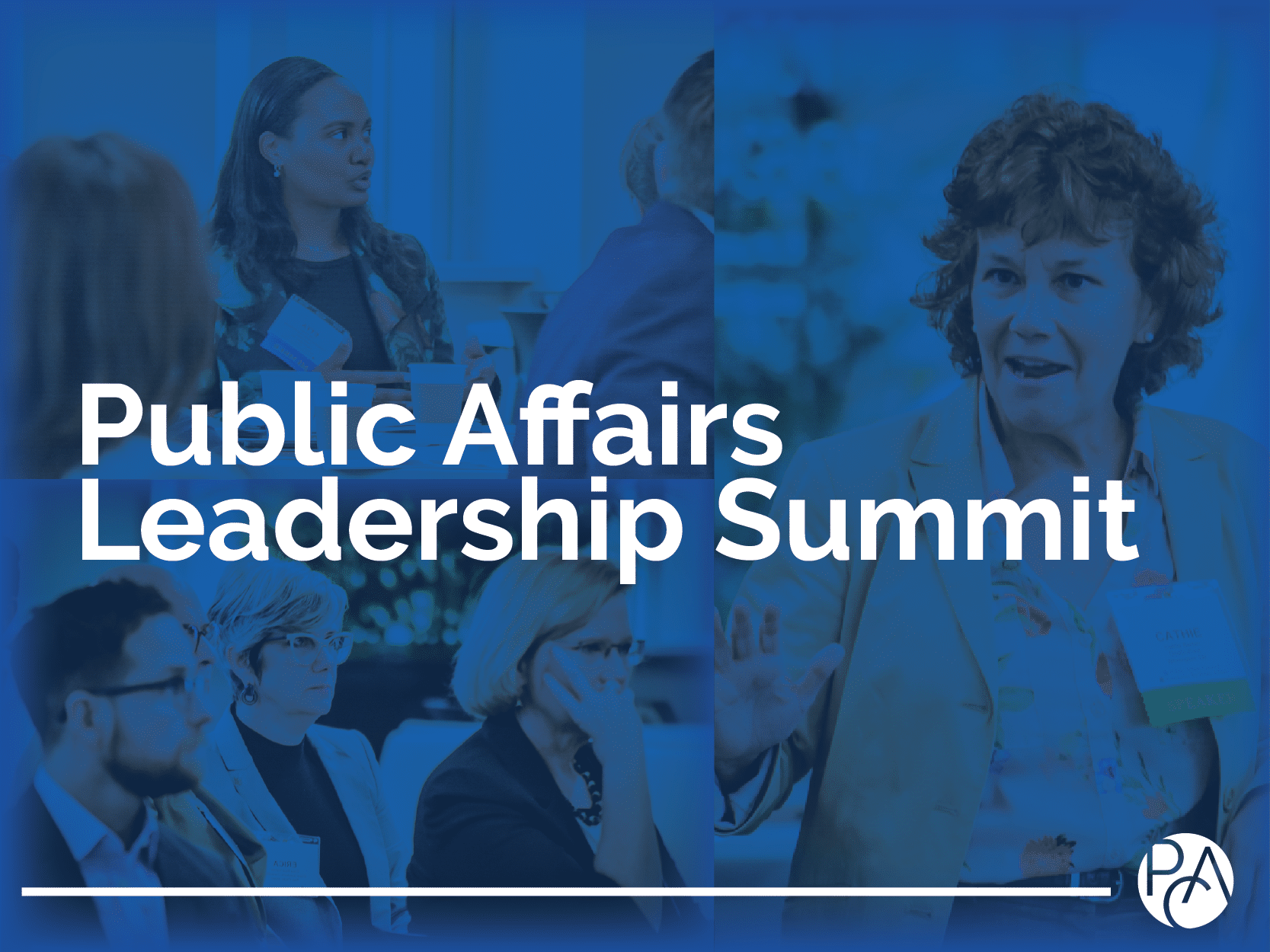 Public expectations of business, more complex issues, globalization and heightened economic pressure all affect how you manage your public affairs function, pivot management strategies and protect your reputation. Public affairs professionals must also continue to adapt their approaches to leadership, government relations, and diversity and inclusion amid a virtual business world and a global pandemic. Join us at the Public Affairs Leadership Summit to hear from leading experts on how they are transforming public affairs management during unprecedented times.
Featured Topic & Speakers
The 2021 Public Affairs Leadership Summit will help you develop and leverage skills to have a greater impact as a public affairs leader and strategist. During our three day-long Summit, we will cover:
How public affairs executives are adapting their strategies to build and manage integrated public affairs functions in times of change
Emerging insights on how public affairs professionals are engaging with stakeholders and meeting growing expectations on business and industry to drive change
How public affairs practitioners can improve diversity and inclusion within the industry and their own organizations
Measurement tactics to help you assess your public affairs objectives and communicate your work's value to key internal stakeholders
How leaders can motivate and inspire teams given the increase of remote work and virtual interactions

Douglas G. Pinkham
President
Public Affairs Council
Tuesday, July 20
1:30 p.m.              Public Affairs During Turbulent Times
Shifts are occurring in corporate America and across the globe around political, social, environmental and workforce engagement issues. These changes bring new reputational challenges for corporations and associations, while policymakers tackle tough issues against the backdrop of an increasingly vocal electorate. As a result, public affairs has never been more important. It's vital that today's leaders are prepared to navigate this new reality and define the path forward.
In this opening session, we'll talk about how to meet the evolving expectations on the business community:
Why public affairs matters – and defining its role going forward
Overview of structure and traits of leading public affairs departments
Macro public affairs challenges: High expectations for engagement in social issues, public affairs in times of polarization and more
2:30 p.m.         Building and Managing an Integrated Public Affairs Function
Dive into a discussion led by two senior executives on how they've built and managed an integrated public affairs function that is proactive, strategic and relevant to the business. We'll discuss:
Building a function that integrates and supports business objectives
Evaluating your department's structure and objectives
Strategies for improved collaboration among communications, government relations and corporate responsibility
Skill sets needed for a high-performing team
3:30 p.m.         Adjourn
Wednesday, July 21
1:30 p.m.      Diversity, Equity and Inclusion in Public Affairs
The public affairs profession can do more to address issues surrounding diversity, equity and inclusion and create a workforce that better represents the employees, members and community it serves. Difficult conversations need to continue to drive real change. Join us for a discussion on how practitioners can tackle these issues while building more effective and diverse teams and acting as agents of change.
2:30 p.m.       Corporate Engagement: Integrating Values, Social Activism and Public Affairs
Companies and associations are no longer being assessed purely on their bottom line or mission. Organizations are now expected to respond to social issues and play a role in activism, civic empowerment and other ethics indicators. As a result, many organizations are shifting their perspectives and working to navigate these new expectations. This session will explore the scrutiny organizations have faced over the last year, their response and what changes in corporate culture will look like moving forward. Strategies for how best to prepare for and lead during these increasingly public corporate social inflection points will also be covered.
3:30 p.m.         Adjourn
Thursday, July 22
1:30 p.m.      Measuring the Impact of Public Affairs
Demonstrating the power of your public affairs work is more important than ever. It is crucial to use the right metrics to evaluate your government relations and community engagement efforts. This session will cover the tools and methods for showing your value to senior management, including:
The most widely used measurement tactics by corporations and associations
How to tailor metrics to your organization's needs and culture
Advice for defining your value proposition
Case studies of measurement and benchmarking
How to set objectives during uncertain times

Douglas G. Pinkham
President
Public Affairs Council
2:30 p.m.       Public Affairs Leadership
The pandemic has forced leaders to adapt their management styles to keep their teams on track and thriving in a digital environment. During our closing session, we'll cover what traits make public affairs leaders great, how to elevate your own leadership profile and personal brand, and ways to motivate staff during uncertain times.
3:30 p.m.         Adjourn
Event Location
+ Click to expand
Virtual
*Participants will will receive an email one week beforehand with instructions for logging on to our web-based platform. On the platform, they will be able to listen and participate through any computer or internet-enabled device, see a video of the speakers, and ask questions and participate in the discussion via a chat box.
Register
+ Click to expand
Members: $395
Non-Members: $595
Additional discounts may apply to this meeting. These discounts may include:
For multiple registrants: A discount will apply to the standard member/non-member rate for organizations that register two or more participants for the same meeting. The first registrant will pay full price, the second participant will receive a 10% discount and each additional registrant will receive a 15% discount. To register multiple participants, you may either register online or download the print and fax registration form.
Member discounts: Discounts for members are applied to all Public Affairs Council meetings.
Non-members: Join the Council today, and save by registering at the member rate and using the $200 new-member coupon you will receive. Contact our membership team for information about joining the Council.
Questions? Contact us at 202.787.5950.