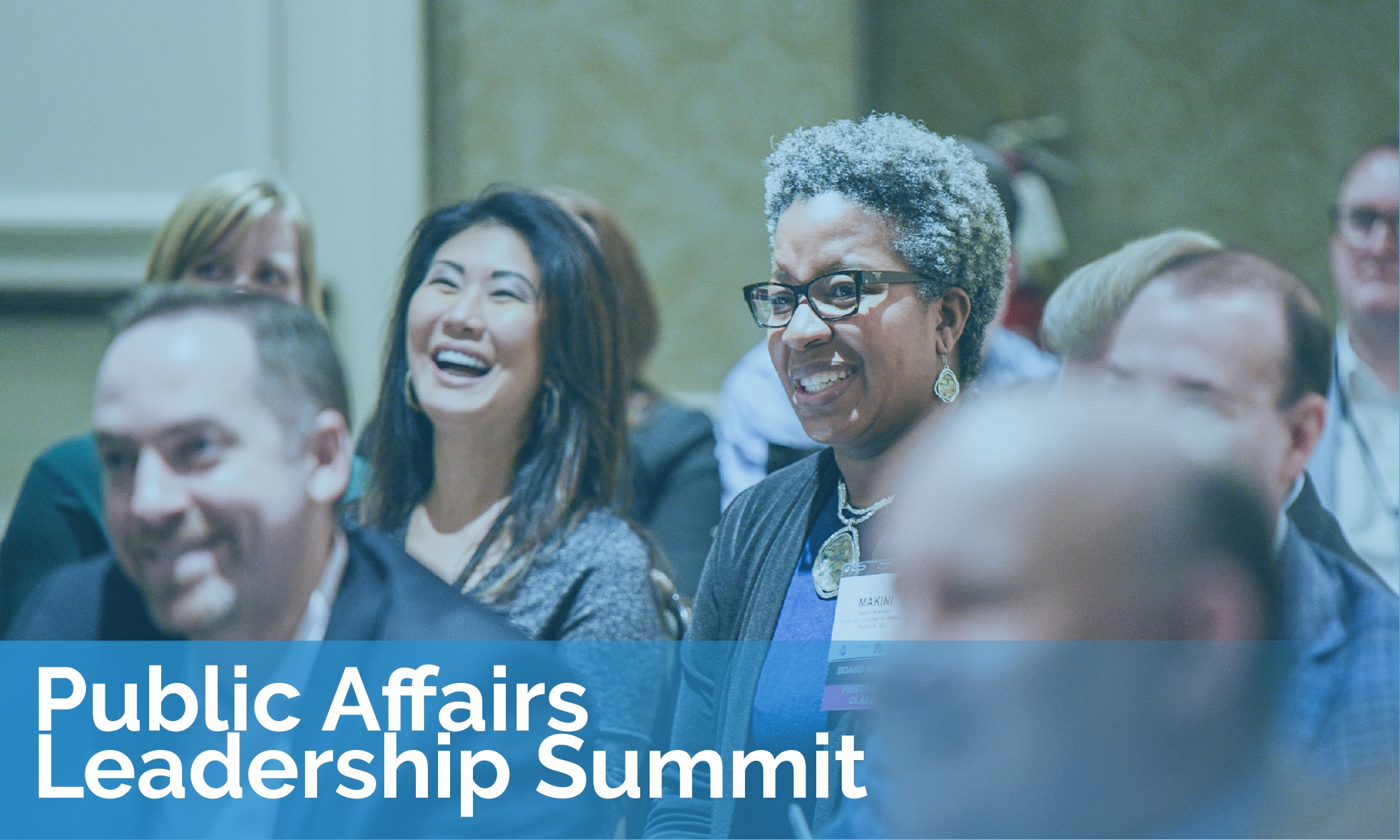 The Public Affairs Leadership Summit is designed for current and future public affairs leaders who want to strengthen their ability to integrate public affairs strategies, manage a diverse portfolio of responsibilities and communicate effectively about the value of public affairs. It covers the essentials of strategic planning, issues management, social impact, communications strategies and more. Join us at the Public Affairs Leadership Summit to hear from leading experts from across the field on how they are navigating the trends, challenges and demands of public affairs management. 
Featured Topic & Speakers

Jason Levin
Author / Keynote Speaker & Trainer / Executive Career & Business Development Coach
Ready Set Launch, LLC


Douglas G. Pinkham
President
Public Affairs Council

Sue Zoldak
Founder & Owner
The Zoldak Agency
Wednesday, July 26
4:30 – 6:30 p.m.            In Person Networking Reception
Join Public Affairs Council members as we kick off the Summit with a happy hour reception.
Thursday, July 27                                               
VIRTUAL PROGRAM 
10:00 a.m.                  Relationships to Infinity: The Art and Science of Keeping in Touch
In this opening keynote, hear from Jason Levin, author of Relationships to Infinity: The Art and Science of Keeping in Touch on actionable networking strategies for building authentic relationships for career advancement. Levin will provide attendees with a keep-in-touch roadmap by leveraging executive stories, insights, academic research and social science. He'll share practical guidance on forming relationships that translate into networking, mentorship, and sponsorship opportunities to leverage at any career stage.

Jason Levin
Author / Keynote Speaker & Trainer / Executive Career & Business Development Coach
Ready Set Launch, LLC

11:15 a.m.                   Break
11:30 a.m.                  Stakeholder Engagement During Times of Uncertainty
Stakeholder expectations of companies and associations are constantly evolving. Business is no longer being assessed purely on its bottom line or products. Public affairs professionals must be increasingly proactive in anticipating issues and preparing to respond quickly to the concerns of the public, employees and other key stakeholders. This session will explore how senior leaders are managing stakeholder expectations and reputation management by actions such as:
Having an issues management team helping forecast threats and opportunities
Looking through a reputation management lens to determine which issues take priority and what level of engagement they require
Building a strategic communications plan and integrating other key business functions into your efforts
12:30 p.m.                        Lunch Break
1:00 p.m.                          Advanced Advocacy and Communications Campaigns
Today's highly connected world requires an increasing reliance on digital advocacy tools and social media platforms to run high-impact public affairs and issue advocacy campaigns. In this session learn the new standards for creating a strong advocacy and communications plan that reaches elected officials, activates advocates, and influences other key stakeholders. Our speakers will discuss:
The role of social media in your public affairs activities – from monitoring to engagement
How to develop a unified message through digital content and online storytelling
Strategies for integrating traditional government relations activities such as lobbying into broader advocacy campaigns

Sue Zoldak
Founder & Owner
The Zoldak Agency
2:00 p.m.                    Break
2:15 p.m.                    Public Affairs Leadership
What leadership traits make good public affairs leaders great? How can you elevate your own leadership profile? Hear directly from respected leaders on managing up in times of change or uncertainty, motivating staff and managing teams both remotely and in-person, and leveraging thought leadership to advance your organization and personal brand.
3:15 p.m.                    Adjourn
Pre-Recorded Content
As a Public Affairs Leadership Summit attendee, you'll receive exclusive access to three pre-recorded sessions available for 90 days following the conclusion of the Summit.
Measuring the Value of Public Affairs
Demonstrating the power of your public affairs work is more important than ever. It is crucial to use the right metrics to evaluate your government relations and stakeholder engagement efforts. This session will cover the tools and best practices for demonstrating and communicating value to senior management, including:
The most widely used measurement tactics by corporations and associations
How to tailor your metrics to your organization's needs and culture
Setting objectives during uncertain times
Case studies of measurement and benchmarking

Douglas G. Pinkham
President
Public Affairs Council
Hiring, Managing and Evaluating Consultants
Finding the right consultant or contract lobbyist can contribute significantly to achieving your public affairs goals or objectives. But hiring a consultant is not only a big financial investment, but it can also be a daunting task with so many options available. Additionally, finding the right fit can make or break your initiatives and impact your reputation with policymakers and the public. Whether you're looking for a contract lobbyist or a public affairs firm, this session will walk you through the ins and outs of hiring, evaluating and managing consultants.
Corporate Social Issue Engagement
As public and employee expectations for business increase, companies are facing more and more pressure to engage politically on social issues. This session will explore data on how companies engage on social issues as well as guidance for when and how to weigh in. We'll share how companies can create a social issue engagement framework, solicit feedback from employees and other stakeholders and ensure internal alignment on moving forward.
Event Location
In Person Reception 
Akin Gump Strauss Hauer & Feld LLP
2001 K St NW
Washington DC, 20006
This program will be hosted in a secure virtual environment. 
*Participants joining the program will receive an email one week beforehand with instructions for logging on to our web-based platform. On the platform, they will be able to listen and participate through any computer or internet-enabled device, see a video of the speakers, and ask questions and participate in the discussion via a chat box.
Register
+ Click to expand
Members: $695
Non-Members: $895
_________________________________________________________________________________________________________________________________________________________________
Additional discounts may apply to this meeting. These discounts may include:
For multiple registrants: A discount will apply to the standard member/non-member rate for organizations that register two or more participants for the same meeting. The first registrant will pay full price, the second participant will receive a 10% discount and each additional registrant will receive a 15% discount. To register multiple participants, you may either register online or download the print and fax registration form.
Non-members: Join the Council today, and save by registering at the member rate and using the $200 new-member coupon you will receive. Contact our membership team for information about joining the Council.
Questions? Contact us at 202.787.5950.