A Visit with … Lester Bagley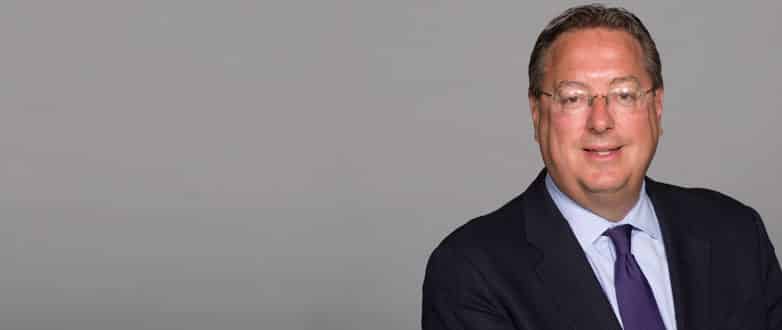 Lester Bagley
Executive Vice President of Public Affairs
Minnesota Vikings
Talk about your career in public affairs before you joined the Vikings.
As a political science major at UCLA, I campaigned for then-Rep. Barry Goldwater, Jr., when he ran for the Republican Senate nomination, which he lost to Pete Wilson. I got the political fever, I suppose, or at least that set a direction for me in my career. I served as a White House intern under President Ronald Reagan and worked in the press office for five months, in the news summary office.
After that, you held a number of positions in public affairs?
Yes, after the White House, I worked in Washington, then in Boston, in Wisconsin and in Portland, Oregon, before I moved to Minneapolis to work for the Minnesota Business Partnership. Following that, I started my own public affairs shop in Minneapolis. One of my first clients was the Minnesota Vikings, and when Zygi Wilf and his partners bought the franchise in 2005, they offered me the job. I've always loved professional sports, and I'm now on my 13th year with the team.
The main project you worked on was the new stadium, right?
Yes, initially. I also oversee all public affairs, communications and community relations for the Vikings. In 2010, the Vikings had played in the Metrodome for 18 years, and it was clear that they needed a new stadium, even though there were still 12 years left on the lease. There was no renovating the Metrodome, which was basically a concrete bunker with a Teflon roof. The revenue streams were basically non-existent. There were no naming rights or club seats and very little sponsorship opportunities. The Vikings were at the bottom of the NFL in all revenue categories, and we really needed a modern sports arena to stay competitive.
And if not?
There was never an overt threat in Minnesota, but we've seen when teams aren't financially competitive and don't have modern stadiums. San Diego lost the Chargers and St. Louis lost the Rams — both to Los Angeles — and Oakland is losing the Raiders to Las Vegas. This is also the case with the NBA and in Major League Baseball. So we had to act, and I was brought on to help put together the campaign to secure a new stadium.
This was not an easy undertaking, was it?
No, it took 12 years of effort at the legislative level. We never had a Plan B, but we knew we had to succeed. Our plan was just to persevere. U.S. Bank Stadium, which opened in 2016, is a state-of-the-art facility, which is now acknowledged not just by the NFL, but by the sports business community in the U.S. and internationally. We're hosting Super Bowl LII in 2018 and the 2019 NCAA Final Four. In September U2 played there, and that's significant.
How so?
we emphasized all along is that this isn't just a football stadium. The Vikings play there 10 days a year, plus the playoffs. The rest of the time, the stadium is available for other events. In that sense, it belongs to the public. It is an asset to the city and to Minnesota. We made this clear from the beginning of our advocacy campaign.
It is always tough to get public funds for a sports arena. But we made the case all along that this was an economic development project, and it was. More than 400 different Minnesota businesses helped build the stadium, and we made sure that included minority-owned and women-owned firms. This was an investment in Minneapolis, and it was a public/private partnership, with the team and private sector contributing a majority of the dollars. But as part of the deal, the Vikings agreed to pay the highest rent in the NFL.
What was the key to your success?
We saw this from the beginning as an exercise in coalition-building. And we built a broad coalition, with labor as well as business, with Republican leadership in the state legislature and a Democratic governor. That was really the first thing I had to do — go to the State House and start building a coalition, working those relationships and networking. We needed adult conversations about the need for a new stadium and the future of the Vikings. And I can thank the Council, to a certain extent, for knowing how to do that.
In what sense?
I remember back in the 1980s, [former Council Chair] Becky Malkerson who was with U.S. Bancorp then, telling me I really should be part of the Council. So I went to some of the events, not as a member, at first, and being really impressed. The presentations were great. I got to hear from some of the top professionals in our business, people who had been on the front lines. And once I joined, I could always go to the staff for advice and counsel. I've been able to learn "best practices" from peers, colleagues and public affairs experts in this business, which is really unique.
Unique, how?
Our profession is specialized. What we do is not really public relations, though it touches on PR. It isn't running political campaigns, though it touches on them. It isn't really policy development, but it can involve policy development. So you have the benefit of all these experts who understand this unique space we're in; it is a community of experts who are dealing with similar challenges and are available and accessible. So I'm bullish on the Council, as are the Vikings.
Reach Lester at bagleyl@vikings.nfl.net or 612.237.7560.
Additional Resources
A Visit with Sofie Ann Sofie Orth
---