Here's Our Political Predictions Report Card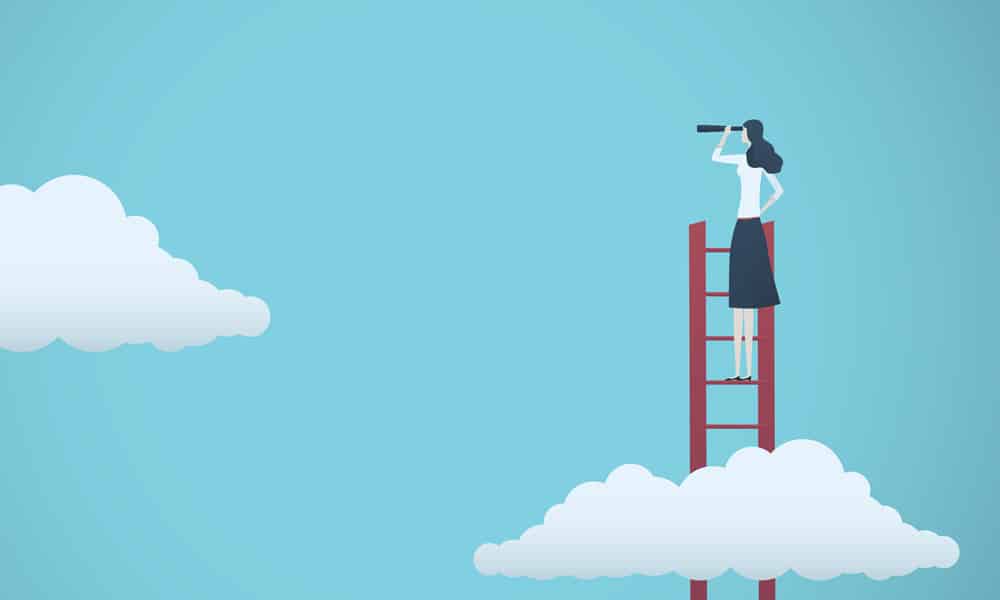 By Doug Pinkham
President
Public Affairs Council
"Prediction is very difficult," said Danish physicist and philosopher Niels Bohr, "especially if it's about the future."
It's safe to say that most people would agree with that understatement, especially political gurus who got the 2016 elections wrong and have been noncommittal ever since.
When pundits buck the odds and make an accurate longshot call, however, some can't stop themselves from making more audacious predictions. Take Wall Street strategist Mark Grant and conservative talk show host Wayne Root, who were celebrated for predicting Trump's victory in 2016. This past November, both boldly projected that Republicans would keep control of the House after the midterms. Root, in fact, called The Cook Political Report "delusional" for saying the Democrats would pick up 40 seats, a forecast that perfectly matched the final tally.
This is a long way of saying that nobody gets it right all the time, but that shouldn't stop us — or Charlie Cook — from trying to spot trends and make forecasts as long as we maintain our humility.
And so, with a sufficient dose of self-effacement, we proudly present this report card of the major political predictions made in the Public Affairs Council's December 2017 survey of senior public affairs executives.
1. What will be the most important U.S. federal public policy battle in 2018?
PREDICTION:  The most common response was the budget (32 percent), followed by infrastructure spending (22 percent) and immigration (19 percent).
OUTCOME:  An impasse over funding a border wall in the spending bill shut down the government at the end of December with no clear end in sight. Plus, the deficit for fiscal year 2019 is $985 billion, 18 percent higher than in 2018. Meanwhile, the immigration debate has been more active than ever this past year, with partisan clashes over DACA, new rules for those seeking asylum, sanctuary cities, birthright citizenship, deployment of troops on the Mexican border and, of course, the construction of a border wall. As for progress on infrastructure spending, let's just say there hasn't been any.
FINAL GRADE:  B+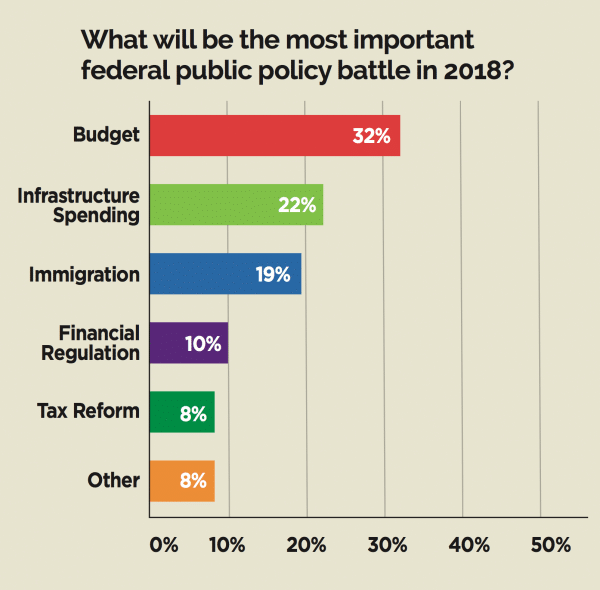 2. What will be the most important state public policy battle in 2018?
PREDICTION:  Taxes and budgets came in first with 42 percent of the vote. Next in line was health care, which 25 percent of respondents thought would be the most important state policy battle.
OUTCOME:  It's certainly true that debates over taxes, budgets and health care were constantly in the news at the state level this election year. Medicaid expansion under the Affordable Care Act, for example, received more attention in gubernatorial races than in Senate races. And every state government struggled to understand how federal tax reform might affect them.
FINAL GRADE:  A
3. What will be the most important international policy issue in 2018?
PREDICTION:  The clear favorite was overall trade policy, which garnered 35 percent of the votes.
OUTCOME:  This was probably an accurate call, though some will have a different view. The trade wars and skirmishes launched by the White House — particularly with China — have already affected financial markets and earnings projections in industries such as agriculture, transportation and manufacturing. It's also extremely likely that trade policy will continue to be a controversial policy issue in the U.S. and internationally in 2019.
On the other hand, respondents may have underestimated the importance of issues such as the rise of China's influence, refugees/immigration, cybersecurity and BREXIT, which all received low scores for importance in our survey last year.
FINAL GRADE:  B
4. Which parties will hold the majority in the House and Senate after the fall elections?
PREDICTION:  Democrats were expected to take the House, while Republicans were expected to maintain a majority in the Senate.
OUTCOME:  Public affairs executives got these questions right.
FINAL GRADE:  A
5. How would you rate the job security of party leadership in the House and Senate?
PREDICTION:  Senate Minority Leader Chuck Schumer received the highest score for job security, followed by Majority Leader Mitch McConnell, Speaker of the House Paul Ryan and — at the rear of the line — House Minority Leader Nancy Pelosi.
OUTCOME:  After the midterms, 78-year-old Nancy Pelosi showed her resilience and legislative smarts by fending off pressure to replace her with a younger Democratic leader. Meanwhile, 48-year-old Paul Ryan took early retirement.
FINAL GRADE:  C
6. Will Robert Mueller issue his report on Russia's involvement in the U.S. elections before the end of 2018?
PREDICTION:  Eighty-five percent of survey respondents were confident the Mueller report would be done by the end of the year.
OUTCOME:  Oops. It turns out that 85 percent of survey respondents got this one wrong.
FINAL GRADE:  F
So there you have it. By my count, our members received 2 As, a B+, a B, a C and an F, which amounts to a GPA of about 2.7. This may not be high enough for the Dean's List, but I'm hoping we get extra credit for our willingness to be publicly chastened. Anyone else out there ready to come clean about their past predictions?
Results of the 2018 Impact Prediction Survey were based on 72 responses to a questionnaire sent to Public Affairs Council board members and other senior public affairs professionals in December 2017.