Is Business School Your Next Step?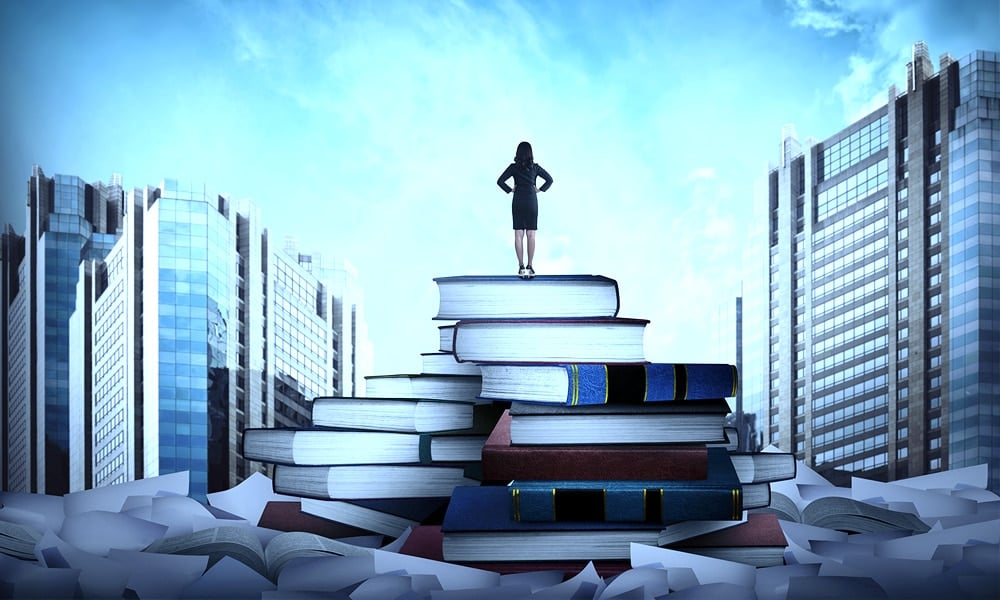 Pete Slone remembers the very moment he realized he needed a change. Now senior vice president of public affairs for McKesson, he was then 50 years old and working at Medtronic. "The president of one of our businesses — a $6 billion enterprise on its own — called me into his office. 'Slone,' he said, 'You've got to look at this!' And he pointed to some figures on an Excel spreadsheet, and I had no idea what I was looking at.
"It was a powerful moment when I knew I needed to understand strategic business growth if I wanted to advance in my career. I needed to be able to read a quarterly earnings report. I wanted to be taken seriously inside the company. I wanted street cred."
Now the Council's chair, Slone did what a growing number of midcareer professionals have done. He took business school courses at night and on weekends and earned his MBA. "I needed to elevate my business and financial acumen to be really valuable to the companies I work for," Slone says.
'I'll Never Need This'
Slone calls himself a "classic Washington byproduct — internships, campaigns, legislative director on the Hill, work on the House Appropriations Committee." But he says he needed more. "So with children still at home, I went to University of North Carolina's Kenan-Flagler Business School. Some of the things I studied there I thought were interesting but I'd never need to know. I took a course in operations, for example and thought, 'I'll never need this.'"
Fifteen years later, the pandemic hit.
"I never imagined back then that I'd be dealing with the issues I am dealing with now, so I'm grateful for what I learned," Slone says. "I've spent the past four months working on operations and supply chains, and the baseline knowledge I got in business school has served me well. Now I understand the importance of supply chains and, because of the company I work for, without getting too melodramatic about it, lives have been saved."
Understanding Strategy
To be effective in public affairs today, you have to be able to understand how the people at the top of your company and their profession think, says Kenneth W. Shotts, the David S. and Ann M. Barlow Professor of Political Economy at the Stanford University Graduate School of Business. "If it's an engineering firm, you need to think like an engineer, for example. To be effective in promoting a firm's strategy, you have to understand that strategy the way the others in the company do."
Too many companies, Shotts says, separate public affairs from business strategy. "The executives make a decision and then they hand it off to public affairs, PR or marketing, and say, 'Here, go explain this to the world,' which is not a good way to get things done," he says. "The executives too often don't understand public affairs, and the public affairs team doesn't understand the company's business."
To remedy that, public affairs professionals must up their game, and Shotts says, "getting an MBA is the most reliable way to gain that larger understanding of business strategy."
"My view is that an MBA is the best graduate degree for a career in public affairs," says Council President Doug Pinkham. "That's becoming clearer every year. The education you receive at a good business school, even if you go at night and weekends, will help you think like the top executives in the C-suite. You'll be prepared to earn a seat at the table where the big decisions are made for two reasons: You will have credibility, plus you'll understand enough about business strategy to contribute to overall decision-making — and not just in the public affairs realm."
To help identify the best MBA programs for a career in public affairs, the Council recently published an analysis of the top U.S. MBA programs with coursework in public affairs management. The list highlights curricula from 50 universities and colleges with relevant course work, from managing global risk and understanding the political environment of multinational firms to mastering corporate diplomacy. The analysis also includes the Council's rankings of the schools with the top programs in business-government relations, shared-value and innovative public affairs curricula.
Learning Business Principles
Like Slone, Kenneth Lin, regional government relations manager for International Paper, also went to business school after two years at his company. He did so, Lin said, to keep pace with industry changes and the company's response.
"To offer just one example, International Paper has in the past repurposed some of our paper mills, and I wanted to understand the factors involved – the decreasing market demand for office paper, for example, or the opportunity for meeting the increased demand in developing countries for our 'fluff pulp' that is used in absorbent hygiene products like baby diapers," Lin says. "I wanted to understand the business principles behind these decisions, and [at the University of South Carolina's Moore School of Business] I learned a lot about strategic and operations management. I came to understand a lot about supply chains, marketing and product development, balance sheets and a company's vital presence in the world market. And as a result, I better appreciated how everything fit together, allowing me to do my job more effectively."
'Maximizing Opportunity'
In addition to having earned his MBA, Lin is also a licensed attorney. "I know that a law degree is one that is taken seriously in the C-suite, just as an MBA is," he says. "But while I enjoyed law school and being an attorney for several years, I came away from my business school education appreciating this distinction: Law school is about minimizing and avoiding risk, and focusing on litigation, while business school is about maximizing opportunity and creating the world you want to live and invest in."
Any good MBA program, according to Joseph Alutto, distinguished professor of organizational behavior at the Max M. Fisher College of Business at The Ohio State University, "will provide an understanding of how organizations function and an understanding of finance, which, besides a number of other disciplines, will give the student a breadth of understanding too often lacking in public affairs practitioners."
Granted, it's possible to develop basic technical knowledge of finance or accounting or other business practices in undergraduate courses. "Some of our MBA students come to us with some of that technical knowledge, which is helpful, though you will get that in our program, even if you don't have it when you arrive," Stanford's Shotts says. "But the value-add of business school is what you learn about management and decision-making and leadership."
Up to the C-Suite
Students or potential students sometimes complain that public affairs is not the focus of our program, Shotts adds. "But the student shouldn't come here just to hone their public affairs skills. If that is all they want, maybe this isn't a good place for them. We want the most ambitious students, who want to take what they learn so they too can rise to the C-suite."
And rising to the C-suite is not getting any easier these days, according to Curtis R. Welling, clinical professor of business at Dartmouth's Tuck School of Business. "You cannot be an effective company these days without taking issues of social and environmental engagement and corporate governance seriously, because investors take them seriously," Welling says. "You have to take those matters seriously because your license to operate is involved. It's involved in privacy and data usage, a company's treatment of its workers, its supply chains — all of that — and there are now metrics that attempt to measure those things, and the big investment firms offer screenings in those areas."
A 'Soft Discipline'?
That means that the public affairs professionals working for those companies have to understand these issues, too. "There was a time when companies might have thought of public affairs as a 'soft discipline,' like public relations," Welling says. "But that is not the case today, at least for successful companies. Public relations dealt mainly with consumers, but public affairs is concerned increasingly with the public sector, and how well the company performs in that area helps determine its long-term equity value.
"Enlightened CEOs realize that participating in the larger conversation is a logical outgrowth of the emerging understanding of stakeholder primacy. There's a new understanding of the role of business in society, of corporate purpose and participating in how the public agenda is set."
That also means that public affairs professionals must keep pace with this evolution. Business schools are changing, which is another reason for public affairs professionals to take advantage of what they offer. The curriculum reflects changes in society to which businesses need to adjust to succeed.
"We see more and more schools offering classes in 'non-market strategy,' in part because there has been an explosion of research into the economic and political effects of government policy on how firms operate and the strategic shaping of public policy," says Timothy Werner, associate professor in the department of Business, Government and Society at the McCombs School of Business at the University of Texas at Austin. "Reputation management is now part of risk management."
Expectations of Business
Robert Morris, who spent most of his career working in corporate public affairs and now serves as an adjunct professor at Boston College, teaches a course called Managing Business in Society, which explores not only the history of social expectations of business, but also the relevance of these expectations today. "It's true that public affairs used to be thought of as a soft discipline, but that thinking has evolved with the expanding number of stakeholders executives now face," says Morris.
"Major pension funds, foundations and unions are now monitoring a company's environmental, social and governance (ESG) scores," Morris says. "Moreover, everyday investors can now access reports detailing these scores. That's a huge deal today, and if you want to rise in management, you have to become more conversant in management disciplines beyond public affairs — finance, accounting, legal, marketing for example. And with an MBA, you will develop a familiarity with these other disciplines."
Welling says Tuck's approach to corporate social responsibility was developed in the wake of the WorldCom scandal and the subprime crash, and it continues to evolve as events unfold. "Our mission is 'to develop wise leaders who better the world through business' — leaders who understand that no company operates independent of the world in which it exists," he says. "And it is encouraging to see other business schools integrating a comparable understanding in their programs."
ESG investing is now "a multi-trillion dollar business, and more and more investors want a portfolio that takes these factors into consideration," Welling says. "There are debates about the way these are measured — about the metrics — which is another reason public affairs professionals need to understand more about those metrics than they once did."
But they don't have to stop working for two years or more to obtain their MBA — or become mathematicians. Kathleen Bower, senior vice president for public affairs and international relations at AAA had been out of college for 13 years when she took the leap.
About five years after beginning work for AAA, she got an MBA. "Because of that experience, I took a different approach to AAA's transportation and safety advocacy," Bower says. "I'm not a math person and never will be. But I gained an appreciation for the role of good data, and learned enough to effectively apply qualitative and quantitative research to what I do in public affairs."
AAA has traditionally relied on "other people's data," Bower says. Now the AAA Foundation for Traffic Safety, whose work Bower also oversees, produces primary research data on which AAA relies.  "Having access to high quality primary research has enabled AAA to drive the national conversation on critical safety issues, like distracted and drug-impaired driving."
Business Schools Are Changing
As the business world is changing, business schools are changing too. "They're no longer just working from Harvard Business School case studies," Slone says. "Good MBA programs are offering courses in global leadership — in dealing with other governments, with global policies and protocols, different political systems and cultures, across different time zones and languages. All of that is vital, especially now, with a global pandemic."
Slone says he wakes up every morning wondering how things will have changed overnight. "Things are changing every day, and you have to be nimble and resilient to succeed in this environment. And if you lack the stature in the organization to have a program, the buy-in, the resources to start it and the chops to execute that plan, you'll get overwhelmed. You have to be able to manage change, and a business school education can help you develop that understanding and those qualities necessary to manage that change."
Andrew Hackman, principal lobbyist for Serlin Haley, also went to business school midcareer, getting his MBA in two years through an accelerated program at The George Washington University School of Business. "I was working for the Consumer Specialty Products Association at the time, and this gave me a kind of credibility within the organization."
It has also proved to be an advantage to Hackman through a series of career moves. "You learn to think in terms of business planning, the business cycle, return-on-investment, the cost of implementing a policy, and the bottom-line impact of a regulation," Hackman says. "And today, I find I think in terms of the business cycle. And I also find this has become the bread-and-butter of what I do for clients."
"That's why so many leading business schools are going beyond finance and operations. They're helping students better utilize the other side of their brains – the side that helps us with abstract problem-solving, communication and emotional intelligence."