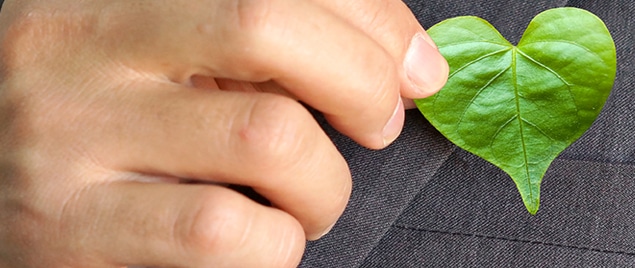 Who Should Do CSR?
Getting to the palm oil plantations in Borneo isn't easy. David McLaughlin of the World Wildlife Fund remembers one such trip into the remote regions of the island that took four hours by boat and 12 hours by car.
"Each time a new driver took over for another leg of the trip, I'd climb into the passenger seat, and they'd say the same thing," says McLaughlin, who is WWF's acting vice president for sustainable food. "The drivers knew only one word of English," he says. "That word was 'seatbelt.'"
The drivers had been well trained, McLaughlin says, because they were driving for Cargill, which operates four palm plantations in Indonesia.
"They made sure we were buckled up, because Cargill is committed to the health and safety of the people who work for it," he says. "This commitment extends as well to the way the company operates the plantations and the way its people care about the communities — some of them almost inaccessible — where the plantations are located."
But much work remains to be done. Palm oil is a $50 billion-a-year business, and Borneo is "ground zero for oil-palm deforestation. Nowhere has more native rain forest been wiped out, threatening the habitat not only of species unknown elsewhere but also of some of the world's last remaining hunter gatherers. The "rich biodiversity of Borneo's forests is under increasing pressure from industrial agriculture and other human activities," as the expansion of plantations continues.
Keenly aware of these worrisome realities, Cargill has worked to maintain a good relationship with WWF and other NGOs, including Greenpeace and the Rainforest Action Network.
"Cargill Operates across a wide range of supply chains, not just in palm oil, but also in cocoa, soy and beef, for example," says Chris Schraeder, the company's director of sustainability communications. "We also work with a number of stakeholders, some are critical and some are supportive. We take the criticisms seriously, and we believe that by working with these groups, and we share similar goals, we can arrive at approaches that work well for all of us, and that's a balancing act."
"It is a business imperative that we do this," Schraeder says. "A couple of years ago, our CEO laid out a new set of goals that included land use, water resources, climate change and farmer livelihoods. We're concerned about our own supply chains and our own footprint. This is essential to the long-term success of our company."
And the company is not without its supporters among NGOs. "At least where I've worked with Cargill, I've been impressed with its support for the local communities where its plantations are," says WWF's McLaughlin, whose experience with the company goes back almost a decade.
Cargill's "commitment in terms of health, safety, education and the environment is genuine," McLaughlin says. "Of course, to some degree, this is a prerequisite, given how remote the plantations are. But Cargill has done more than the minimum. The company really works to stimulate development in some of these areas, and it has done so with such success that you can actually see Indonesian versions of McMansions springing up."
Reputational Risks
Cargill understands the reputational risks of palm oil production, with its lamentable link to deforestation. "Palm oil is a contentious business to be in," McLaughlin concedes. "But Cargill has been actively engaged in addressing these problems, in part by helping make existing plantations more productive, which reduces the need for deforestation. Of course, there's a business reason to do all this, because a company in palm oil that doesn't have a serious CSR program won't be around for long."
What's instructive is that Cargill is not a publicly traded company. It isn't a widely recognized brand that sells its products to consumers. Instead, it supplies food and food ingredients to other companies. It's privately held, still family-owned after almost 150 years.
In terms of revenue, Cargill is the largest privately held company in the U.S. If it were a Fortune 500 company, it would be #15. So, on the surface of things, a well-positioned privately held company like Cargill might not need to concern itself with reputational issues the way a more public-facing brand does. But Cargill's name recognition is significant, and many of the companies it supplies ingredients to are major consumer brands.
"We showed that this wasn't just a nice thing to do but a competitive essential. This is about changing the way you do business."
Is There a Difference?
"All that makes some sense, but I'd challenge the assumption that there is a fundamental difference, at least these days, between public and privately held companies when it comes to corporate responsibility," says Michelle Grogg, vice president of corporate responsibility and sustainable development at Cargill. "We do what we do not only to perform well financially but also to live out our purpose, which is to nourish the world in a safe, responsible and sustainable way. The investments we make in these efforts — and they extend well beyond palm oil plantations in Indonesia — drive our business. These efforts help secure our supply chains, for example."
Grogg also points out that Cargill "has the same stakeholders any major company does — governments, employees and customers. Many of our customers are companies that buy food crops and ingredients."
"There are many reasons why privately held companies care about their reputation and want to be good corporate citizens," says Public Affairs Council President Doug Pinkham. "For one thing, if you are not well-known and you face a crisis, you will be defined by an angry public and activists. But if you're well-regarded, stakeholders will give you the benefit of the doubt."
In fact, privately held companies are more likely to take their CSR programs seriously than public ones, according to research conducted by the University of Michigan. They "are more likely to follow through on corporate social responsibility declarations than public companies," in part because they are less likely to be "constrained by shareholders and by law to maximize profits."
Secure Supply Chains
Cargill sells cocoa, for example, to Mars and Hershey. "About 70 percent of the world's cocoa comes from Africa, so when we work with CARE or Technoserve to increase yields and improve the quality of cocoa, we establish a more secure supply chain," Grogg says. "We also improve the lives of cocoa farmers, which means greater profits for these farmers, enabling them to invest in their children's education. That, in turn, improves their communities. And when we work with an organization like Partners in Food Solutions, our own employees get the opportunity to volunteer, which makes for more engaged Cargill employees."
Making the Case
Company higher-ups take such efforts seriously, in part, because those who have followed the issues most closely have made a persuasive case to the company's leadership. "We gathered the facts and studied their long-term financial and operational implications, and shared the findings with our Corporate Center, our top execs in the C-suite," notes Mike Fernandez, who worked for the company for six years before becoming CEO of Burson-Marsteller.
"We calculated the cost of lost business to Cargill if we didn't take action that would enable our customers to meet their environmental and sustainability targets," Fernandez says. "This wasn't just a nice thing to do but a competitive essential. This wasn't just changing how we talked about sustainability. This was about changing the way you do business."
Consumer Pressure
Just because a company is not a consumer brand no longer exempts it from consumer pressure.
"Environmental groups started by putting pressure on big consumer product brands, and, in turn, have put pressure on their large suppliers to companies like Cargill, but it is beginning to move downstream, to medium-size companies," Fernandez says. "And there are a lot of areas of vulnerability. It is not just the environment that regulators and activists care about. It includes issues like child labor and working conditions, among others. As more companies like Unilever (with brands like Dove and Ben and Jerry's) commit to sustainable living, the entry to market for suppliers will continue to rise.
"None of this is going to change anytime soon — and it shouldn't. Everybody will benefit — companies and their customers as well as the communities where they live and do business."
Additional Resources
Social Concerns of Concern to Business
Leveraging CSR and Sustainability Reporting for Improved ROI
---