Meet our New Chair and Volunteer of the Year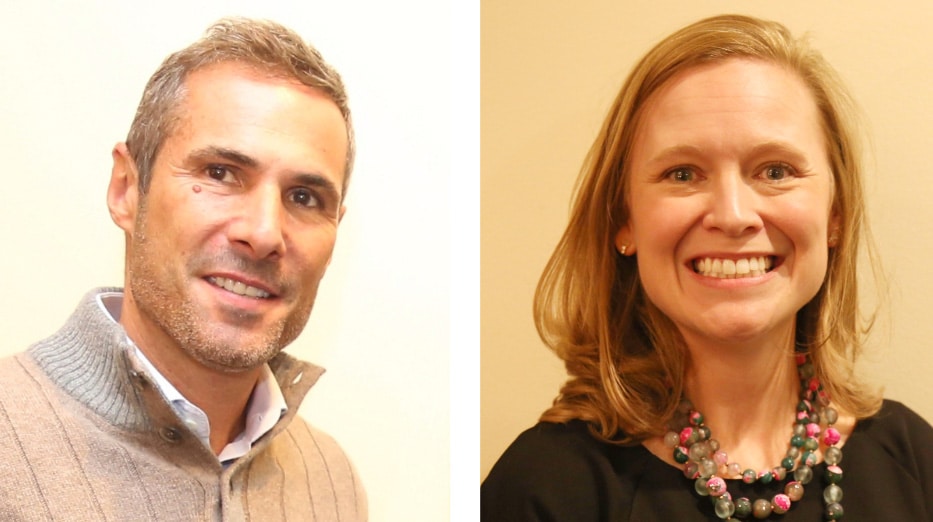 In the two decades since Marc Scarduffa first became involved in the Public Affairs Council, the profession has changed. Just a little.
The Council's new chairman, elected at the fall board of directors meeting, says his membership in the Council has helped him keep pace with those changes — and sometimes, stay ahead of them. Since 1997, Scarduffa has worked for Pfizer Inc., where he is now vice president, U.S. government relations and public affairs.
"Back when I first got active, 'digital' wasn't even a thing," Scarduffa, the Clifton, N.J. native says. "There wasn't something called 'social media.' No one focused then on corporate social responsibility platforms like we do today"
The 'Go-To Place'
But Council events and the network they provided enabled him to meet the new challenges. "The Public Affairs Council was always the go-to place for benchmarking and sharing best practices, and it still is," Scarduffa says. "From the day I first attended Council events, I always learned something valuable, and I continue to learn from my peers in this profession."
In the late 1990s, "what we were most concerned with was grassroots campaigns and PACs," he recalls. In fact, Scarduffa first became involved because he had been asked to grow Pfizer's first PAC, which has since grown from a $400,000 to a $3.2 million program.
Now Scarduffa is also heavily involved in managing Pfizer's public affairs platform, which supports the federal and state government relations team. In addition to PAC and grassroots advocacy programs, Marc is responsible for educating and engaging patient advocates, provider groups, vendors/suppliers and outreach to think-tanks. Marc's team also runs digital advocacy campaigns tied to Pfizer's state and Federal public policy priorities.
In remarks to the Council's board, he discussed the challenges posed by the "social media revolution" and by newly emboldened stakeholders and activists. To help members address these challenges, Scarduffa hopes to provide them with useful information through more frequent Council research on timely business and public affairs topics.
"Marc is smart, creative and a skilled strategist, and those traits have brought him success," says Council President Doug Pinkham. "But he's also one of the nicest people you'll ever meet. He helps others with their careers and he always raises his hand when you need a volunteer. I'm not exaggerating when I say that everyone in this town likes him."
Before joining Pfizer, the Drew University graduate was PAC director and deputy director of incumbent retention at the National Republican Congressional Committee. He had been a legislative assistant and campaign manager for then-Rep. Bill Green of New York and did advance work for Bob Dole's 1988 presidential campaign. On the trade association side, he was once a lobbyist for the National Association of Home Builders.
"I got the campaign bug in high school, in the 1980 Reagan-Carter election," Scarduffa says. Eager to pursue a career in politics and politics, he spent a semester in Washington D.C. as part of a Drew University program, interning for then-Rep. Jim Florio, while taking classes at Catholic University.
As his friends and colleagues will attest, Marc has never lost his interest in exploring new ideas. "I guess I'm a life-long learner," he says. "That's one reason why I love the Council."
See the  Council's 2017-2018 Executive Committee
See the Council's 2017-2018 Board of Directors
A High-Achiever Who Can Shift Gears
Brandy Stacks, who was also recognized at the fall board meeting, is the Council's 2017 Volunteer of the Year. When Scarduffa was running a PAC, Stacks was at the Federal Election Commission, monitoring PAC activities.
"When I left the FEC and went to work with an organization the FEC regulates, I had to shift gears," Stacks says. "While campaign finance laws are pretty black and white, how they are reviewed and enforced can sometimes be at odds with the way they are practically applied in the day to day. I'm a rare example of a regulator who became one of the regulated."
She too credits the Council with accelerating her professional development.
Before she attended her first National PAC Conference in 2006, she worked as senior finance analyst at the FEC. After leaving the FEC, she served as PAC manager for Corning Inc., Clear Channel Communications and Bristol-Myers Squibb, and then took her current job as director of government affairs for Prudential Financial, Inc.
Through it all, Stacks has been a consistent, enthusiastic and highly respected participant in Council activities. "Brandy is always willing to speak at our events and to other PAC leaders about their challenges," says Caryn Seligman, senior director at the Council. "She's an active advisory committee member, she's spoken at our conferences and she's been a mentor to people with less experience. Her knowledge is highly valued."
Stacks is also eager to share the expertise she developed at the FEC. "The FEC both applies the laws Congress passes but also shapes it, in day-to-day policy terms," she says. "There's a huge gap between that world and the world of the PAC manager. It has been a huge benefit to me, for example, to know how analysts — the regulators — think when they are reviewing files, for example."
They're not 'Gotcha Guys'
"Something I wish practitioners understood about regulators is that their relationship doesn't have to be adversarial," Stacks says. "The relationship can actually be collegial, in this sense: Regulators don't want to be 'gotcha guys.' Practitioners worry that if they call the FEC, they will get into trouble. They don't realize that analysts want to help and give advice, and that there are public information officers whose entire job is to offer guidance and answer questions."
Her knowledge of campaign finance actually predates her time at the FEC. She wrote her master's thesis at Johns Hopkins University on campaign finance reform. "I traced the history of campaign finance reform, going back to Watergate through the McCain-Feingold Act of 2002," Stacks says.
"I explored whether it would be possible to develop campaign finance policies that would satisfy both First Amendment advocates, who view campaign contributions as a form of speech, and those who believe money in politics is itself bad. I asked if it would be possible to strike a balance, arguing that this would be possible if there were no limits to contributions provided there was full disclosure."
She reached this conclusion — and defended it successfully — before the Supreme Court's Citizens United, ruling.  "I am not sure now that I would make the same argument today if I could do it over again. I'm no longer so sure there is a system that will satisfy both sides."
Stacks attended her first PAC Conference more than a decade ago, "before the conference became as in demand as it is today," she says. "What struck me immediately — my first impression — was the depth of experience and expertise of the other participants and the networking opportunities. I suppose they have learned some things from me from my experience at the FEC, but I have always learned a lot from them and still do, to this day."
Want More Information on This Topic?
Contact Doug Pinkham, president, Public Affairs Council
Additional Resources
Read about the 2016 Chair and Volunteer of the Year
Learn about Council recognition opportunities
---