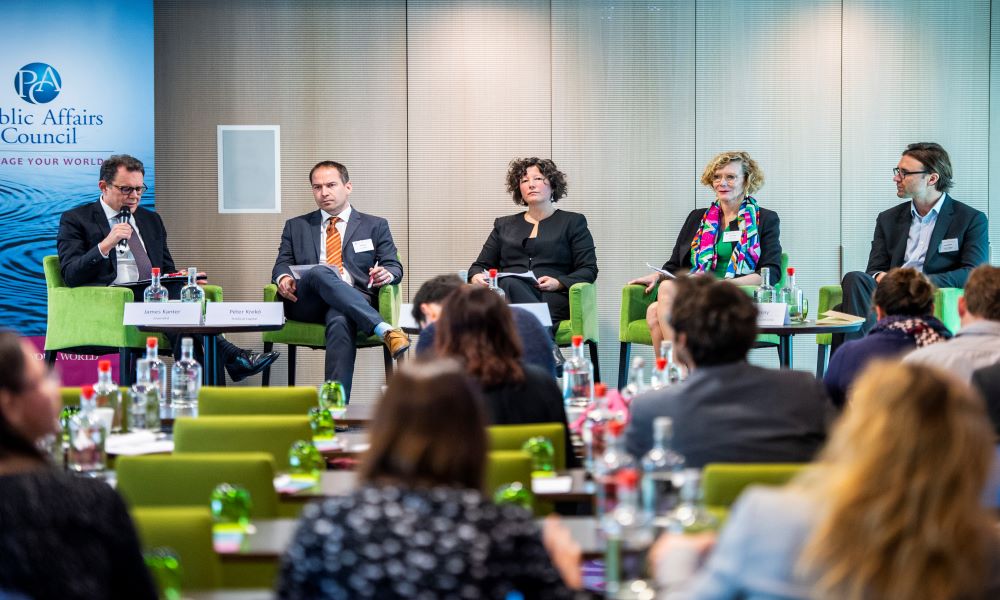 Communicating in an Age of Mistrust: Insights from True Lies and False Truths
Fake news. Cognitive bias. An environment of distrust. At a time when the list of obstacles to getting your message out seems to only grow longer, the need for effective risk communication is more important than ever.
Those were among the issues and insights discussed during the Public Affairs Council's 2019 Brussels Public Affairs Forum: True Lies and False Trusts on May 15, an event attended by journalists, government officials corporate leaders and public affairs executives. Building on the success of previous summits, this year's forum covered the science of fear, the politics of risk, narratives to address disinformation and communication in an age of mistrust.
Keynote Speaker Dan Gardner, an award-winning journalist and bestselling author, discussed risk communications with the crowd of more than 100 professionals gathered at the Public Affairs Council's European office. According to Gardner, human emotions still play a big role in how people perceive and address risks. "A person's beliefs can become markers of their identity," said Gardner. "To have an impact, you need to show how your arguments support, not negate, their identity."
Gardner also advised listeners to keep in mind that what others do, say and think matters immensely to our thinking. And when you're looking to persuade an audience, data and statistics are not the most effective method – you have to tell a story.
While the discussions covered theory, speakers also sought to find practical solutions. One tactic to combat misinformation is education. Panelist Adeline Brion of Lie Detector, a project to turn school children into critical thinkers, shared her organization's work training journalists to boost media literacy and trust in the profession by going into schools and talking to young people. The effort educates not just students but also the teachers.
Experts from corporations also stressed the importance of building trust. Kunegonde Carpentier of Johnson & Johnson said being authentic, honest and genuine is key to creating trust. This in turn will help you build alliances and convey your message.
Like it or not, disinformation and fake news have launched a new era in relationships between corporations and citizens. Understanding how perceptions are formed, trust is built and risks are understood can help organizations thrive. True Lies and False Truths spurred important conversations to bring the profession closer to the answers we need about sharing messages in an age of mistrust.
To learn more about the 2019 Brussels Public Affairs Forum, contact João Sousa at jsousa@pac.org.