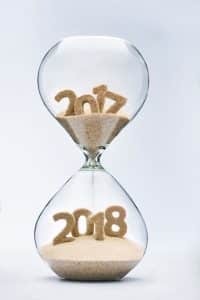 Global Public Affairs in 2018
As the New Year begins, it's important to take inventory of the challenges encountered in 2017, and to begin planning for those we anticipate facing in 2018. The Public Affairs Council recently conducted a survey to find out what public affairs professionals thought were the big issues and challenges in 2017, and what their predictions are for the year ahead.
Which issues were the toughest for global public affairs in 2017? Overall trade policy (32 percent) and cybersecurity (23 percent) were cited as the two biggest challenges. What do survey respondents anticipate will be their biggest hurdles in 2018? Overall trade policy remains in the top spot (34 percent), followed by the rise of China's influence (12 percent), refugees and immigration (12 percent), and cybersecurity (11 percent).
While some issues change from year to year, other challenges persist on a more constant basis. Which areas of global public affairs does the Council get the most questions on, and how do we advise our members?
Strategic planning. Strategic planning is an overarching pillar of global public affairs, and will drive your function's global public policy and government relations program. While strategic planning looks different for every company, best practices remain the same across the board. A successful strategic plan defines objectives, risks and opportunities, key stakeholders, and both planned and reactive strategy elements. Evaluate the core goals of your internal and external stakeholders and align your activities with theirs. As you think about your work moving forward, consider categories of threats and opportunities – demographic, technological, competitive, regulatory, financial, competitive and consumer-driven. Don't forget to think about what future threats might look like, how they will change your operating environment and how you can adjust your strategy as this occurs.
Integrating with the business. How to better engage the public affairs function with the core business is a common question, especially for practitioners working at the global level. In order to do this effectively, you and your team must determine how you will provide insights to global business leaders, and what the most effective forums for influencing business strategy and decisions will be within your company. Public affairs is often not a well-understood function, and additional cross-company education is often required. Start by creating an access point to upper management. Often, once a company leader demonstrates their support and commitment for public affairs, other functions will follow. From there, establish continuous communication to demonstrate your impact. From newsletters to e-blasts and in-person quarterly check-ins, a variety of methods can be effective based on company culture and fit.
Issues management and tracking. A strong issues management process can be the cornerstone of a strong external affairs function. As with most things in public affairs, this process should be a mix of proactive engagement, continuous outreach and issues monitoring. Involve all relevant internal stakeholders (business units, senior executives, R&D, legal, etc.) to help you identify issues areas that are key to successful company operations. Follow a consistent process that identifies and prioritizes issues, explores blind spots, ensures comprehensive coverage and continuous monitoring, and evaluates and reports on progress to show what risk avoidance looks like for the business. Since there is no template that works for every organization, don't hesitate to make changes to make your issues management process more dynamic.
Stakeholder management and engagement. Stakeholder management at the global level is a mix of internal coordination, realistic prioritization, and external mapping and engagement. As with issues management, key relationships should be identified, prioritized and evaluated on a regular basis to make sure all relevant information is current and new stakeholders who might have an effect on your operations are engaged in a timely manner. Successful engagement comes down to knowing who has the potential to impact your business and how, as well as who is influenced by your business (grassroots leaders, legislators, media, academia, other business coalitions, rival industries, consumers, etc.), and how those relationships can be managed most effectively.
Need more resources for tackling your public affairs challenges? Contact me at diventicheva@pac.org.