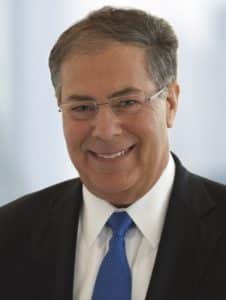 Bio: Kenneth A. Gross
Kenneth A. Gross is a partner at the firm of Skadden, Arps, Slate, Meagher and Flom where he advises clients on matters relating to the regulation of political activity. A noted authority on campaign law compliance, gift and gratuity rules, lobby registration provisions and securities laws regulating political activity and municipal securities transactions, Mr. Gross counsels numerous Fortune 500 corporations and political candidates at the state and federal level. As former Associate General Counsel of the Federal Election Commission (FEC), Mr. Gross headed the General Counsel's Enforcement Division and supervised the legal staff charged with the review of the FEC's Audit Division.  He also offers legal guidance to the members of the Public Affairs Council.
Presently, his clients include commercial and investment banks, insurance companies and manufacturers. He advises elected officials as well as candidates facing various federal and state races. Mr. Gross also counsels senior-level political appointees facing Senate confirmation in matters related to compliance with government ethics laws. Mr. Gross is well-known for his experience regarding the Ethics in Government Act and U.S. House of Representatives and Senate ethics rules. He has also worked extensively with federal and state lobby registration laws, in particular compliance with the Federal Lobby Registration Act and the Foreign Agents Registration Act. Additionally, he advises corporations on internal ethics guidelines.
Mr. Gross co-chairs the Practising Law Institute's annual seminar on "Corporate Political Activities." He is a member of the American Bar Association's Standing Committee on Election Law and chaired the Election Law Committee for the Federal Bar Association. Mr. Gross also served as an appointee of former Senator Daniel P. Moynihan (D-NY) on the New York Judicial Screening Committee where he participated in the recommendation of New York federal judges and U.S. Attorneys.
A frequent featured guest on CNN, Fox News, NPR Radio and other media outlets, Mr. Gross was CNN's on- air election law analyst during the Florida election dispute and made daily appearances with Bernard Shaw, Judy Woodruff and Wolf Blitzer in covering the election. Roll Call named Mr. Gross among the outstanding lawyers in its 2001 "Who's Who Among the Congressional Ethics Bar." Mr. Gross has advised NBC's television show "The West Wing" on election law issues that arise in the show's scripts.
In addition, he is the co-author of the Ethics Handbook for Entertaining and Lobbying Public Officials. His published articles on campaign finance have appeared in the Stanford Law and Policy Review and the Yale Law & Policy Review ("The Enforcement of Campaign Finance Rules: A System in Search of Reform"); Federal Bar Journal; Corporate Political Activity (published by Business Laws, Inc.); Money, Elections and Democracy; and several other publications. He is also the author of biennial supplements to a treatise entitled "Federal Regulation of Campaign Finance and Political Activity."
As an active participant in various non-profit organizations, Mr. Gross serves on the Board of Trustees of the Campaign Finance Institute and is a member of the Executive Committee and counsel to the American Council of Young Political Leaders and the National Jewish Democratic Counsel.
Mr. Gross also served for over seven years on the faculty of George Washington University in Washington, D.C., and has lectured at Georgetown Law School, Fordham University Law School, American University and New York University School of Law.
1/02
---
Admissions Admitted in the District of Columbia and Georgia
Government Service Associate General Counsel, Federal Election Commission (1980-1986) Member, Federal Judicial Screening Committee for New York (1996-Present)
Professional Experience Faculty Member, George Washington University (1987-Present)