Finding out what's around the corner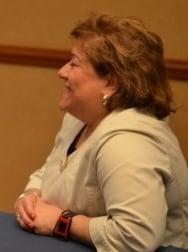 "My business is based in Akron, Ohio. We are not going to learn what we need to know at the corner of Summit and Mill Street in Ohio. We have to get up, go out and learn.
"I have associated myself with the Public Affairs Council since day one. As we become more global and international in reach, we are learning a lot from the Council's programs about certain governments, how they operate and who we can talk to. We are increasingly being asked about international lobbying, and the Council's expertise is providing a road map for where to go.
"This is by far the most economical investment I make in professional organizations. I am a member of many other groups that charge me a whole lot more and I don't get the communications that I get from the Public Affairs Council. I encourage everyone I know to join."
— Elizabeth Bartz, president & CEO, State and Federal Communications Inc.