By Alan Crawford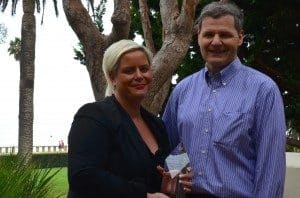 Council Volunteer of the Year Heidi Ann Ecker has an infectious enthusiasm about her that comes across even in her phone manner, which should come as no surprise. As director of government affairs and grassroots programs for the National Association of Chain Drug Stores (NACDS), Heidi delivers up to 30 presentations per year — mostly motivational in nature — for the organization she represents.
"I try to leave the audiences with the sense that they can do more than they think they can do," Heidi says. "There's nothing more rewarding than inspiring people to get involved in a grassroots program. I've been involved in grassroots efforts for more than 20 years, and this isn't a stepping stone for me. It's my career. I like to tell groups that there was a time when all this was new and intimidating to me too. There was a first time that I sat down in a policymaker's office and made my pitch. I tell them they will gain confidence with practice."
But people have to be motivated to take those first steps. They have to be inspired, and one way Heidi does that is by closing her presentations with a montage of film clips that starts with Braveheart, Mr. Smith Goes to Washington, Rocky and even Animal House.
"People don't always understand this, but they have more influence than they realize, just by virtue of the fact that they are a voter," Heidi says. "And the more they engage with elected officials, the more comfortable they will become with the role. The same goes with making presentations. Once someone knows their subject well, they can relax. And the more they can weave personal stories into their talks, the more persuasive they will be."
Heidi has made hundreds of such talks herself, and not only for NACDS. In addition to presenting before patient, physician and nursing communities, she also addressed representatives of numerous countries at the International Congress on Physical Activity and Public Health when she served as executive director of the National Coalition for Promoting Physical Activity.
She has also given selflessly of her time to the Council, which is why she has been selected as 2014's Volunteer of the Year.
"Heidi travels an extraordinary amount for her job, which makes her activities on behalf of the Council even more impressive," says Sheree Anne Kelly, the Council's vice president and executive director of the Foundation for Public Affairs. "Despite the demanding schedule of presentations where she successfully persuades people to engage in grassroots activities for her industry, she still makes time for the Council."
"It's an honor to receive this award, of course," Heidi says. "But it's a privilege just to be involved in Council activities. This organization sets the bar for understanding the importance of grassroots and for influence in the profession."
Active with the Council since 2000, Heidi worked for Sen. Ted Kennedy and has extensive government relations and policy experience with several health care organizations, including the American Osteopathic Association, the American Nurses Association, the American Psychological Society and the National Community Pharmacists Association. Since 2008, she has been building, directing and expanding the grassroots brand NACDS RxIMPACT.
"Heidi goes above and beyond in her participation in the Council," Sheree Anne says. "She is a regular member of the Grassroots Conference Advisory Committee and a frequent speaker. She is always available to offer specific and detailed advice to fellow members and to Council staff. We know we can always call on her to share her experience and expertise."
The Council has named a Volunteer of the Year annually since 2008. The award recognizes recipients' contributions not only to the Council but also to the public affairs profession as a whole.
Previous winners are:
Kate Fry, associate director of political affairs, American Association of Nurse Anesthetists (2013)
Heather Cutler, director of federal and political advocacy, CVS Caremark Corp. (2012)
Corey Henry, vice president, communications, American Frozen Food Institute (2011)
Molly Nichelson, senior specialist, grassroots outreach, American College of Cardiology (2010)
Shannon Bearinger, senior business information analyst, Nationwide Insurance (2009)
Ellie Shaw, director of federal government affairs, American Express (2008)
For more information about the award, visit pac.org/volunteer.