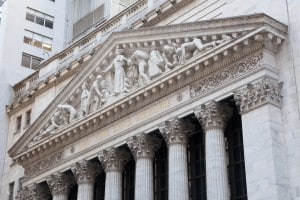 This article originally appeared in the July/August 2014 issue of the Council's monthly newsletter, Impact.
By Alan Crawford
Consider it a happy accident. When Charlie Stamp Jr. became vice president, public affairs worldwide, for Deere & Co. in 2002, the office he was assigned to at corporate headquarters in Moline, Ill., was quite by happenstance next to that of the chief financial officer. 
Stamp says that what began as "off-the-cuff conversations" between the two executives eventually became "managed discussions." As the company expanded, its challenges were becoming more complex, and the CFO came to understand how important it was to successfully manage political risks.
"We now have 65,000 employees working outside the U.S.," Stamp says. "We have offices in Washington, D.C., in 13 key states and in world capitals. Managing our risk was becoming a whole new ballgame. And because so much of that risk is tied up in trade issues and in possible geopolitical disruptions, our government relations division was coming to play a larger and more important role in the way we talk to institutional investors."
Today, Stamp and his team talk regularly with the company's treasurer, comptroller and, most significantly, Deere's manager of investor relations (IR). "The responsibilities of our public affairs office are considerably more expansive than they used to be," he says.
The Talk Circuit
The conversations intensify in the days and weeks leading up to quarterly calls with analysts. "There is a lot of review of data in the room in the minutes leading up to the call itself," Stamp says. "In my years here, we've never had a call with significant shareholders where there hasn't been at least a check-in with public affairs."
It's an increasingly frequent occurrence in other companies as well. In the Foundation for Public Affairs' 2011-2012 State of Corporate Public Affairs benchmarking study, only 8 percent of respondents said their departments have some responsibility for investor relations. But that number is likely to increase as the political and regulatory challenges that companies face become more complex. Sometimes, representatives of public affairs departments take part in the calls to institutional investors or in other direct communications, but this seems to be a relatively new occurrence.
Ann Richardson Berkey, senior vice president, public affairs, for McKesson Corp., has been working directly with her company's IR department — and, on occasion, speaking with institutional investors directly — since the late 1990s. "We got involved back when the health care debate began to intensify, and it has sort of grown from that," she says.
At times, Berkey has participated directly in McKesson's annual investor day meeting in New York, and her team always helps brief the IR team before each quarterly earnings call. "We prep the CEO before those calls, but we are also called in on an ad hoc basis when there is a particularly hot issue we know institutional investors are concerned about. Sometimes, there are specially called meetings with institutional investors about a specific issue. So a lot of our involvement comes in spurts."
Peter Slone, vice president, global government affairs, for Medtronic Inc., says his team does not have direct discussions with investors, but they do help prepare the executive leadership for quarterly analyst calls and for the company's annual analyst meetings at its world headquarters in Minneapolis.
"We provide Q & A on topical issues that have revenue implications, forecast future legislative activity that could be impactful and provide insight into emerging trends," he says.
The Regulatory Realm
As a power company that operates in 48 states, the District of Columbia and Canada, Exelon Corp. is "highly regulated," says David C. Brown, the company's senior vice president of federal government affairs. "So there is a great deal of investor interest in our view of the regulatory and political world. That can take a number of forms — from the very general, such as our prognostication about how an election will turn out, to very specific, such as how we view a specific piece of legislation or a regulation. The investment community wants to know how a likely outcome will affect our company."
The involvement of Exelon's public affairs team usually takes three forms.
"First, when the company's investor relations department prepares its scripts, including possible questions and recommended answers, we're involved in helping prepare the Q & A's that touch on legislative and regulatory issues," Brown says. "We help identify likely questions and help craft responses, based on our expertise."
Second, Brown's department takes part in periodic briefings with the investor community in Washington and in Chicago, where Exelon is based. "We'll be asked to do those briefings ourselves —opening remarks, followed by the Q & A," he says.
"Third, there are annual presentations, not to the investor community but to the banks that lend us money. The public affairs team always has a slot to fill at these meetings with bankers, who are always eager to discuss legislative and regulatory issues that will affect our business."
Brown sees an "increasing recognition of how critical it is to a company's success that the public affairs function makes its views known not only to policymakers — nothing new there — but to the investment community. It's also crucial that your messages to policymakers and to investors are coordinated," he says.
"It's important to make sure you're all on the same page," agrees Berkey. McKesson has a monthly "communications alignment" meeting that includes representatives of corporate communications, IR and public affairs.
When messages are not aligned, the results can be problematic.
"I've known of companies whose government affairs people go to Washington and say that if some legislative or regulatory decision doesn't go their way, the sky will fall," Brown says. "Then their IR people will turn around and tell investors, 'We've got it all under control.' That can cause some serious fallout."
Monthly Calls to IR
To make sure their messages are coordinated, Brown and his team have a monthly call with Exelon's investor relations department.
"You have to have a full understanding of the complexity of the IR department's world, because its mission isn't always the same as yours," he says. "You never want to be in a position in your government relations work, for example, of disclosing nonpublic information. When you do, that can vastly complicate matters, and regular conversations with the IR people can help you avoid that. To carry out these new responsibilities, you have to have a substantive lobby shop; you have to earn your IR shop's confidence that you are up to the challenge.
"These conversations are also valuable because they can serve as early-warning systems for all of us," Brown says. "We also talk with them a few times a week in the normal course of our work."
Such collaboration is driven not just by investors' demand for information. "It's also a result of the fact that our own investor relations group came to see that we are capable of accommodating their needs," he says.
Berkey says she owes part of her own involvement with institutional investors to the fact that she has developed credibility not only with McKesson's IR department but also with the investment community.
"I've been on the scene now for 25 years," she says. "I know the issues, and the people in the investment community know me."
Hard Questions From Wall Street
"It's important to understand that Wall Street people ask far sharper, refined questions, and they expect you to know the answers," Brown says. "A lobbyist can go to Capitol Hill, and the people he or she will talk to there only want to go an inch deep. The Wall Street people want to go a foot deep."
In addition, Wall Street firms now employ their own intelligence-gathering operations, Brown notes — a reflection of how sophisticated they are and how much information they already have when they talk with a company's government relations staff.
"I've been with Exelon for 24 years, and I have a colleague who worked in government affairs but has moved into investor relations," he says. "I tell her she's doing the same job she did before, except that she is just doing it on a higher level. She's just lobbying a more sophisticated crowd."
Stamp also emphasizes the sophistication of institutional investors. "The investment community is a relatively small group of people," he says. "But they are extremely well-informed and highly intelligent. They tend to ask deeper questions than most policymakers do. They understand how political developments and government decisions impact a company. If you don't know the answer, you need to be prepared to address the various alternative scenarios and how the company will respond to different contingencies."
Berkey says, "The advice I have for public affairs departments for which this is new territory is to share intelligence with their IR departments. Become a resource for the IR department so they will pull you in when needed."
To succeed in this role, you can never know too much. "I've always believed public affairs should have a seat at the table, at the highest levels of the enterprise," Stamp says. "I don't mean just when the discussion is about government affairs.
"It's significant that our company's chief economist is in the public affairs group," he says, "because our team needs to understand as much as possible how microeconomic, macroeconomic, geopolitical and social developments will impact business decisions at the levels of asset allocation and market expansion.
"By now, we all know that there is virtually no area where government does not impact an enterprise — especially a global enterprise — with implications for corporate governance, market cap and profitability," Stamp says. "Now these aren't just investor relations specialties; they are areas for public affairs to play a role, too."