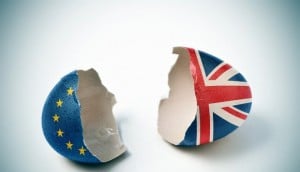 By Dasha Iventicheva, International Associate
The referendum results are in. Amid growing panic, the pound sterling has plummeted in value, the UK has been stripped of its triple-A credit rating and an internal political drama is rapidly unfolding within the country. Hotlines are being set up across the globe and all along K Street to manage client expectations and answer questions that may not yet have a clear response. As the number of factors complicating the situation grows, what do public affairs public affairs professionals need to keep in mind while navigating the "Brexit" question?
No negotiations without notification. Until Article 50 is triggered, the UK is still a member of the European Union and all prior EU regulations apply. The EU is refusing to negotiate before Article 50 is invoked and the UK seems hesitant to act before there is some clarity on what the country's position might be once the two-year clock for negotiating its exit from the EU runs out.
No one knows what they're doing yet. The UK's vote to leave the EU is uncharted territory. Expertise of politicians and businesses alike is limited and there is no precedent to guide the process. Furthermore, a number of unanswered questions remain, amplifying uncertainty and global concern. Will the vote trigger more referenda in countries like Scotland, Ireland and France? Will the UK Parliamentaccept the public's choice to Brexit or bring the referendum up for a vote in Westminster? Which of these post-Brexit scenarios is most favorable — and likely — for the UK?
Change will be slow. No changes will take place overnight and what happens beyond this fall is anyone's guess. Greater clarity will emerge once a new Prime Minister has been elected, which is unlikely to occur before September. The new PM might also wait to invoke Article 50, delaying Brexit talks with the EU until the country figures out what position to take in the negotiation process. Furthermore, the replacement arrangement will depend on a conclusive, universal agreement between the UK and the 27 EU member states. Negotiations have the potential to result in political deadlock — especially over issues such as free movement of services and labor — and it is unlikely that such an agreement will be reached easily and swiftly. While media and the market might react to the negotiation news quickly, the reality on the ground will remain unchanged for significantly longer.
Businesses should focus on the short term. Before any definitive changes take place, companies should analyze their short-term priorities and continue with normal business operations.Nevertheless, the possible long-term implications of the Brexit should not be ignored. Here are some questions FleishmanHillard suggests public affairs professionals should ask:
What is your business's preferred model for UK's eventual realignment with the EU?
Which current EU regulations will need to be translated across to the UK in order for your company to continue operating there?
Which other businesses and sectors can you find common cause with?
Which government officials will be key liaisons in ensuring your business and industry are attentively considered throughout the negotiating process
Communication remains key. As mentioned above, companies affected by the Brexit should focus on managing immediate financial risks and carrying on with business as usual as much as possible — at least until Article 50 is invoked. At the same time, it is essential to communicate company policy positions and issue management plans to staff, investors and any stakeholders who may be affected. Continue to monitor issues most relevant to the company's industry and line of business and create appropriate communication channels in order to develop a strong position on those that will have the greatest impact in both the short and long term.
How is your public affairs function responding to the Brexit? Let me know. Until then, we can always hold out hope that Britain could still exit Brexit.
---
Dasha Iventicheva is the international associate for the Public Affairs Council. In this role, she supports the International Network, plans executive education on international public affairs topics and serves the community with their resource and informational needs. She can be reached by email at diventicheva@pac.org.