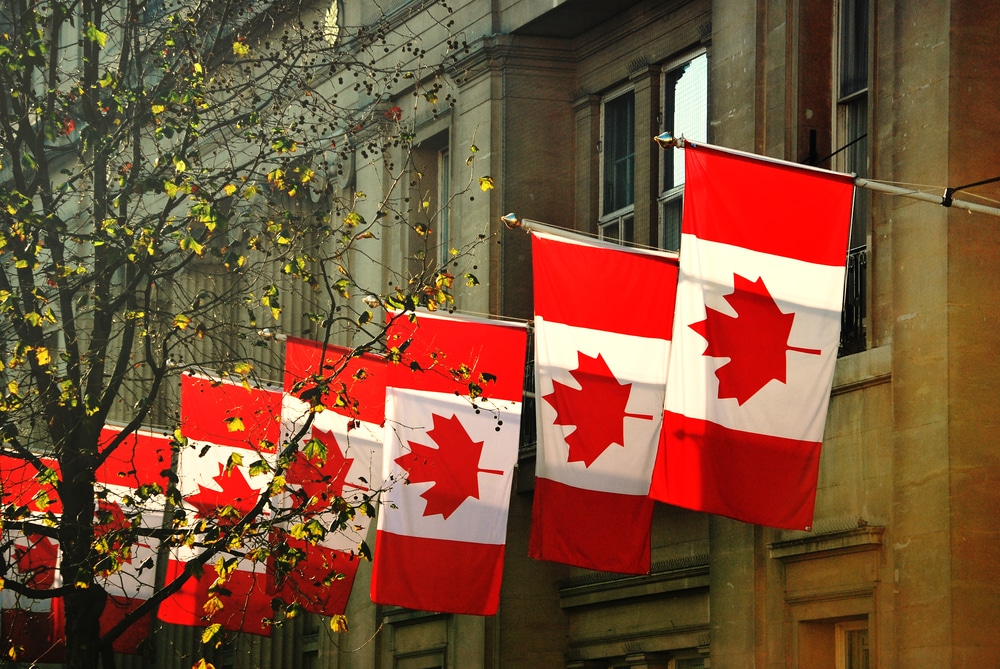 Public Affairs in Canada
Updated June 2018
Canadian Government: Canada's government is broken down into three levels: federal, provincial and municipal. The federal government is based in Ottawa and is responsible for most policy areas that could affect more than one province (including economic and foreign policy), as well as most business regulations. The country's 10 provinces and three territories have jurisdiction over natural resources, education and health, while municipal/local governments are responsible for day-to-day public services, such as road maintenance.
The federal government is made up of three branches: legislative, executive and judicial. The executive is led by the governor general (Julie Payette), the prime minister (Justin Trudeau), and the Cabinet, which is made up of ministers who review the government's agenda and approve legislation before it moves forward. The legislative branch, which is well integrated with the executive, is made up of the House of Commons, elected by the general population, and the Senate, appointed by the governor general per the prime minister's advice. The judicial branch is made up of the Supreme Court and federal, tax and provincial courts.
Another important element of the Canadian government is the bureaucracy, comprised of nonpartisan public servants responsible for policy formation and program execution. Key players include the Clerk of the Privy Council, who is responsible for advising the prime minister, and deputy ministers to respective government departments.
Federal vs. provincial jurisdiction: It's important to differentiate between federal and provincial jurisdiction, and where the two overlap.
The federal government is responsible for policies related to matters such as the economy, trade and commerce, taxes, the postal service, national defense, criminal law, financial services, unemployment and aboriginal (or First Nations) rights.
The provinces have jurisdiction over matters related to education, health, direct taxation, public land, various licensing procedures, public works and civil and property rights.
Federal and provincial government share competencies over agricultural, pension, environmental and immigration policy.
Council of the Federation: One of the most important elements of federal/provincial/territorial ("FP/T") relations is the Council of the Federation, a congress of premiers of each of Canada's 13 provinces and territories that meets twice per year. According to the Council's founding agreement, its role is to provide "an integrated and coordinated approach to federal provincial territorial relations through the development of shared common analysis and positions."
Stephen Harper, who served as prime minister from 2006–2015, did not meet with the Council, as he viewed it as an opportunity for provincial leaders to "gang up" on the federal government with limited political benefit for Harper. While this was not necessarily constructive to cooperation between the federal and provincial levels, there were several positive outcomes to the arrangement, including the creation of the Pan-Canadian Purchasing Alliance and a comprehensive Canadian Energy Plan — both established without federal participation.
Although meeting with the Council is not always a pleasant experience for the prime minister, Trudeau is expected to improve cooperation across the board, primarily through financial contributions for provincial infrastructural projects. Trudeau has also stated that he wants to improve collaboration with the Council on climate change, which, to date, has been primarily an independent effort by the provinces. The new government is bringing a new perspective to the Council-government relationship, and changes are expected from how Council-related business was conducted previously.
Lobbying: While lobbying firms are employed less often than in the United States, lobbying itself is an officially recognized and legitimate part of the Canadian political system. One of the main differences between lobbying in the United States and in Canada is the role that money plays, as it holds much less influence in Canadian affairs. Corporations are not allowed to contribute to officials and campaigns at the federal level, and there are restrictions specific to donations at the provincial level. Overall, campaign finance and lobbying in Canada are kept quite separate, while in the U.S., the two matters are often intertwined.
Trudeau Effect: A term coined after Prime Minister Trudeau's appearance at the World Economic Forum, the "Trudeau Effect" describes the new prime minister's ability to charm other politicians and global business leaders alike with his "youthful optimism and candor." According to the 2016 Edelman Trust barometer, trust in all of Canada's institutions have increased, which reflects an informed public that has been exposed to Trudeau's successful tactics in public engagement. By comparison, only 28 percent of the general population stated that they felt Canadian CEOs could relate to them. This suggests that business leaders may benefit from adopting Trudeau's "level of earnestness and candor," as well as visibly increasing other traits the influential mass population finds admirable, including transparency, accessibility, openness and willingness to collaborate.
Liberal government: Trudeau heads the Liberal Party, which, historically, has advocated for socially liberal and fiscally responsible policies aimed at an urban supporter base and the Atlantic provinces (New Brunswick, Prince Edward Island, Nova Scotia and Newfoundland and Labrador).
Priority areas for the new government are likely to be the economy, innovation, infrastructure, FP/T relations and matters related to climate change and energy. Special focus is expected to be given to international relations, Canada's role in the world, public security and Canada-U.S. relations.
Influencers: It is important to identify influencers both inside and outside of the government. To identify potential advocates and allies inside the government, develop a contact list that reflects subject-area decision makers, as well as which other ministers and departments may be of influence. Key influencers in government include the prime minister's office, cabinet ministers, members of Parliament, parliamentary assistants, the bureaucracy, opposition parties and key political staffers.
Influencers outside of the government include communities, coalitions, industry and related associations, media, NGOs, think tanks and unions. In order to identify your advocates, allies and even potential opponents outside of the government, it is important to determine the best way to work and share information with supporters, as well as to develop both informal and formal cooperation tactics.
Success factors: When developing a government relations strategy, consider the number of stakeholders affected and the diversity and importance of these stakeholders, creating or supporting alliances when appropriate. Also, develop a strong argument, assess the political implications and consider the timing of your engagement.
When formulating an ask, it is important to craft a strong message, get in early, be transparent, engage the public and pursue science-based decisions. In addition, one should:
Set clear objectives: Prioritize and rank specific issues according to importance and immediacy, and establish thoughtful procedures through planning and implementation.
Know the landscape: Identify regions where your ask is key, find supporters inside and outside of the government and make sure your ask is favorably aligned with government priorities.
Know the environment: Stay informed about the latest developments and discussions taking place inside of the government. It is essential to understand the potential direction of policy development, timing and venues for decision-making, and where the government is in its life cycle.
Establish formal monitoring: Follow legislative debates, committee hearings, government consultations, party websites, ministerial speeches and announcements to be aware of emerging dynamics and potential changes that could affect your government relations function.
Electoral cycle of politics: The electoral cycle of politics is all about timing implementation of your government affairs strategy to have the most impact. One's ability to influence policy is highest during the policy development and legislative drafting phases.
Another cycle to be aware of is the cycle of initiatives, or the order in which the government introduces legislative initiatives between year 1 and year 4 of an election cycle. The government tends to announce less popular initiatives as the prime minister and his Cabinet get closer to an election, as they are likely to be hesitant to introduce controversial proposals. The closer the cycle is to an election year, the more focused the current government is on ensuring its key campaign commitments are fulfilled. Typically, measures aimed at target voters are announced in the fourth year of an election cycle in order to bring votes to the ruling party.
Budget cycle: The budget cycle reflects a one-year period during which the federal and provincial budgets are decided, and is important to track budget-influencing purposes. Both Cabinet ministers and MPs are involved in the process of making budget recommendations. The budgeting process begins in June, when the House of Commons Finance Committee sends notice for submissions for budget proposals to central agencies and departments. Budget consultations between all sectors of the economy begin in October, and budget decisions at both the federal and provincial levels are reviewed and finalized by the Department of Finance between January and March of the following year. Final budgets are approved by standing committees in the House of Commons by late May. The best window to influence both federal and provincial budgets is between September and January of a budget cycle year.
A recording of the webinar, "Public Affairs in Canada," is available for purchase. Click here to learn more.