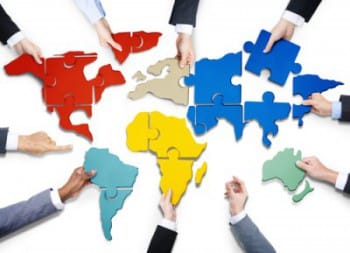 The Value of CSR in International Public Affairs
In recent years, the rise of corporate social responsibility has been linked directly to increasing global societal needs paired with national governments' inability to keep up with the demands of addressing them. As corporations grow in size and influence, their capacity to take on a larger role in dealing with these issues both at home and abroad grows. This trend is especially relevant for multinational companies, whose operations often take place outside of their domestic market.
International CSR is the perfect opportunity for a business to demonstrate its good intentions in a foreign market — usually in areas of public health, education, child care and environmental sustainability. CSR initiatives also create additional opportunities to increase stakeholder engagement over a shared issue, help build trust and strong relationships while also creating value for the company.
Projects that are especially successful place particular attention on matching an organization's core skills, products and CSR focus with the specific needs of the communities in which they operate. Here are a few examples of such initiatives, conducted globally by multinational corporations to help the international communities in which they are involved:
Google: Humanitarian relief
In 2015, Google made an appeal for donations for humanitarian relief for refugees and migrants in the Middle East, which were distributed to Doctors Without Borders, the International Rescue Committee, Save the Children and the UN High Commissioner for Refugees. Google promised to match the first $5.5 million in donations. The company reached its goal of $11 million in two days, inspiring companies like Apple and TripAdvisor to launch similar initiatives in the process.
Microsoft: Natural disaster relief and technology programs
Nepal: In response to the major earthquake in April 2015, Microsoft offered free Skype calls to and from the affected area, also donating $1 million in cash, technology and services after the disaster struck.
Africa: 4Africa is a Microsoft-sponsored program meant to bolster African companies' and governments' capacities to use advanced technology. The initiative trains startups and local organizations to optimize their use of Internet and technology software in countries like Kenya and Uganda. The MySkills4Afrika program has shuttled about 400 Microsoft employees on two- to three-week trips to African countries to share their particular skills, from software development to marketing with program participants.
Coca-Cola: Safe water access and sanitation
The Coca-Cola Africa Foundation's Replenish Africa Initiative (RAIN) has pledged over $35 million to support Pan-African safe water access and sanitation programs that, through public-private partnerships with local organizations, have improved water access for 2 million people across Africa. Coca-Cola's foundation also spearheads health, education, entrepreneurship and humanitarian assistance initiatives across the continent as part of its efforts to bring change and opportunity to African communities.
IBM: Solving 100 international cities' problems
The IBM Smarter Cities Challenge encourages company executives to volunteer their time and expertise to cities across the globe to provide guidance on pressing social problems. Participants spend one month on the ground working with local governments to find solutions for social, environmental and infrastructure-related problems, such as traffic congestion in Nairobi and food and supply chain issues in Ho Chi Minh City.
Johnson & Johnson: Saving infants' lives in China
In 2002, J&J partnered with the Chinese Ministry of Health, Chinese health organizations and the American Academy of Pediatrics to launch the Johnson & Johnson Neonatal Resuscitation Program in 20 provinces in China. The program outlines both simple and aggressive steps health care providers can take to prevent birth asphyxia, or infant death, the most common cause of which is a child's inability to breathe. An estimated 90,000 Chinese babies' lives were saved in the program's first five years, and the company has expanded the program to include India, Indonesia, Vietnam, Nepal, Pakistan, Uganda, Malawi, Kenya, Ethiopia, Ghana and South Africa. Because healthcare is a government function in most countries, J&J's contributions are primarily strategic and backed by strong financial commitments from national governments.
Pfizer: Battling infectious disease in Africa
Based on contributions made by staff via pro bono services, Pfizer's Global Health Fellowship Program is an important part of the company's CSR portfolio. The program promotes access to health care and medicine, and helps identify challenges that need to be addressed in various communities. In Kampala, Uganda, Pfizer partnered with the country's Infectious Disease Institute to help treat HIV-positive men, women and children. Programs like GHF improve company stakeholder engagement through collaboration with health care providers, governments and local communities, and help align the company's social purpose with its brand perception.