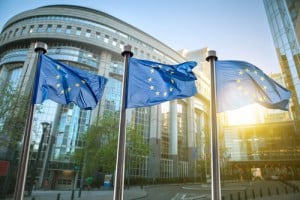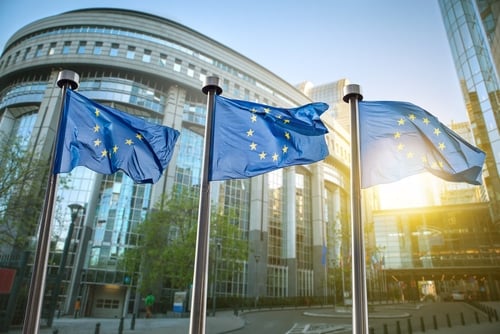 This story originally appeared in the April 2016 issue of the Council's monthly newsletter, Impact.
POLITICO Europe is read by more than half of the key European Union officials and other opinion makers in Brussels, according to a study by Burson-Marsteller released in late January 2016.
A relative newcomer to the European media scene, POLITICO has demonstrated a high level of market penetration, with 52 percent of 249 Brussels "influencers" surveyed reading it at least once a week. At 51 percent, the BBC came in second, with such stalwarts as the Financial Times (39%) and the Economist (30%) lagging well behind the leaders. EurActiv, at 42 percent, ranked in the middle.
It's a strong showing by POLITICO, which opened its Brussels operations in 2015, after entering into a partnership with the European media company Axel Springer and absorbing European Voice, which was previously owned by the Economist.
The survey, "What Influences the Influencers?" (conducted from late October 2015 through mid-January 2016), also found that the BBC is still regarded as the most influential in day-to-day professional decision-making among Brussels VIPs.
Twitter Close Behind BBC
In what might come as a surprise, a social media platform — Twitter — was close behind the BBC. More than half of key influencers (51%) consult the BBC, but 49 percent check Twitter. The Financial Times and the Economist tied at 48 percent, with POLITICO close behind at 45 percent.
"POLITICO has gotten to the goal post very rapidly," says Karen Massin, CEO of Burson-Marsteller Brussels. "One key reason for its success is its focus on European Union news. It is very specialized, while the Financial Times and the Economist cast a considerably wider net."
Less Formal Style
András Baneth, managing director of the Council's European office (located in Brussels), agrees that POLITICO's focus on EU news is important to its recent rise but points to another factor as well. "POLITICO is simply a better read than the Economist or more stodgy publications."
POLITICO is "more entertaining," Baneth says. "It is less formal in its approach. The style is breezier, although it is rarely cynical. It's wittier and not so dry, and readers respond to that approach. What we're seeing here, it seems to me, is a move away from traditionally 'authoritative' sources and a receptiveness to new voices — both in news and opinion."
POLITICO's less formal style also reflects cultural shifts that might account for another key finding in the survey. Social media — Facebook and Twitter, especially — is rising in influence among some of the world's most serious decision makers. "It is striking that social media is now seen as important as traditional news as a go-to source of information that influences EU decision makers," Massin says.
Just as social media is no respecter of national boundaries, leaders in Brussels seem less reliant on country-specific sources of news and opinion. National titles "do not register among the most important media — only 5 percent or less respondents cited any national publication as a weekly-read or influential source of EU news," says Massin, a native of France who has been with Burson-Marsteller for 15 years, after stints at the European Commission and the United Nations.
First Survey of Influencers
This is the latest study of what influences the influencers by Burson-Marsteller, which has conducted studies of lobbying in Europe for more than a decade. Another survey, released in 2013 and conducted with Penn Schoen and Berland, found that of 600 respondents in 20 countries, 89 percent agreed or strongly agreed that "ethical and transparent lobbying helps policy development."
Thirty-seven percent said the most positive aspect of lobbying is its ability to make sure a range of interests and actors are included in decision-making. Twenty-eight percent cited "providing useful and timely information" as lobbying's most significant contribution.
"We conduct this research mainly so we can give our clients the best possible advice," Massin says.
Social Media's Clout
Social media's importance continues to grow. According to the most recent research, Burson-Marsteller found that Facebook is used at least daily by 52 percent of survey participants, and 35 percent follow Twitter as frequently. YouTube (20%), LinkedIn (13%) and Instagram (7%) rank third, fourth and fifth, respectively. Almost seven in 10 members of the European Parliament say they use Facebook at least once a day.
World leaders are also using social media channels. In its "World Leaders on Facebook" study (also released in January), Burson-Marsteller found that almost 90 percent of all governments and their leaders now have a Facebook presence.
As of January 4, world leaders had published 302,456 Facebook posts. President Obama "is the most popular world leader on Facebook with 46 million likes on his Barack Obama campaign page," Burson-Marsteller reports. "Obama is closely followed by Indian Prime Minister Narendra Modi. Modi has more than 31 million fans on his personal page and 10.1 million likes on his institutional Prime Minister of India page, which is in third position."
Modi also leads world leaders with more than 200 million Facebook interactions (the number of likes, comments and shares) in 2015 alone. That's five times as many as Obama's.
More Personal Connections
"The significant development is that government leaders now use social media to forge more direct communications with their audiences," Massin says. "It's significant, too, that they are doing so in a more personal way, showing their human side. They post pictures of their families and their pets and important moments in their lives, such as weddings and birthday celebrations."
As part of what Burson-Marsteller calls its "Twiplomacy" research, the firm announced in early February the results of its survey of Instagram use. Among its findings: The heads of state and government and foreign ministers of 136 countries currently have an official presence on Instagram, which represents 70 percent of all United Nations members.
"Corporations, nongovernmental organizations and other sectors can learn a great deal from how governments and their leaders are using social media," according to Public Relations Tactics in its coverage of the research.