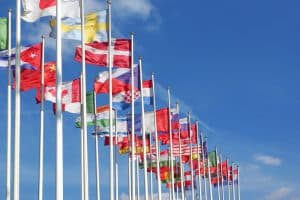 The results are in and the most watched election season in recent U.S. history has (finally) come to a conclusion. Donald J. Trump will be the next president of the United States, while a Republican majority still controls both the Senate and the House of Representatives.
So what's next? This is the time for you to consider the incoming president's domestic and global agenda, and compare how your organization's public affairs priorities align with the new administration's goals. While the next few months will surely create a high level of uncertainty, there are several key factors your public affairs function should keep in mind while preparing for 2017.
Lame-duck will be lame. While Congress will attempt to wrap up some unfinished business before the end of the year, other high-profile items — such as the nomination of Merrick Garland to the Supreme Court — have been dropped. Efforts to approve the Trans-Pacific Partnership, which were unlikely to move no matter how the election turned out, have officially been suspended. The lame-duck session might now be used more for preparing for the transition to the Trump administration, making key committee changes, and planning in anticipation of the president-elect's forthcoming domestic and foreign policy agendas.
Team Trump is coming. President-elect Trump's appointments will be a significant factor in determining government priorities at the local, federal and global levels. Vice President-elect Mike Pence has taken over the transition efforts from New Jersey Gov. Chris Christie, and several key appointments have already been announced, including Reince Priebus as chief of staff and Steve Bannon as chief strategist and senior counselor. While some names likely to join the administration may be familiar, Washington can expect to see some new faces and unconventional choices for Team Trump. From a public affairs perspective, knowing the new decision makers in D.C. will be key to establishing and managing strategic government relationships and conveying your organization's agenda and priorities.
Dramatic regulatory change is ahead. Trump has already laid out his plan for the administration's first 100 days. However, how much of this agenda is actually implemented will depend on Congress, the speed of decision-making and which items will be top priority. Policy changes on immigration, tax regulation and health care appear to be at the top of the list. Foreign policy may become more protectionist, while relationships with traditional allies like Mexico and Canada may shift. In spite of the uncertainty about trade policy, domestically businesses could benefit from changes in corporate tax rates and regulations. Know your organization's priorities, and use available resources to track relevant developments.
Uncertainty is the name of the game. A common theme emerging from media, political analysts and public affairs practitioners alike is one of uncertainty. Washington, as well as the rest of the world, is largely unfamiliar with Trump and the core team that surrounded him throughout the presidential campaign. Furthermore, the President-elect has not yet presented coherent proposals in many policy arenas. While there will be winners and losers, until appointments are finalized and a definitive policy agenda emerges, the economic and political implications of this new administration will continue to be unclear.
---
How is your public affairs function preparing for the new administration? Contact Dasha Iventicheva, the Council's international associate, at diventicheva@pac.org. On January 19, the Council will be hosting a special pre-inauguration webinar with Eurasia Group's Jon Lieber to discuss the incoming administration's political appointments, proposed policies and the potential implications of those policies and appointments for the global business environment. Register for this webinar here.