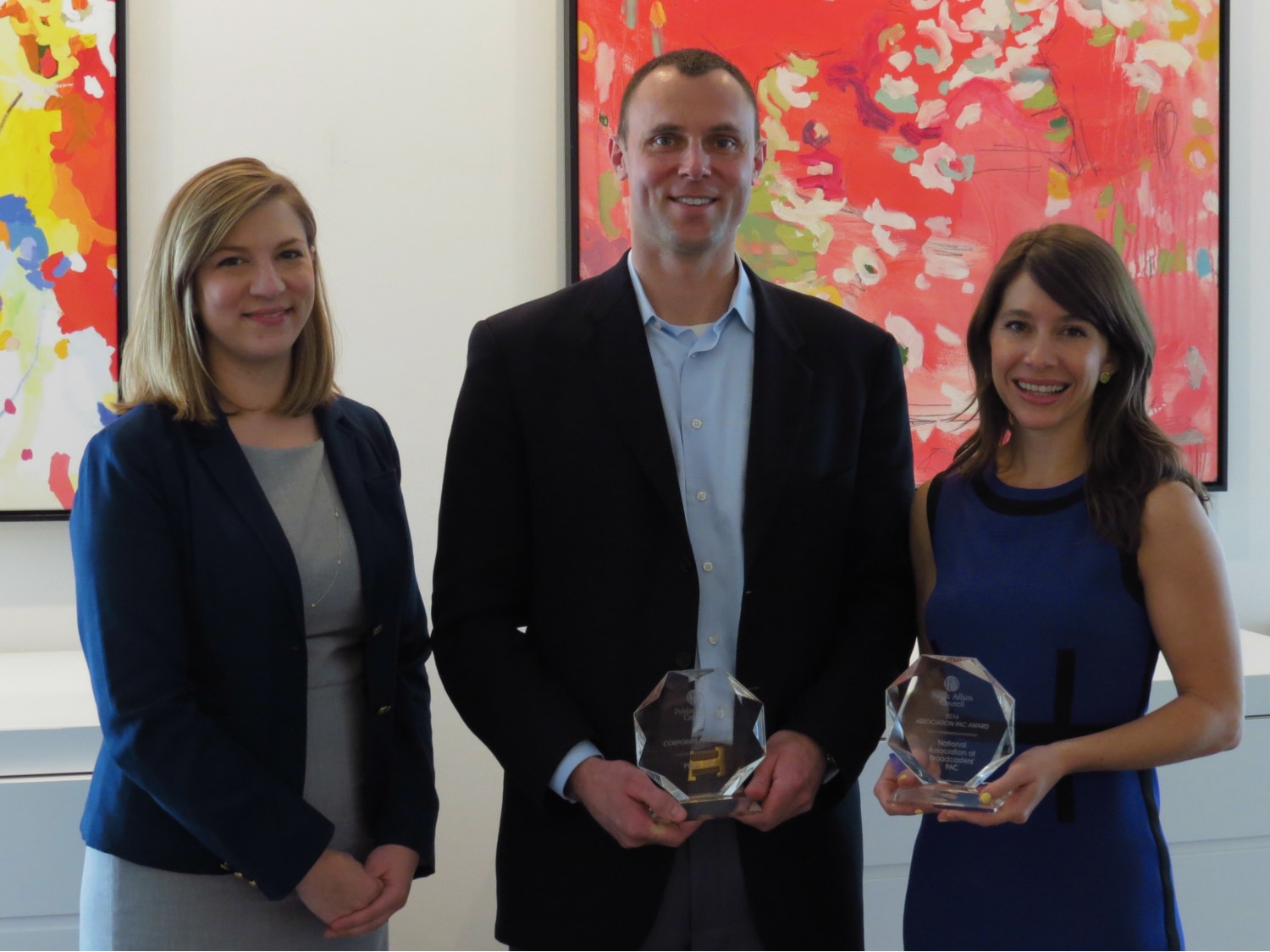 From left: The Public Affairs Council's Hannah Wesolowski, Pfizer PAC's Matt Meehan and NABPAC's Jennifer Flemming
By Mark C. Wills
Pfizer PAC and NABPAC, the PAC of the National Association of Broadcasters, received the Council's 2016 PAC Awards on March 9 for their outstanding PAC initiatives that showcase creativity, inclusiveness and overall relevance to their organization.
"We had a very competitive group of nominations this year, making the final decision a difficult one," said Hannah Wesolowski, the Council's associate director of political engagement. "However, these two PACs showed great creativity in creating campaigns and tactics that are reflective of both their goals and their organization's culture. They were able to implement efforts that not only helped to grow their PACs, but also gain more stakeholder buy-in in the process."
Outstanding Corporate PAC: Pfizer PAC
As 2015 began, Matt Meehan, director of U.S. government relations and public affairs for Pfizer Inc., faced several challenges related to his company's PAC — among them, some organizational changes and a general sense of apathy toward the political process. But Meehan and his team set out to overcome these obstacles and they succeeded.
"We made a concerted effort," says Meehan, "to embed government relations in many ways — meetings, town halls, emails, newsletters, phone calls, peer campaigns, site events — to renew engagement in our effort to shape and advance the policies and regulations that impact colleagues, the future success of our company, as well as to stress that a small investment is a wise investment in a time of uncertainty."
The team's efforts led to several notable successes: the highest participation rate since the PAC's inception in 1976 and a seven-percent increase in receipts from 2014 to 2015 (and 13 percent growth since 2013).
In previous cycles, efforts centered mainly on donor-only raffles and providing information through PAC newsletters. This time around, Pfizer looked to personalize and microtarget their efforts in order to educate their members on the issues they cared about and provide them the opportunities to hear from the people they wanted to hear from. With significant leadership buy-in and engagement, Pfizer PAC was able to conduct dozens of full division- and region-specific campaigns, complete with live launch events, follow-up emails and contests to heighten excitement. Simultaneously, the PAC team identified well-respected PAC members who could share stories and impactful testimonials about why they participate in PAC with their peers via email profiles and video.
"By finding partners throughout the company to develop PAC goals, a plan and strategy, and then execute campaigns unique to those divisions, we have created a culture of ownership," Meehan says. "We have continuously and consistently demonstrated that there is a connection in everything we do in the legislative and regulatory environment."
Another concern Meehan needed to address was technological: the inability of some eligibles to donate via the PAC's website. Pfizer's cybersecurity constraints required a single sign-on through the company intranet, which meant that many mobile devices were unable to make that connection easily. And, of course, any solution needed to work within Federal Election Commission guidelines.
Again, Pfizer PAC looked to identify a solution to provide members with a way to give how they wanted to give. Pfizer PAC's new site was reconfigured to give access inside the secured intranet to all PAC eligibles no matter where they were located. This integrated Pfizer's large solicitable class, who have been less likely and/or unable to contribute to the PAC from a traditional desktop website, "into the political conversation," Meehan says.
This approach paid immediate dividends: in 2015, 67 percent of contributions were made using the mobile option; and website visits increased 343 percent over 2014. This supports the belief that employees — as the driver for PAC growth — are becoming ever more platform-agnostic.
"Having a mobile solution brings the PAC to the donor," Meehan believes. "This strategy is applicable to any PAC, regardless of size and issue focus.
"And by incorporating the PAC in everything we do, it has become evident that if one cares about the success of their work, the work of their department and the organization as a whole, then one ought to care about PAC."
Outstanding Association PAC: National Association of Broadcasters' NABPAC
We've all heard of the "power of one," but for the National Association of Broadcasters' (NAB) Jennifer Flemming, that wasn't enough. In 2015, she sought to attain the "Power of 10": 10 percent growth in PAC involvement among member companies and individuals.
Flemming, the director of the association's NABPAC, led an effort to reach the 10-percent goal — something the PAC had never attempted — and by year's end, the PAC's donor base and receipts had each grown by 10 percent and there were more member company solicitations than in the previous two years combined.
"Previously, there was never an ongoing campaign with continuity in messaging," notes Flemming. "Having a consistent theme allowed our donors to latch onto an idea and grow with it. They would consistently see us and our marketing at events and PAC fundraisers, on our website and in emails.
"We wove it into every touch point we had with them, and in the end, we didn't have to explain the initiative anymore; people just knew and understood it."
The campaign fosters inclusivity by giving individuals the power to make a big difference in a small way, and to do so in a way that's feasible for everyone as opposed to making one goal apply to an entire roster of eligibles (e.g., "everyone give more or we want more $500 donors").
Flemming believes the flexibility of the ask was key. "'Get involved by growing your dollars or donors by 10 percent' gave our members options and had a clear objective that translated easily to different situations. We personalized our outreach and targeted our asks in a way that made it easy for them to participate."
These principles allowed NABPAC to make its targets tangible, and by having a somewhat general theme, different aspects of the campaign were played up at different events throughout the year, which kept "Power of 10" fun and fresh.
One memorable example occurred during the internal summer solicitation.
"We challenged NAB staff to drive both dollars and participation up by 10 percent," Flemming says. "If we reached the dual goal, our chief operating officer would shave his head during the luncheon. Thankfully, the COO held true to his word." And afterward, a video of the shearing was emailed to donors, amusing and encouraging them at the same time.
The campaign also helped to develop a sense of pride and community in what the PAC was trying to accomplish. It helped to build brand awareness and spawned the group's "Power Players," an initiative that has rolled over into 2016. These are individuals who increased their support by 10 percent, and who are recognized in various ways at events and in communications throughout the year.
"What makes 'Power of 10' different from other campaigns is our ability to use it among various platforms," Flemming believes. "It worked internally at NAB, as well as with our member companies and our board. We could use the effort to promote not only fundraising growth but increases in donor participation rates.
"This has great implications for other PACs because it's easy to implement. It's a theme that can be incorporated and applied to a variety of scenarios. It's not so narrowly designed that another industry couldn't use the same elements to promote growth within their own PAC."
About the Awards
The PAC Awards recognize creativity and excellence in the field and honor political action committees that: (1) are dedicated to compliance; (2) strive for inclusiveness; (3) use creative approaches to education, fundraising, communication and relationship building; (4) spread civic-mindedness throughout their organization; and (5) support other PACs' efforts by sharing their success stories.
The 2015 award winners were Toyota/Lexus PAC and Air Line Pilots Association PAC.