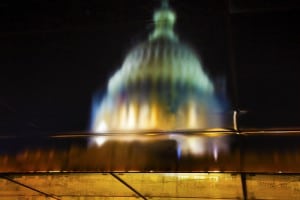 This story originally appeared in the January 2016 issue of the Council's monthly newsletter, Impact.
On Dec. 18, President Obama signed an omnibus spending bill that will fund the federal government through September 2016. Like the 2014 omnibus spending measure, the new bill includes several provisions affecting political disclosure.
The final bill limits the ability of both the SEC and the IRS to mandate disclosure of political activity.
Other similar provisions, like one to prohibit the president from issuing an executive order relating to government contractors' reporting of political contributions, were left out of the final bill.
What's In — and What's Not?
Here's a recap of the bill's main provisions dealing with political disclosure:
The bill prohibits the IRS from finalizing regulations relating to the scope of political speech by nonprofit groups.
Section 127 of Division E, Title I of the bill relates to political activity by nonprofit groups, and the IRS' attempt to regulate that activity.
Social welfare groups, or 501(c)(4) organizations, are prohibited from spending most of their money on political activities, but the IRS rules on this matter are vague. The Center for Responsive Politics recently released an article showing that several of these (c)(4) organizations have used more than half of their spending to influence elections.
In recent years, as these groups continue to become more active in elections, the IRS has been working to clarify the rules further. The issue came to a head in a 2013 Inspector General (IG) report that uncovered the IRS' increased scrutiny of tea party organizations. In that report, the IG directed the IRS to write clearer regulations.
The inclusion of this provision ensures that no new rules will be released on (c)(4) activity in 2016 or through the end of President Obama's tenure. And since rulemakings and implementation take time, it is unlikely that any rules released in 2017 will apply to the 2018 elections.
The spending measure blocks the SEC from implementing further disclosure requirements on corporate political activity.
Another provision of the omnibus bill, section 707 of Division E, Title VII, precludes the SEC from issuing regulations — again, only in 2016 — that require companies to disclose information on their political activities. The SEC has not made political disclosure a priority in several years, with the current chairwoman of the SEC showing little interest in advancing the issue.
While companies must disclose contributions made through political action committees and super PACs must similarly disclose their contributors, companies are not required to disclose contributions to outside groups that fund election ads, an activity made possible by the Supreme Court in Citizens United in 2010.
Many companies proactively share many of their political involvement activities by posting policies, a list of PAC board members and annual reports on spending on their website. However, there is currently no requirement to do so, and the new bill ensures that no further action will come until 2017, at the earliest.
Several provisions related to party coordination and federal contractors were abandoned in the final bill.
One section would have prohibited the president from issuing an executive order that required federal contractors bidding on government projects to disclose their political spending. More than 100,000 have signed an online petition urging President Obama to do just that.
Another provision would have eased the coordination limits for political parties and candidates.
The Public Affairs Council will continue to provide updates on matters relating to political activity disclosure as they develop. If you have any questions, please contact Hannah Wesolowski, associate director, political engagement.