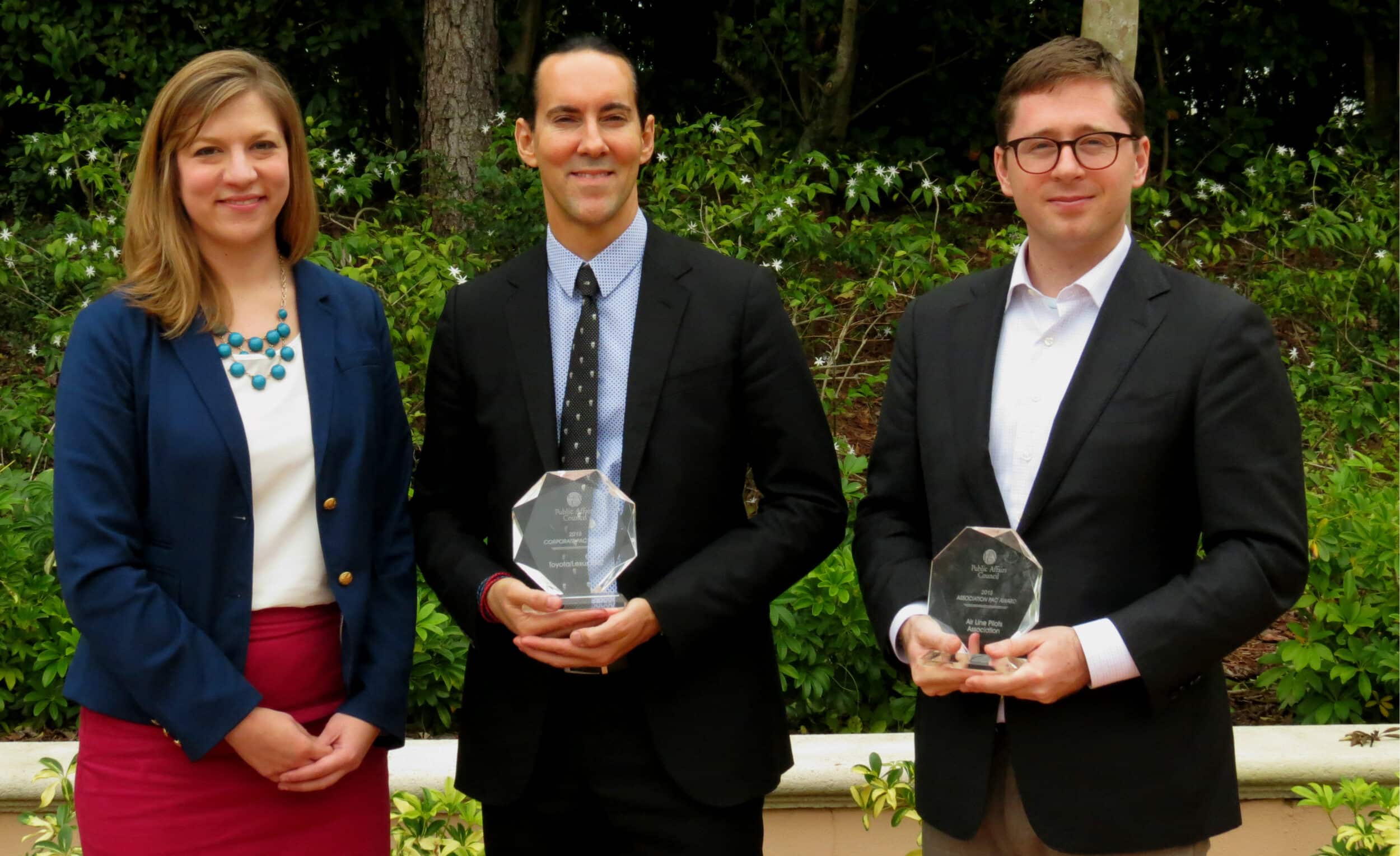 From left: The Public Affairs Council's Hannah Wesolowski, Toyota/Lexus PAC's Stephen Ciccone and the Air Line Pilots Association PAC's Zack Mooneyham
By Mark C. Wills
Toyota/Lexus PAC and the Air Line Pilots Association PAC received the Council's first-ever PAC Awards on Feb. 25 for their outstanding initiatives that showcase creativity, inclusiveness and organizational relevance.
"It was difficult to make final decisions in this inaugural — and competitive — class of standout PACs," said Hannah Wesolowski, the Council's senior manager, political involvement practice.
"What struck our judging committee about these two PACs was how reflective their PAC efforts were of their organizational culture," she said. "Their approaches were thoughtful and fit their needs and their communities exceptionally well. They both were really well-thought-out and well-executed strategies."
Outstanding Corporate PAC: Toyota/Lexus PAC
When Toyota/Lexus PAC launched in 2013, it did so with a personal touch in mind. "We based our launch on a simple philosophy: Treat our members like the company treats Lexus owners," said Stephen Ciccone, group vice president, government affairs. "That means making people feel exclusive, providing great value and creating customers for life."
To reach this goal, Ciccone and his team recruited members from the top down, starting with the top executives in the company and moving down the chain only when high rates of participation were reached at that level. For example, not until senior vice presidents' participation reached 90 percent did the PAC seek vice presidents' participation, and so on. Subsequently, those executives helped recruit less-senior executives to join the PAC.
"While it took longer, the results were outstanding," he said. "We had done a very good job of building executive engagement in the political process before attempting to launch a PAC. As a result, we had a large cadre of executives who understood and supported government affairs."
"Every executive who was asked to join heard directly from me as the senior government affairs officer in the company, so this reinforced the importance of the initiative," Ciccone noted. This helped encourage participation in the PAC — to the tune of a 78 percent senior executive participation rate, an average annual contribution of $1,500 and a doubling of the PAC's initial one-year goal for receipts. The PAC has since gone on to raise nearly three times this goal over the course of the full two-year election cycle.
A "Founders Club" was established for employees who join at $1,000 or more a year — which nearly 95% of the employees did. Unique incentives like personalized crystal replicas of the Washington Monument and creative recognition events like concerts and boat cruises also helped bolster the prestige of the PAC and encourage participation. And the CEO hosted dinner at his home for the top contributors and also invited their spouses or partners, "because the decision to join the PAC is a family decision," Ciccone noted.
None of this would have been possible without buy-in from corporate leadership. "Our executives recognize the power of government over our business and the need for our company to be at the table when public policy decisions are made," Ciccone said.
Toyota is the first auto manufacturer with a headquarters outside Detroit to establish a PAC. "We hope that we are blazing the trail for other auto manufacturers with headquarters outside the U.S. to establish a PAC, which will help our industry be a stronger player in the public policy arena," he said.
Ciccone sees Toyota/Lexus PAC as a natural step in the evolution of his company's public affairs strategy.
"We are building a world-class government affairs program for Toyota. A PAC will not make a program world-class, but you can't get there without a PAC," he said.
Outstanding Association PAC: Air Line Pilots Association PAC
As 2014 began, only 14 percent of the Air Line Pilots Association PAC's eligible donors were contributing. What was missing, said Zack Mooneyham, political representative for ALPA, was a sense of perspective.
"While we had made some progress reaching out to the other 86 percent," he said, "our toughest hurdles remained the most basic ones: Members didn't know about and didn't understand our PAC."
As 2014 ended, ALPA-PAC saw 40 percent growth in receipts over 2013, a 35 percent increase in contributors and 2,700 percent growth at the top contribution level.
"It is a standing goal to bind our members to the association and the association to our members," Mooneyham said. "We determined that winning more support for the PAC and our efforts, earning the extra trust required to get pilots to make a voluntary contribution on top of their dues, would help achieve this goal."
To accomplish this, Mooneyham and his colleagues decided to reach into the past in their drive to beat the PAC's one-year record for receipts.
"Building out the PAC was based on the history of our organization," he noted. "We chose to focus on the history of the PAC and the organization as the driving theme behind our 2014 efforts, because it had the dual effect of generating PAC funds while providing education about the association writ large."
Each stage of the growth campaign used specific historical visuals designed to "teach our members about the promises of the past and to encourage them to help live up to those expectations for a better tomorrow" by recognizing the impact of continuous political involvement, Mooneyham said. For example, call-to-action materials elicited memories of World War II-era "rally the troops" posters.
But ALPA-PAC did not stop at inspirational imagery. With a membership that lives by numbers, the PAC created an infographic showcasing its historical growth next to crucial monetary figures. The PAC also shared information on foreign airline encroachment and how that affects the domestic airline industry, emphasizing why it's important that pilots exercise their voice through the PAC.
The PAC also was transparent, making eligible donors constantly aware of how close it was to reaching its receipts goal. It also used humor and pop culture references from the past online and in its publications to keep everything "fun and goal-focused."
In the end, Mooneyham said, "The question we posed to members was, 'If our founders showed up to fight in the political arena and the piloting profession was improved as a result, why can't we do that again?'"
"Members want a goal to live up to, and they want context for why the goal matters," he said. "Every PAC in the country can provide that information to their members and see an increase in receipts."
About the Awards
The PAC Awards recognize creativity and excellence in the field and honor political action committees that: (1) are dedicated to compliance, following both the letter and the spirit of the law; (2) make sincere efforts at inclusiveness; (3) use creative approaches to education, fundraising, communication and relationship building; (4) spread civic-mindedness throughout their organization; and (5) support the efforts of other PACs by sharing their success stories.