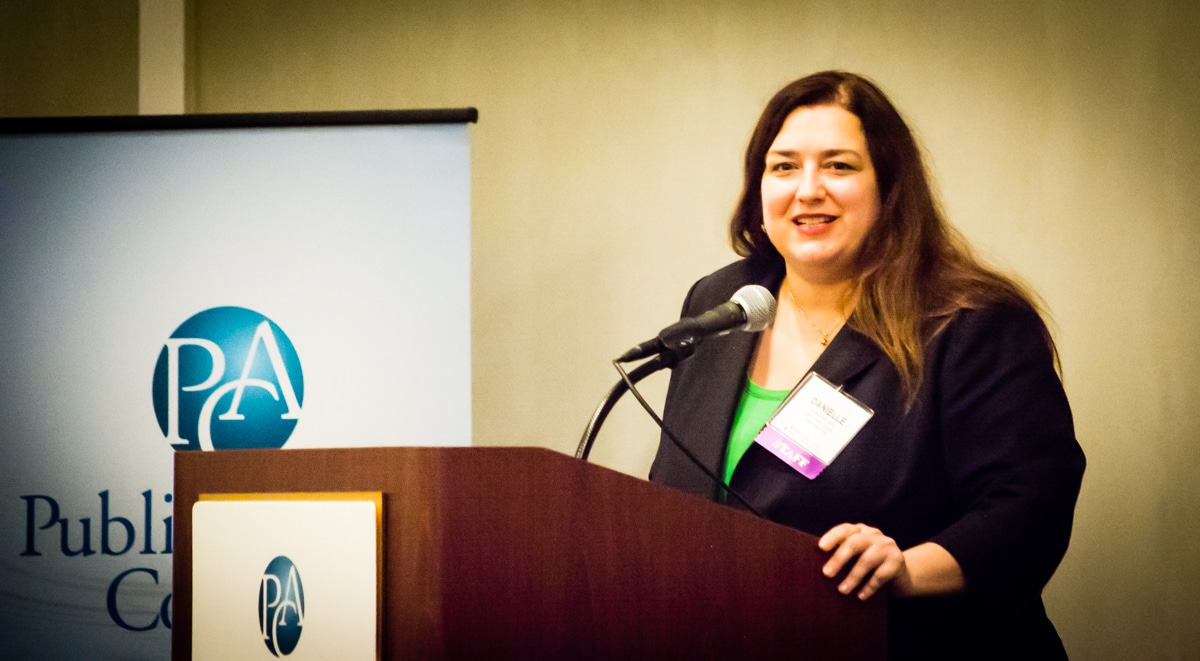 Photos and Takeaways: 2016 State and Local Government Relations Conference
A look back at the Council's signature fall program
September 2016
The 2016 State and Local Government Relations Conference was packed from beginning to end: state legislative predictions; public attitudes toward business; turnover in state government (including how the presidential election might affect that); ballot measures; working with mayors' offices; engaging local communities; and taking charge of your state government relations career — to name just a few of the topics covered.
Thank you to our participants, speakers and sponsors; we hope to see you next fall!
Click on a photo to view the full version.
| | |
| --- | --- |
| Jessica Post of the Democratic Legislative Campaign Committee discussed what she sees as her party's chances in this year's state legislative races. | Bristol-Myers Squibb's Tony Bawidimann and the Card Coalition's Toni Bellissimo helped attendees prepare for the anticipated onslaught of state-level bills, starting not that long after November's elections. (Over 160,000 are expected to drop in the next biennium.) |
| | |
| --- | --- |
| Eva Guaridini from Facebook (and her counterparts from other social media platforms) suggested uploading advocacy videos directly to their platforms: it reduces load time, allows auto-play and, perhaps most importantly, it's easier to track. | Ken Gross of Skadden, Arps, Slate, Meagher & Flom LLP, reminded attendees of the myriad state laws governing lobbying and campaign finance and recommended that government relations profressionals are not the only ones who need compliance training; C-suite executives need the information as well. |
| | |
| --- | --- |
| Ulrico Izaguirre of Lincoln Strategy Group noted that more than $3.2 billion has been spent advocating for or against state ballot measures over the last decade. The big challenge this year is that ballot measures are down ballot and being one of many could just trigger conversations on whether to work on a given issue further. | In providing senior-level strategic guidance, Eric Ebenstein of POET, LLC, and Dustin Brighton of the Internet Association reminded attendees that "We're not here to boil the ocean!" In other words, know your limits in developing programs and projects. |
| | |
| --- | --- |
| Jennifer Amundsen of The Coca-Cola Company and Christopher Oswald of the Direct Marketing Association said that legislative tracking services are more advanced than ever, but no system is perfect. | Gaurav Parikh of the National Association of Federal Credit Unions, Allison Schumacher of the Consumer Technology Association and Pierce Haley of Serlin Haley LLP advised attendees to "burn some shoe leather" to make connections and to have a wealth of facts and data at your fingertips as you naviate new state administrations next year. |
| | |
| --- | --- |
| A packed house filled the Hilton Old Town Alexandria's Grand Ballroom. This was the largest attendance ever at the State and Local Government Relations Conference. | The Council's own Doug Pinkham examined recent Council data (specifically from this summer's Taking a Stand: How Corporations Speak Out on Social Issues and the 2015 Public Affairs Pulse survey) on the public's attitudes about business and how business engages on social issues. This year's study found that pressure for companies to engage on social issues in on the rise — and will continue to grow. |
| | |
| --- | --- |
| How do you get earned media for your issue? Julie Carney from Direct Impact and Sam Harper of Burson-Marsteller outlined a scale of how you get attention: Awareness-Interest-Engagement-Advocacy. | AARP's Barrie Tabin Berger and CapitalOne's James Brown encouraged organizations to look beyond advocacy when engaging at the local level; bring in the business lines as well. |
| | |
| --- | --- |
| Novozymes North America's Chris Bender said, "Public affairs shouldn't be esoteric; it should be a business function." You need to run the numbers and find out what your chances of success are. | In counseling attendees on how to "take control of their SGR career," Beer Institute CEO Jim McGreevy and Daniel Nestel from FICO suggested that temperament can't be overlooked in moving up the ladder — particularly the virtue of being patient. Also, keep in mind your organization's goals when developing your own professional goals. |
| | |
| --- | --- |
| With so much information and insight, you had to pay attention, lest you miss something that might spark your next great idea. | Janene Jackson of Holland & Knight LLP (and formerly of Washington, D.C., Mayor Vincent Gray's office) and Stateside Associates' Stephanie Reich offered attendees tips on how to best communicate with mayoral offices and get their voices heard. |
| | |
| --- | --- |
| Along with Julia Hurst of the National Lieutenant Governors Association, the National Governors Association's Scott Pattison summed up a major issue for the states, governors and the country writ large: uncertainty. | Many new connections were made during networking breaks and receptions, including this one held outside during a beautiful early autumn evening.. |
Novozymes' Chris Bender and his team attend the State and Local Government Relations to engage with the larger government relations community and learn how to become an even more essential part of his company's success.