FOR IMMEDIATE RELEASE
October 31, 2019
Contact: Alaina Monismith
Communications and Marketing Manager
Public Affairs Council
202.787.5955
Public Affairs Council Elects Pete Slone as 2019-2020 Chair
And Honors Sarah Yi as Volunteer of the Year 
Washington (October 31, 2019) – The Public Affairs Council elected Pete Slone, senior vice president of public affairs for McKesson, as its 2019-2020 Chair and honored 2019 Volunteer of the Year Sarah Yi, external affairs director at CTIA – The Wireless Association, during its board meeting in Half Moon Bay, California, last week.
At McKesson, Slone serves as the chief external policy representative and heads the McKesson PAC. He leads a team that focuses on policy analysis and development, legislative and regulatory advocacy, policy communications and stakeholder engagement. Slone is dedicated to advancing the field of public affairs. As Chair he will prioritize the continued development of the future workforce, with a specific focus on diversity and inclusion advancements; promoting the role of public affairs in business strategy; growing the Council's digital advocacy programming; and supporting members with expertise and guidance as they engage in social issues.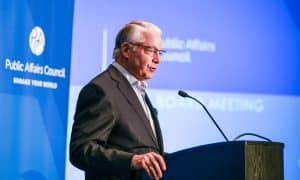 "Pete's extensive government affairs experience and strong leadership will serve the Council well during his year ahead as Chair," said Public Affairs Council President Doug Pinkham. "He is a great strategist and has been an essential part of the leadership vision of the Council as a board member; we look forward to working with him to advance the profession."
Sarah Yi is a dedicated volunteer with the Council who leads by example as an active participant in events, surveys, professional networks and much more. A popular Council speaker, Yi has played a significant role in shaping and improving major conferences and is always willing to share her expert counsel.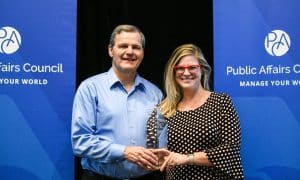 "It's our honor to recognize Sarah's hard work and commitment to her peers and the profession," said Pinkham. "Not only do her ideas and advice provide guidance to our members, but her input is valuable to the Council as we continue to enhance our offerings."
The Council also announced new members to its Executive Committee and Board of Directors. New Executive Committee members include:
Roi Ewell, chief strategy officer, BigVision
Courtney Geduldig, executive vice president of public affairs, S&P Global
Belen Mendoza, vice president of campaigns, AARP
Ellie Shaw, director of federal government affairs, American Express
View the Council's Executive Committee.
View the Council's Board of Directors.
About the Public Affairs Council
Both nonpartisan and nonpolitical, the Public Affairs Council is the leading association for public affairs professionals worldwide. The Council's mission is to advance the field of public affairs and to provide its 700 member companies, associations and other nonprofits with the executive education and expertise they need to succeed while maintaining the highest ethical standards.