Beyond Control: How Social Media and Mobile Communication Are Changing Public Affairs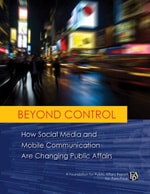 This in-depth report, which explores the Internet's impact on public affairs, is a valuable guide for PA professionals who are either developing a social media strategy or expanding an existing one. It features case studies from GE, Eli Lilly, Union Pacific and others; excerpts from companies' social media policies; tips on pitfalls to avoid and strategies to embrace; and more.
Click HERE to learn more about best practices for using digital communications for public affairs.
To download, please fill out this form:

You will also receive other news, research, information on upcoming executive education and networking events, and other services. You can unsubscribe from any or all of these communications at any time.
We do not sell or otherwise provide our lists to any third parties. Learn more about how we collect, use and protect your information by reading our privacy notice.