Beyond Control: How Social Media and Mobile Communication Are Changing Public Affairs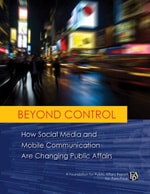 This in-depth report, which explores the Internet's impact on public affairs, is a valuable guide for PA professionals who are either developing a social media strategy or expanding an existing one. It features case studies from GE, Eli Lilly, Union Pacific and others; excerpts from companies' social media policies; tips on pitfalls to avoid and strategies to embrace; and more.
Click HERE to learn more about best practices for using digital communications for public affairs.
To download, please fill out this form: