A Shared Vision for Corporate Good: How Smart Companies Are Creating Value Through CSR and Public Affairs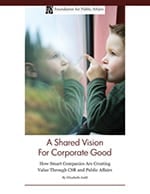 This Foundation for Public Affairs report explores the value of corporate social responsibility at a time of increasing social needs and rising public expectations for companies. Featuring case studies from Alcoa, ARAMARK, Johnson & Johnson and others, the report profiles the innovative strategies companies are using to create value for their organizations and society.
Click HERE to learn more about best practices in corporate social responsibility.
To download, please fill out this form: