Building and Managing a Global Public Affairs Function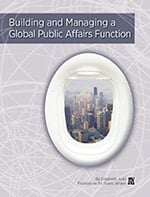 This publication offers solutions to the unique challenges that companies face when building and maintaining a global public affairs presence. Featuring more than a dozen case studies from AstraZeneca, Dow, Shell, UPS and other leading companies, the report shares a variety of strategies for making overseas operations a success — from integrating with the business side to keeping a finger on a community's pulse via locally based cultural liaisons.
Click HERE to learn more about best practices in international public affairs.
To download, please fill out this form: