Building and Managing a Global Public Affairs Function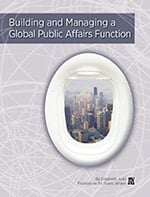 This publication offers solutions to the unique challenges that companies face when building and maintaining a global public affairs presence. Featuring more than a dozen case studies from AstraZeneca, Dow, Shell, UPS and other leading companies, the report shares a variety of strategies for making overseas operations a success — from integrating with the business side to keeping a finger on a community's pulse via locally based cultural liaisons.
Click HERE to learn more about best practices in international public affairs.
To download, please fill out this form:
You will also receive other news, research, information on upcoming executive education and networking events, and other services. You can unsubscribe from any or all of these communications at any time.
We do not sell or otherwise provide our lists to any third parties. Learn more about how we collect, use and protect your information by reading our privacy notice.