Russian Renaissance? Managing Public Affairs in Today's Russia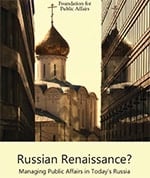 This report, the final installment in the Foundation for Public Affairs' series on government relations in the BRIC countries, comes at a pivotal time for Russia. Having recently acceded to the WTO and secured PNTR status from the U.S., Russia is on course for great economic growth. But it has many ghosts from its past — including corruption, ailing infrastructure and reliance on natural resources — that it must shake in order to realize its full potential. Featuring case studies on Citi, Kraft, Medtronic, Microsoft and others, the report examines the promising opportunities in today's Russia as well as the successful approaches multinationals have taken to navigate this complex environment.
Click HERE to learn more about best practices in international public affairs.
To download, please fill out this form:
You will also receive other news, research, information on upcoming executive education and networking events, and other services. You can unsubscribe from any or all of these communications at any time.
We do not sell or otherwise provide our lists to any third parties. Learn more about how we collect, use and protect your information by reading our privacy notice.