Managing Stakeholder Engagement on a Global Scale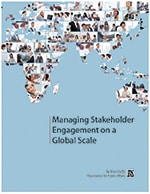 This Foundation for Public Affairs report shares strategies for fostering meaningful engagement with both internal and external stakeholders around the world. Featuring a half-dozen case studies from leading companies such as GE, Pfizer and Rio Tinto, the report demonstrates various approaches to stakeholder engagement on issues ranging from sustainability to health care. But all emphasize the importance of building and growing local relationships.
Click HERE to learn more about best practices in international public affairs.
To download, please fill out this form: