O Momento Mágico: Managing Public Affairs in Brazil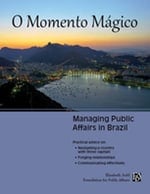 The fourth installment in the Foundation for Public Affairs' series on working with officials, the media, associations and others in major overseas markets, this report explores the art of navigating the world's eighth largest economy — which is expected to rise to fifth place, overtaking both France and Britain, by 2016. The report also examines public and private partnerships, the use of social media, corporate citizenship programs and more.
Click HERE to learn more about best practices in international public affairs.
To download, please fill out this form: