Trusted Advisors: Hiring and Managing Government Affairs Consultants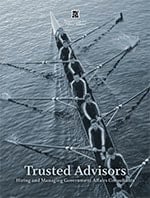 Government affairs departments are getting leaner, so they must work smarter. Often, this means bringing in consultants to lighten the load. However, that raises several concerns about engaging and managing those consultants, such as who will be working on the job once the contract has been signed; high turnover at consulting firms; tricky contract negotiations; giving useful feedback; and measuring consultant performance. Drawing upon the experience and expertise of many government affairs executives and consultancies, this Foundation for Public Affairs report will help you navigate these tricky relationships and build a true team of government affairs professionals.
Click HERE to learn more about best practices in public affairs management.
To download, please fill out this form:
You will also receive other news, research, information on upcoming executive education and networking events, and other services. You can unsubscribe from any or all of these communications at any time.
We do not sell or otherwise provide our lists to any third parties. Learn more about how we collect, use and protect your information by reading our privacy notice.