Managing Risk: Public Affairs and Enterprise Risk Management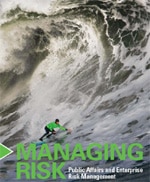 As companies recover from an intense global downturn, they find themselves subjected to a host of operational, political, economic and governmental risks. In response, the discipline of enterprise risk management (ERM) attempts to aggregate the management of these risks into a single set of processes. This new study examines how public affairs practitioners can participate in and influence ERM in their companies.
To download, please fill out this form:
You will also receive other news, research, information on upcoming executive education and networking events, and other services. You can unsubscribe from any or all of these communications at any time.
We do not sell or otherwise provide our lists to any third parties. Learn more about how we collect, use and protect your information by reading our privacy notice.