Opening Doors in Brussels: Managing Government Relations in the EU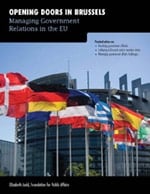 With the entry into force of the Treaty of Lisbon, the institutions of the European Union are coming into greater focus. International public affairs practitioners need to be well-acquainted with these institutions in order to develop key relationships with European stakeholders. Based on interviews with practitioners and experts on the EU, this study is a primer for conducting effective government relations activities in Brussels.
To download, please fill out this form:
You will also receive other news, research, information on upcoming executive education and networking events, and other services. You can unsubscribe from any or all of these communications at any time.
We do not sell or otherwise provide our lists to any third parties. Learn more about how we collect, use and protect your information by reading our privacy notice.