The Jugaad Principle: Managing Government Relations in India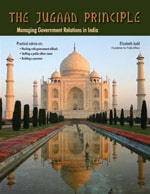 Jugaad, a Hindi term that suggests an innovative fix to a challenge, is a notion worth embracing by companies looking to do business in India. Sponsored by APCO Worldwide, this report utilizes case studies and interviews with corporate practitioners and Indian experts to provide a picture of government relations in this important emerging economy.
To download, please fill out this form:
You will also receive other news, research, information on upcoming executive education and networking events, and other services. You can unsubscribe from any or all of these communications at any time.
We do not sell or otherwise provide our lists to any third parties. Learn more about how we collect, use and protect your information by reading our privacy notice.