When Disaster Strikes: A New Guide to Crisis Management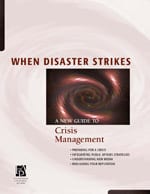 With the Internet, blogging and the 24-hour news cycle, companies must manage crises with fundamentally new stakeholders and timelines. The report provides ideas for corporate public affairs managers to prepare for a crisis by anticipating needs and potential responses, integrate public affairs strategies into their processes, understand the impact of new media and technology and rebuild reputations following a crisis.
To download, please fill out this form:
You will also receive other news, research, information on upcoming executive education and networking events, and other services. You can unsubscribe from any or all of these communications at any time.
We do not sell or otherwise provide our lists to any third parties. Learn more about how we collect, use and protect your information by reading our privacy notice.