We're all doing more remote speaking engagements but while you might be a public affairs pro, chances are you're not a video production pro. Conrad walks you through exactly what to do to be professional online to gain new clients, convince that government official, or find true love.
Online Professionalism
Look how happy Conrad is when he has the proper setup…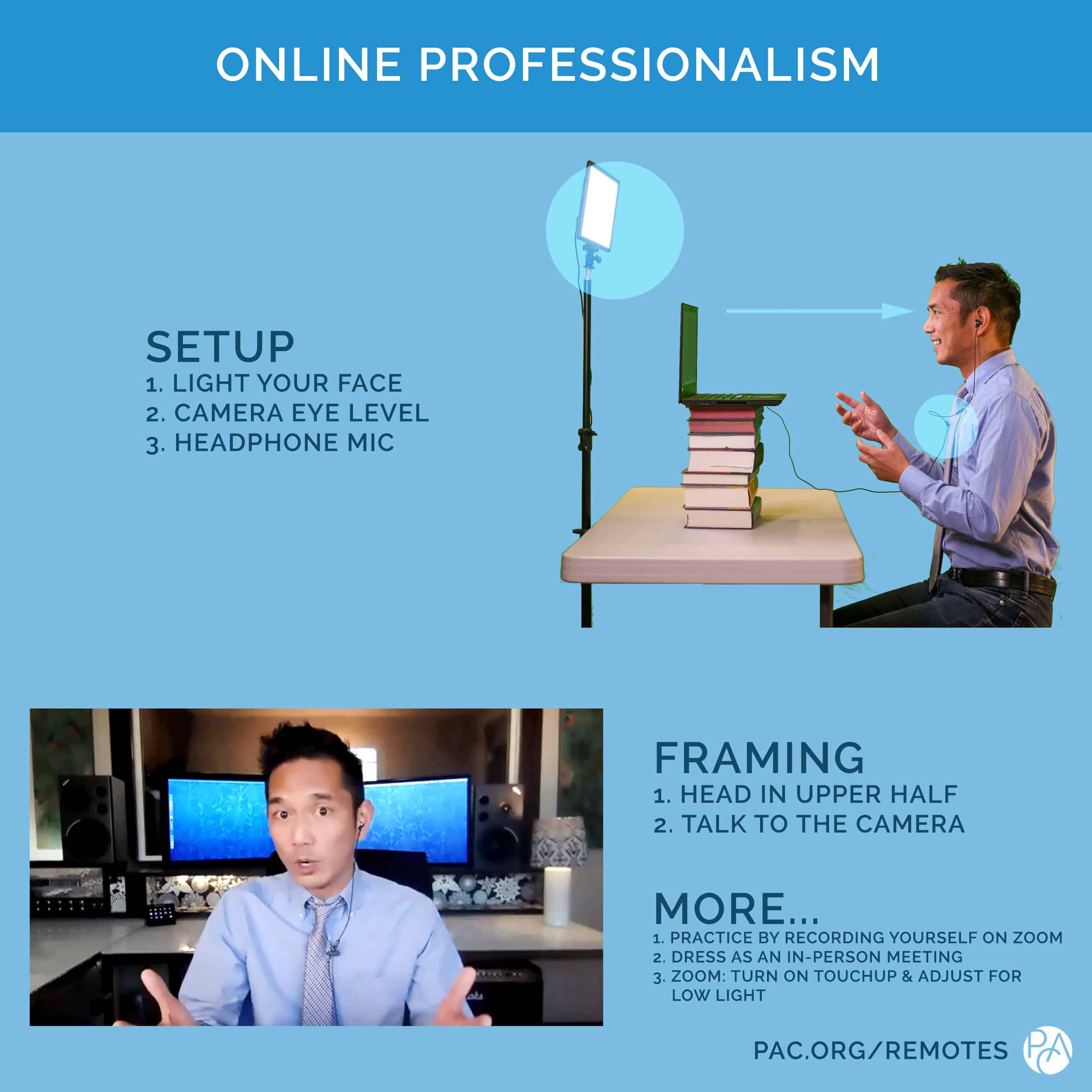 Do's
Do raise your camera to eye-level, parallel to the floor/ceiling
Do frame the upper half of your body in the shot
Do frame your head in the upper half of the shot
Do look into the camera constantly
Do use headphones
Do light your face with close and multiple lights
Do prep your background
Do choose virtual backgrounds that are not too bright or dark, not too simple or busy
Do have a timer
Do use a second monitor when sharing slides
Do use a Bluetooth mouse with a scrolling wheel
Do buy your team all the gear they need to be successful online
Do record yourself on Zoom to test and practice your setup and presentation
Do set Zoom video settings with: HD, Touchup my appearance, Adjust for low light (auto)
Don'ts
Don't settle for 'that's fine' rather than professional
Don't shoot from below (related: don't show your ceiling)
Don't be a giant head
Don't drive in the passing lane if you are not passing
Don't rest your elbows on your desk
Don't stare at your screen
Don't rely on your computer mic
Don't feed Gremlins after midnight
Don't be dimmer than anything else in the shot
Don't have shadows on your face
Don't allow George Lucas to make any more Star Wars movies
Don't just shoot from where you work
Don't go live without testing your set up, gear and slides
Don't go over your allotted time
Don't be cheap for your team's gear
Don't get involved in a land war in Asia
Gear I Used in the Above Video
Light Gear:
You might need a tripod stand with a 1/4 inch threaded screw tip which is about $20.
Home Alternatives: Any lamp you have laying around. Make a lamp party. The more the better. Also, try facing a window… during the day (facing a window at night doesn't typically help).
Virtual Backgrounds
While I prefer you find a nice spot at your place, sometimes it's impossible, so here are some virtual backgrounds I made that you can use.
Virtual backgrounds should be not too simple, not too busy, not too bright, and a tiny bit blurred if you can figure out how to do that.
Advanced Zoom Tips
Turn on 'Adjust for Low Light'
Even if you think you have wonderful lighting, turn this on. (Version 5.2 or greater required).
Use the spacebar to unmute/mute yourself
If you're muted, press the space bar to unmute, release to mute.
Want to look better?
Turn on "Touch up my appearance". Use the slider to tell it how smooth you want your skin to be. Blemishes be gone!
Control someone else's screen
Have them share their screen, then under View Options, click "Request Remote Control". 
Conference Call Tips
Mute your audio
Please, please, please, mute your audio if you don't expect to be talking for a bit. I know we're really proud of how we sound when we clear our throat or how pleasant our air conditioners sound, but it's a little distracting.
Want better audio for you and your listener?
Use a headset. Laptop mics and speakers are terrible.  
Echo?
Echo is a problem you create for others. If you like them, use headphones. If you don't like them, turn up your volume to the max without headphones.